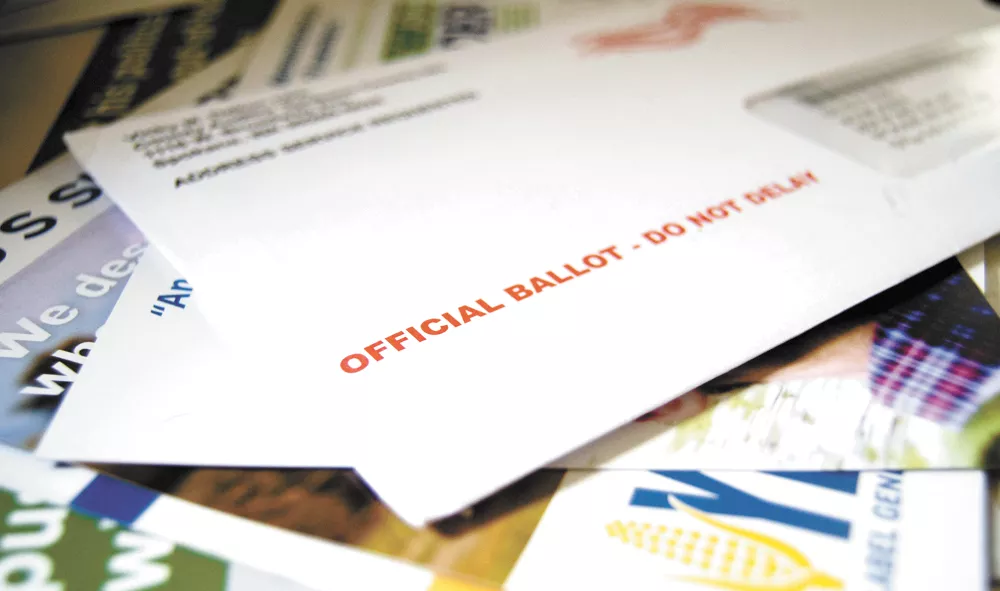 Here's the thing about primaries: They're lousy at predicting general elections. When only 35 percent of registered voters mail in their ballot, drawing conclusions about the rest of the electorate is especially risky.
Remember the primary where Mayor Mary Verner crushed David Condon, 58 percent to 33 percent? Today, Condon is mayor.
Last week's primary offers more lessons through what didn't happen than what did. Some factors, predicted to be crucial, didn't seem to matter at all.
Commissioners' picks didn't win
Last Tuesday wasn't a good night for the Spokane County commissioners' preferred candidates.
Mary Kuney, the Republican treasurer candidate they endorsed against sitting Republican treasurer Rob Chase? Knocked off by a huge margin. Leonard Christian, handpicked to replace Rep. Larry Crouse as the 4th Legislative District representative? Crushed by the same two people the commissioners passed over to pick Christian.
To be fair, Kuney and Christian's opponents had better name recognition: Treasurer candidates Chase and Amy Biviano's names are known from previous elections. In the 4th, Diana Wilhite is the former mayor of Spokane Valley, while the more conservative Bob McCaslin Jr. was the son of the late Bob McCaslin Sr., a longtime state senator and Spokane Valley councilmember.
Yet according to Wilhite, the commissioners' sense of who was most electable was a prime factor when selecting Christian. "I was told I was the most qualified candidate, but they didn't think I could be elected in the 4th," Wilhite says. Ultimately, it was Christian who the 4th didn't find electable.
Money didn't mean votes
Two of the losing candidates had the most funding in their race. Kuney was the best funded treasurer's candidate in the state of Washington. Christian led both of his opponents in funding.
"He had the most amount of money, he had more signs than everybody else," McCaslin says of Christian. Ultimately, they didn't seem to help. So what did?
"The doorbelling and the one-on-ones are what win elections," says Beva Miles, chair of the grassroots organization Republicans of Spokane County. In Spokane County, observers on both sides say, a good, firm handshake still matters.
"My campaign strategy was to touch as many people as I could," says Wilhite. "Even though the 4th District was very large, I was able to doorbell a substantial portion of it."
Of course, it never hurts to have both doorbells and donors. That's Kevin Parker's strength: The Republican 6th Legislative District representative has a war chest 32 times the size of opponent Donald Dover's, and he still doorbells even in years he's not running. He says he's knocked on about 9,000 doors so far this election cycle, bringing his total since 2008 to about 49,000.
"One lady commented, 'You come and visit more than my own kids do,'" Parker says. The result? He walked away with 63 percent of the primary vote.
Deputies didn't dent the Sheriff's race
It's no surprise that Ozzie Knezovich defeated his opponent, Spokane Police Department detective Douglas Orr — Knezovich has always been popular. The surprise is in the spread. Many of Knezovich's own deputies wouldn't support him. After all, the sheriff is known for firing deputies who, among other things, have sex on duty. Despite narrowly losing the endorsement of the Spokane County Deputy Sheriff's Association, Knezovich still brought in 2½ times as many votes as Orr.
French didn't dominate
Even County Commissioner Al French's most venomous critics see him as a potent political force. He's an incumbent in a Republican county. He was going up against Democrat Mary Lou Johnson, who had little name recognition. Johnson's vote was bound to be split by liberal former commissioner Bonnie Mager, running as an independent. It seemed like French would run away with the primary.
He didn't. In the most recent tally, French received only 36.6 percent of the vote, ahead of Johnson by little more than a point. (Mager won the vote in Cheney, but not much elsewhere.)
"I was very, very pleased with the results," Johnson says.
Many Republicans aren't worried.
"If you're looking at the economy and jobs in Spokane, Al French isn't the one you want to take on," says Beva Miles of the group Republicans of Spokane County. Only voters in French's relatively liberal district were allowed to vote for commissioner in the primary, they point out, while the entire county will vote in November's election. And Johnson performed dismally outside the city of Spokane, hinting at a bigger challenge when the battlefield expands countywide.
Yet the signs aren't good for French either: For the first time in at least 12 years, the sum total of votes for Republicans in a County Commissioner primary fell below 45 percent. Even when precincts in the city of Spokane were removed from the total, French didn't crack 50 percent.
His best hope is a 2002 repeat: Back then, incumbent Republican Commissioner Phil Harris, facing two Democratic opponents, received just 47 percent in the 3rd District primary, but gained nearly 12 percentage points in the general to win by a huge margin. But even if French (who did not return requests for comment) made the same 12-point leap, he'd still fall short of victory.
"I think Al French has a tough race coming up," says Bob McCaslin Jr. But that's true of practically any race, he says. In the months between the primary and general election, nothing can be taken for granted.
"You better be running like you're 50 points behind," McCaslin says. ♦