Certain songs have a way of bringing back memories — there's actual science to back it up! The story of the Inlander is no different, so I thought I'd offer a more rock 'n' roll take on this long and winding tale with a playlist and my own liner notes. So here are 25 songs that take me back to various chapters of the Inlander story.
Columbia to Seattle to Boston to Spokane
The Inlander was born in Columbia, Missouri, where I fleshed out the idea for a weekly in my hometown as part of earning my journalism degree. I'll never forget arriving in Columbia on that bitter January night in 1989, dropped off at a hotel near the stadium with only the huge suitcase I liberated from my parents' basement. I checked in, walked part of the campus on that foggy night, then watched a Star Trek rerun certain I had made a colossal mistake.
Inside that suitcase, of course I made room for a boom box and about 10 CDs, one of which was Led Zeppelin's Physical Graffiti. I brought it for "Kashmir," but I wore it out in my dorm room on "Ten Years Gone," with its forlorn mood only deepening that feeling of being alone and far from home.
Around the same time, a friend turned me on to Jackson Browne's killer first album, Saturate Before Using. "Under the Falling Sky" has that world-of-possibilities vibe that eventually shooed away those dark clouds as I got into my journalism groove and met my future wife, Anne.
In 1990, I took a job at Seattle Weekly right out of grad school, and R.E.M.'s Out of Time was huge at the time, with "Belong" getting regular play in the car my grandfather gave me, as I drove Bellevue, Kirkland and Redmond, setting up new rack locations for the Weekly's spin-off (and now defunct) startup publication, Eastsideweek.
The long-distance romance thing did not work for me or Anne, so I moved back to Boston where she was in physical therapy school at Boston University. We got married in 1992. I eventually got a job at the TAB chain of newspapers, and those days in our walk-up apartment, with its one-butt kitchen near Cleveland Circle, always come back when I hear Nanci Griffith's "Three Flights Up."
As Anne's graduation came closer, all our friends were making plans for what would come next. At dinners and parties, the Indigo Girls were the consensus favorite, and "Galileo," with its line "over a couple of beers the other night," captured those days when so much was still ahead of all of us.
It was about this time we dusted off the old Inlander thesis, with the idea of actually giving it a try. I even got a subscription to the Spokesman-Review mailed to Boston to keep up with the news back home. In the summer of 1993, we moved back to Spokane with a crazy plan. After graduating from high school in 1983, I had been "Ten Years Gone."
Early Days, Late Nights
We started working on our first issue in August. My brother Jer, just graduated from UW, had come on as my partner, and our mom, Jeanne, pitched in, too. Anne, whose first jobs were in public radio, wrote stories under her maiden name as we didn't want it to look like too many McGregors. We (barely) rolled that first issue off the presses and out into history on Oct. 20, 1993 — 25 years ago this week. Then we had to do another one. In a week.
Needless to say, there were many late nights in the '90s. The few computers we owned were painfully slow, and we quickly realized there was also a business to run. Luckily we got an intern from Gonzaga who we put in charge of the books. (Seriously.)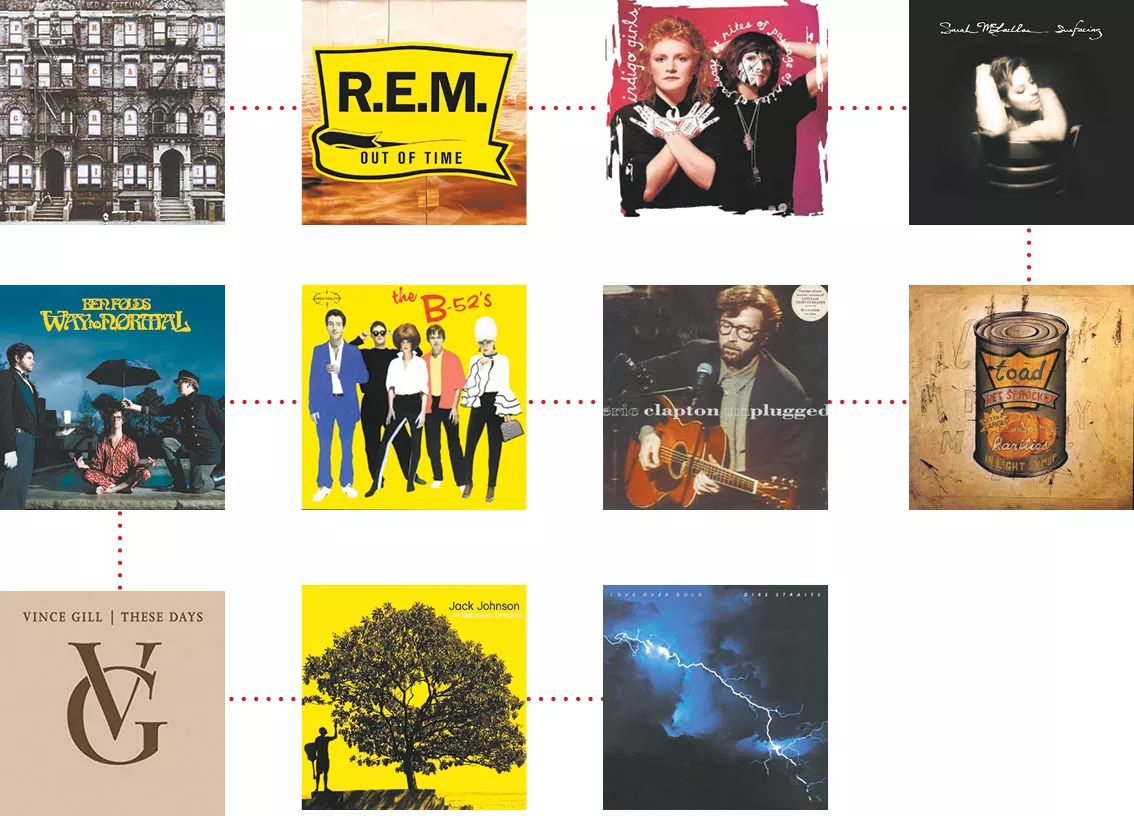 Of course there was always music playing as we struggled to hit every weekly deadline, and with so many hours to fill, some CDs just got put on replay. Sarah McLachlan was hitting it big, and "Sweet Surrender" still reminds me of the tiny bullpen of desks we had in the upstairs of our second location, a little house on Dean Street.
I loved Toad the Wet Sprocket, especially Dulcinea, but it's "Brother," from In Light Syrup, I think of because of Jer. We were just getting started and had absolutely no idea how hard it all would be. Along the way, we've kept each other on track — a true partnership. So, this one's for you, bro — 25 years feels good. Cheers!
There were a few other CDs I played to death in those early years: Natalie Merchant's Tigerlily, Eric Clapton's Unplugged and Willie Nelson's Across the Borderline. I was pretty into writing about politics then, and Willie's "American Tune," in particular, calls to mind the clash between human imperfection and the ideals we pledge ourselves to. It's an old Paul Simon song, set to a way, way older Bach tune, and it continues to inspire me to document, via the Inlander here in our little corner of the country, our messy, glorious American lives.
Starstruck Moments
One of the cool side benefits of having a newspaper is that you sometimes get to talk to famous people. I've cherry-picked a few interviews over the years, and musicians are always at the top of my wish list.
I got to interview Cindy Wilson of the B-52s in 2011, years after her band took the college party scene by storm with songs from "Planet Claire" to "Love Shack." Guess what? She kind of sounded like a parent, as we talked about her teenage kids forming a band.
"I'm Mamma," Wilson laughed from her home in Atlanta, "and in rock 'n' roll Mamma can't say a word. It's their thing — they've got to rebel and express themselves."
Little-known fact: I love disco. So when I had the chance to chat with Harry Wayne Casey of KC and the Sunshine Band, I jumped on it.
"Prior to [disco]," Casey told me in 2005, "we were coming out of Vietnam, everything was pretty much depressed, and all of a sudden came this high-energy, upbeat music. The '70s was a celebration of everything everybody was hoping for in the '50s and '60s."
I love Ben Folds, so when he was coming to play with the Spokane Symphony, I connected with him.
"Rock bands usually use a symphony as ornamental, not fundamental," Folds said in 2009. "I asked arrangers to do shit that would normally get them fired. I want to have a lot of bad ideas, but then find a few that are working."
Is writing a song about getting a head injury mid-concert one of those bad ideas? Listen to "Hiroshima" and decide for yourself.
Vince Gill is among my favorite country singers, and I caught up with him as he released These Days in 2006, which was really four separate records with 43 total tracks. (Show off a little, Vince?)
"Nobody was beating down my door to get this record out," Gill told me. "This probably goes against any type of logic of what's going on in music right now, and I kind of like that."
I didn't get to talk to Harry Connick Jr. for either his 2007 or 2015 shows, but I am singling him out for the all-time best Spokane story told from the stage during a concert. Here's how I recounted his remarks in a 2015 Inlander.com concert review:
The morning of the show, [Connick] and his buddy Tucker decided to go golfing; they asked the driver to find a Starbucks. Instead, he took them to a local coffee hut.
"You know about this?" Connick asked the audience. "They ain't wearin' no clothes in there!"
When he blurted out to the baristas, "Where's your all's clothes?" one of them turned on him and snapped, "It's a lingerie espresso stand!"
"I'm from New Orleans," he said "and we ain't got nothin' like that."
But the punchline? Tucker, you see, is one of his friends' kids, along for the summer tour. He's 15 years old, and he got a big old eyeful of Spokane in all its glory.
That Harry Connick is one hilarious dude.
The Serendipity of Sound
One of the greatest gifts of the Inlander is the many, many amazing people I've had the pleasure of working with. No surprise, a lot of them have music they like to share.
Over the years, members of our staff have pulled me out of my comfort zone and turned me on to new music. Andrew Strickman was the first employee of the Inlander; he agreed to leave his job at the Boston TAB, where we worked together, to help us in Spokane. Today, he's a brand manager in the Bay Area.
One day, he dropped a CD on my desk and assured me I'd really like it. I'd heard of the band, of course, but I wasn't sure. I kind of preferred to be stuck in my ways and pop in some old Who album instead. It sat there for a month or two before I gave it a spin. It was Crash by the Dave Matthews Band. As he predicted, I loved it.
Years later, Joe Preston was our art director and Leah Sottile was our culture editor. They both have impeccable taste in music. Today, they're married (met at the Inlander) and live in Portland, where Joe's a creative director and Leah writes for, among others, the Washington Post. I can't remember which of the two was responsible, or maybe both, but I got obsessed with both Coldplay and Keane because of them hooking me up with their albums A Rush of Blood to the Head, X&Y and Under the Iron Sea.
Andrew Strickman also had a great pipeline to record labels, and in those early days we had a steady stream of CDs coming to review in the paper. One weird one instantly became one of the most-played records on our communal CD player: If I Were a Carpenter. This was mid-1990s hipster bands taking on the songs of the Carpenters, a band my mom loved. If I had to pick one song to be enshrined as the Inlander's official theme song, it would be the Japanese punk band Shonen Knife's version of "Top of the World."
Sometimes I'd get exposed to new stuff even more randomly, as happened one day at Boo Radley's, where the old Loggins and Messina hit "Danny's Song" was coming at me from the Cali-punk superband Me First and the Gimme Gimmes. I've got a special place in my heart for Andy and Kris Dinnison, as they started their audacious new business the same time we did — we even wrote them up in our first issue!

The idea of tripping over something cool during your regular routine in Spokane is the secret ingredient we all want, whether via an upstart newspaper or at a place you can get that rubber chicken you've been needing. Putting a cheesy '70s hit and a punk band into a blender and turning it up to 11 is what I always hoped my city would turn out to be like.
Every Song Has a Story
Finally, here are five more that help complete this Inlander jigsaw puzzle. I loved the British protest singer Billy Bragg ever since I saw him with the Young Fresh Fellows at the old Seattle Mountaineers building in 1984. His song "It Says Here" decries the state of affairs in England where public opinion was controlled by the few — "...you should understand / That those who own the papers also own this land." I always wanted the Inlander to offer up fresh ways to look at the world — in fact, people used to call our style of newspaper "alternative" for that very reason. Put another way, a good newspaper should encourage an open mind in its readers. Or, as Billy Bragg put it in his call to level the journalistic playing field: "When you wake up to the fact / That your paper is Tory / Just remember, there are two sides to every story."
Back when the Inlander was young and feisty, we couldn't think of a better way to make Spokane cool than to push the music we liked on the local citizenry. A band hit it about that time that was not getting any airplay, so we started writing about it, even calling out ZZU to get with the freaking program and play Counting Crows already! "Rain King" opens with the thrilling sound of something completely different — and completely awesome. Resistance was futile, and ZZU and other local stations put the new Berkeley band into heavy rotation. We just knew it was because of us.
A big moment for the Inlander was in 2005, when we started working with Bloomsday every May. It also happened that the racecourse went right by our front door when our offices were in the Civic Building on Riverside. We'd set up our sound system and blast tunes out to pump up the hordes, and that playlist always had Jack Johnson's "Staple It Together" on there. For me, it'll always paint that picture of the beautiful bloom of humanity flowing through the streets of Spokane.
In 1995, Anne and I traveled to Nashville for the annual Association of Alternative Newsweeklies conference. We'd been accepted to the group the year before, and there we were among our new colleagues. It was a pretty heady moment to meet the people who ran the newspapers that had inspired all of us to start the Inlander, starting with the Scene right there in Music City. It was a mix of entrepreneurs, journalists, old hippies and fresh-faced idealists.
The capstone event was an unforgettable night at the original Ryman Auditorium, with a Who's Who of Nashville songwriters playing their own songs and up-and-coming bands trying to get noticed. Radney Foster, Kim Richey, Guy Clark — even Porter Wagoner was there to greet us. One of the new bands was Vigilantes of Love, and they became a favorite — and always remind me of that trip, when we saw we were not alone on this mission.
I'm not sure why, but the Dire Straits epic "Telegraph Road" has always been so evocative for me. A Jesuit I knew at Gonzaga Prep turned me on to the album Love Over Gold; later it was my go-to during the fall quarter of my freshman year at UW. When I wrote the inaugural cover story for the first edition of the Inlander, "Growth: Boon or Bust?" I peppered the layout with lyrics from "Telegraph Road." In its opening bars, the song encapsulates the birth of a Western town — from an individual act to a collective enterprise.
A long time ago came a man on a track / Walking 30 miles with a sack on his back / And he put down his load where he thought it was the best / Made a home in the wilderness.
He built a cabin and a winter store / And he ploughed up the ground by the cold lake shore / And the other travellers came walking down the track / And they never went further, no, they never went back.
Then came the churches, then came the schools / Then came the lawyers, then came the rules / Then came the trains and the trucks with their load / And the dirty old track was the Telegraph Road.
Newspapers came, too, as the health and growth of all American cities were attended by the basic act of sharing the news. "Telegraph Road" is poetry, really — a meditation on the tension between the freedom of the individual and the responsibility to the collective. And that tension ("the rules") propels the messy, glorious story of society. It's the road that connects what we've been writing about every week for 1,300 weeks now.
As the music fades out on my Inlander playlist, I'm grateful to everyone who has helped us along the way. Past employees all left their mark. Friends and family were always close by. And the trust and belief in our mission shown by local businesses has been matched by our readers weekly devotion, picking up and reading the paper we create. You all together are the reason we're still here at 25 — and excited for the next 25.
So on behalf of all of us at the Inlander, and kind of like the old Sam & Dave song says, you didn't have to love us like you did, but you did... and we thank you! ♦

THE PLAYLIST