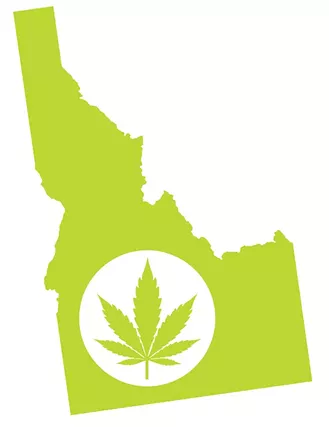 It's a little strange that hemp is still illegal in Idaho, if you think about it. In a state known for its agriculture and libertarian leaning, hemp hasn't made any progress, despite repeated efforts.
Looking at a map of Western states with either legal hemp or marijuana programs, Idaho is the only state with neither. Washington, Montana, Nevada, Wyoming and Utah (not to mention Canada) all have legal programs for one or the other.
Even the conservative Idaho Freedom Foundation penned an article in December suggesting that it's time to legalize — or at least talk about legalizing — hemp. But while the 2018 Farm Bill has been a game changer for states where hemp is already legal, it doesn't supercede Idaho's state law banning hemp products.
So what's the hold up?
Though he hasn't given a firm "no" to any potential hemp legislation, last month Gov. Brad Little expressed that legalizing hemp could be "camouflage for the marijuana trade," the Idaho Statesman reports.
Little's comments reflect a suspicion that's held by others, too. In January, the Idaho State Police seized a truck travelling between Oregon and Colorado carrying 6,700 pounds of hemp. The driver was arrested and the product was confiscated. The company, Big Sky Scientific, has now filed a lawsuit against the ISP. (The product's THC content is currently being tested, the ISP told the Statesman.)
Although hemp contains a minimal amount of THC, the psychoactive compound found in marijuana, it's not nearly enough to get high on. That said, Idaho state law bans products with any amount of THC.
Rep. Caroline Nilsson Troy (R-Genesee) introduced legislation last week that would change that. Her bill, House Bill 122, would legalize the plant within the same bounds as the 2018 Farm Bill, which allows hemp plants with .3 percent THC content. By comparison, marijuana strains have anywhere between 15-40 percent THC content.
Part of the challenge is just educating people on the differences between hemp and marijuana, Troy says.
"That is definitely a challenge. How we've been describing it is that they are cousins," says Troy, chair of the House Agricultural Affairs Committee. "There are similarities in how they look and how they grow. The difference is how much THC they have. And that's part of the definition in [the Farm Bill]."
As far as marijuana legislation goes, the interest just isn't there, she says. "That's a big bridge to cross." She also adds that hemp plants actually deter marijuana growth because the cross-pollination weakens its potency.
More recent efforts to legalize hemp have failed. Former Gov. Butch Otter vetoed a bill in 2015 that would have allowed "hemp extract," or CBD, from "out-of-state sources" to treat children with epilepsy.
"Most of these states that are still holding out are still very strong agricultural states," says Erica McBride Stark, director of the National Hemp Association. "We're not asking the state to do anything that defies federal law."
Industrial hemp holds a lot of potential as a cash crop superior to corn, and it could potentially open hemp manufacturing jobs in the state, she adds. ♦