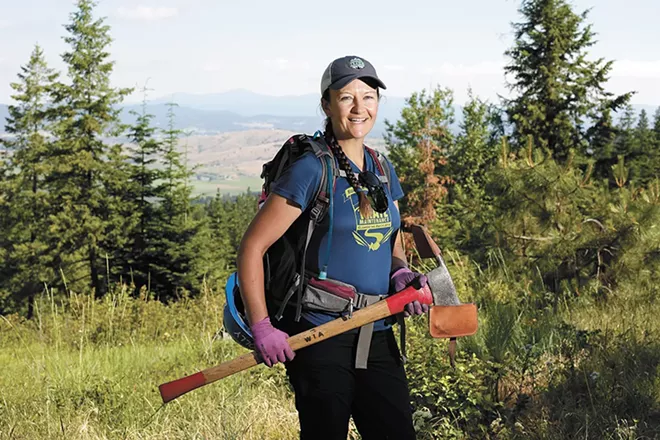 They're starting from the top.
In the past couple weeks, volunteers with the Washington Trails Association began carving what will become the Mica Peak Conservation Area's newest mile-and-a-half singletrack trail. That means using handheld, human-powered tools to dig and move rocks that are sometimes two and three times the size of a single person.
There's more than 900 acres of land about 30 miles below Spokane Valley and Liberty Lake where loggers, hunters and not-completely-legal dirt bikers used to roam. In 2013, Spokane County purchased what is known as the Mica Peak Conservation Area for $1.7 million through its Conservation Futures Program with the intention of developing a four-season, multi-use, non-motorized trail system.
They're talking about purchasing about 900 more acres adjacent to the Inland Empire Paper Co., which would connect the area to the Liberty Lake Regional Park, says Paul Knowles, Spokane County park planner.
It's somewhat similar to Mount Spokane recreational area, Knowles says, in terms of "expansiveness, elevation and wilderness."
The Mica Peak area rises more than 2,000 feet in elevation and includes an impressive diversity of habitats and ecosystems: open ponderosa forests, aspen and birch trees and subalpine forest with some huckleberry understory near the peak. (The county doesn't own the peak, though; some Federal Aviation Administration radar facilities are up there.)
"The cool thing about this project is it's close to town," Knowles says. "The idea of bringing a 14-mile, four-seasons trail system online is a huge addition to the trail community."
In the winter, Knowles says, the area gets a significant amount of snow cover, making it perfect for cross-country and backcountry skiing. When the snow is gone, the more than 14 miles of trails will be open for non-motorized riding and hiking.
Since 2013, the county has engaged multiple groups, including representatives for mountain bikers, hikers and horseback riders, among others, to elicit input on trail construction.
Crews with Washington Trails Association and Evergreen East Mountain Bike Alliance (organizations that advocate for and help maintain trails throughout the state) have just started breaking ground on the new network of trails.
But first, they had to map the routes.
MAPPING
In 2016, two dozen volunteers traipsed through the Mica Peak property with their smartphones — snapping photos and uploading them to a county database. They attached notes along with the images about beautiful views, treacherous locations and damage that needed repair.
The county used the crowd-sourced info to map the future trails. Knowles says this is the first time they've taken a crowd-sourced approach to building new trails.
"It was really effective," Knowles says. "At the end, we had a great inventory map that showed most of the trails on the property and the highlights of the property and issues we needed to address down the road."
Some of the highlights include the multiple creeks along the trails and the impressive views.
"Especially a little bit higher up, you've got this 280-degree view looking from the south Palouse, Tower Mountain, Iller Creek area, Dishman Hills Conservancy and all the way to Mount Spokane," Knowles says.
Using that data and a plan laid out by a design firm, Knowles and volunteer trail bosses could begin flagging out the general corridors.
FLAGGING
This past spring, after the snow melted, Holly Weiler accompanied Knowles and another volunteer into the Mica Peak area and hung orange and pink flags from tree branches. Using a compass-like device called a clinometer they measured the grade of the freshly marked trail to ensure it's not too steep.
"If we keep it at a more moderate grade, it keeps the hikers happier," says Weiler, the Eastern Washington regional coordinator for the Washington Trails Association. "It also makes the trails last longer. It's harder to maintain a steep trail. They're prone to erosion problems in a sudden rain event or during snow melt off after the winter."
Over the next two years, volunteers with the Washington Trails Association will help carve about a mile and a half of new singletrack trails that will wind through, around and past the area's existing logging roads, Weiler says. There will be loop options, with a switchback climb to a "phenomenal viewpoint" that's unrivaled by any other county conservation area, she adds.
A separate, 3-mile "flow trail" designed for downhill mountain biking has also been marked with flags, says Harley Dobson, a member of Evergreen East, who has worked with the county to design the route.
"We're trying to build it in a way that you're essentially surfing down the hillside," Dobson says. "So you're not riding your brakes the whole time. There will be berm turns, and it's designed so any level of rider can ride it."
In addition to input from user groups, Spokane County is working with a biologist to ensure the new trails won't interfere with wildlife, Dobson and Weiler say.
"We've noticed a lot of elk tracks on the new trail we built," Weiler says. "And I've seen bear scat on the mountain. Our map had to be checked by a biologist to make sure it wasn't going into a sensitive habitat."
DIGGING
The hikers have a head start on the mountain bikers.
For the past couple weeks, Washington Trails Association teams of about 15-20 have taken to the rugged landscape with firefighting tools such as grub hoes (for digging), rock bars (for moving rocks), McCleods (for more digging) and rock nets (for moving really big rocks).
"We've discovered that up top, it's very rocky with a layer of bedrock underneath," Weiler says. "So we've been moving a lot of rocks."
So far, teams have spent about five days working with varying degrees of progress. Some days they'll finish about 1,000 feet. Rocky sections take longer. The Washington Trails Association has promised to work 2,000 volunteer hours, and Weiler estimates it could take about two years to complete.
Evergreen East began its first work day this past weekend on the bottom half mile of the flow trail, which mostly involved clearing vegetation, Dobson says. His group has also pledged a certain number of volunteer hours. After the vegetation is clear, and the human-powered digging complete, a mini excavator will come through for the finishing touches.
Both groups regularly post work-day schedules on their websites and Facebook pages, and anyone is welcome to help.
"If in the future, there's required maintenance, we'll be coming back to spruce things up," Weiler says.