For the proud cat ladies, the dogs > people crew, and the aspiring wildlife charmers a la Snow White, the best gifts should honor their indomitable love for the animal world. Do not — I repeat, do not — however, interpret this infatuation as due cause to unexpectedly gift said animal lover with another living being. From puppies to goldfish, kittens to reptiles, pets are not appropriate holiday gifts unless — and only if — you and the intended recipient have planned far in advance in order to properly and responsibly care for said living creature for the remainder of its lifespan. OK, great. Now that we've gotten that out of the way, let's begin.
ADOPTION / KENNEL SPONSORSHIP (a)
Since the aforementioned animal lovers you know are likely living in a full and fur-covered house, running a small nonprofit rescue or fostering kittens in their spare bedroom — yet would own more pets if they could — do the next best thing. Sponsor the adoption fee for a local shelter animal in their name, and include a photo of the chosen animal and a little bit about it inside a nice card. Or consider sponsoring a shelter kennel for an entire year, which includes a nice plaque that hangs on the kennel door with your own message of tribute or honorarium. Kennel sponsorships at the Kootenai Humane Society are $100 or $250, with your choice to display on a dog or cat unit. At the Spokane Humane Society, both cat and dog kennels are $100 to sponsor for a year. Details at spokanehumanesociety.org, kootenaihumanesociety.com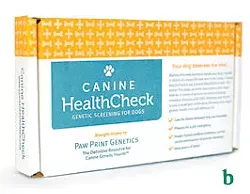 CANINE / FELINE HEALTH TEST (b)
For the dog/cat people in your life who place their fur-kids before themselves, consider Spokane-based company Paw Print Genetics' new Canine HealthCheck test. While not a breed identification test, the genetic screening can provide insight into more than 250 inherited diseases and traits, including coat colors. The results, prepared within two weeks of the lab receiving your kit back, can help a pet owner and their veterinarian make informed decisions about preventive health care and potential future medical issues. Paw Print Genetics also offers a cat version through its brand CatScan, which tests for 75 diseases and traits. $80/cats; $180/dogs • Online at caninehealthcheck.com or mycatscan.com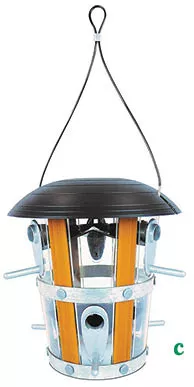 BIRD FEEDER (c)
Hardcore animal lovers don't discriminate. They want to feed, care for and house every living creature on god's green earth, and that includes the hungry little birdies in the backyard. Consider, then, a bird feeder to stock with healthy seeds to fill the bellies of local robins, starlings, sparrows and other feathered brethren. Many bird feeder models are also made to be squirrel resistant, so that your recipients' efforts to feed the intended species are not all for naught. ~$50 • Sculptured Gardens • 15614 E. Sprague Ave., Spokane Valley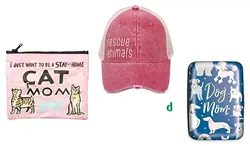 CAT LADY / DOG MOM SWAG (d)
For the pet parent not ashamed to flaunt it, fur and all, consider the wide variety of options for pet people stocked at Spokane Valley gift shop Simply Northwest. A sizeable nook of the store is overflowing with chic and simultaneously cutesy dog mom and cat lady gear, including mugs and decorative signs with sayings like "all you need is love and a cat," "dogs make everything better" and "my kids have paws." With so many styles and choices, and items at every price point, from $5 and up, you're sure to find the perfect present. Varies • Simply Northwest • 11806 E. Sprague Ave.
PET RELEAF LIPOSOMAL HEMP OIL (e)
If the animal lover on your list might bristle if you omit their "fur baby," get something the whole family will appreciate: Pet Releaf Hemp Oil. Because even IF junior doesn't suffer from the ailments hemp oil claims to address — inflammation, pain, suppressed immune system — the poor critter likely experiences anxiety (from helicopter parents). Bonus: This hemp oil is organic because, you know, nothing's too good for the baby. $23 • ShakaPaw Pet Market • 120 Cedar St., Sandpoint (CARRIE SCOZZARO) ♦