Previous iterations of our yearly Gift Guide have included categories like "Gifts for Techies" or "Gifts for Geeks." Well, it's 2019 now, and there's a new category for everything. Enter the "tech bro": a hard-working, teched-out dude that just likes to have a good time. They're hard to buy for because they already have practically everything, but here are some useful and nerdy gifts they can embrace.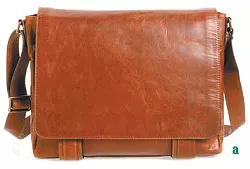 'LOGAN' MESSENGER BAG (a)
An elegant messenger bag like this is great for someone who wants to look like they're always busy and protect the goods at the same time. It has plenty of room for all the work essentials (and some extras), but it'll still win style points with a seamless design and portable size. $498 • Nordstrom • 828 W. Main Ave.
FUNKO POP! ACTION FIGURE (b)
A tech bro's desk is incomplete without at least one Funko Pop! figure so they can display their fandom. This one's pretty customizable, since there's a figure for practically everything you can be a fan of, so it's hard to go wrong. Anything on the Star Wars spectrum is a safe bet. $25 • Boo Radley's • 232 N. Howard St.
KEANU REEVES CANDLE (c)
This is a pretty universal one. Not many people would be unhappy with being given a Keanu Reeves devotional candle. Bros love Keanu and nerdy dudes like Keanu. Allow your that person in your life that's kinda in between those two to fully show their commitment as a true disciple. Boo Radley's • 232 N. Howard St.
ELEMNT BOLT GPS BIKE COMPUTER (d)
You know that sustainable and healthy bicycle commute to work your friend keeps bringing up to make you feel bad for driving a car to your job? Give them something to brag about. This bike-mounted GPS and mini computer includes Bluetooth and dual-band technology (whatever that is) to ensure that every trek is as high-tech and smooth as possible. $250 • Wheel Sport Valley • 606 N. Sullivan Rd., Spokane Valley ♦