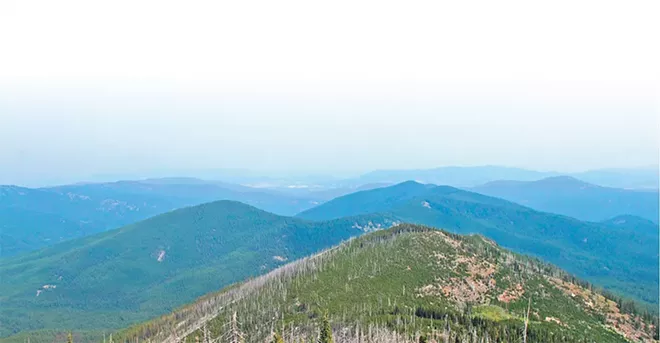 Maybe it's when you're standing at the top of a mountain, feeling exhausted but accomplished as you survey the peaks and valleys of the landscape.
Maybe it's when you finally feel the tug of a catch while you're standing knee-deep in a flowing river.
Maybe it's the thrill of paddling through whitewater rapids. Or, for the less daring, maybe it's lounging on the beach with a beer in hand as the sun settles in behind the mountains.
Finding your bliss in the outdoors can mean something different to everyone. But whatever it means to you, you probably can find it in the Inland Northwest, if you know where to look.
Here we've compiled a list of the best spots in the area to enjoy the great outdoors. Some of them are our personal favorites, and some were recommended by outdoors enthusiasts. There should be something for everyone, whether you're looking for adventure, for wildlife or just a place to relax.
WILSON CRISCIONE, section editor
VIEWING WILDLIFE
Even in the most urban parts of Spokane, you'll find wildlife. Bald eagles soar over Latah Creek near the highway. Moose wander into suburban backyards.
But in the city, it almost feels too easy. It's somehow more fulfilling to see wildlife outside the city: to spot a moose drinking water from a forest creek, to glimpse an eagle diving to catch a fish in a secluded river. You're in their territory now. Nature has the control.
It's the kind of experience you can find any time of year at the Little Pend Oreille National Wildlife Refuge, says Alice Hanley, project leader for the Inland Northwest National Wildlife Refuge Complex.
"At Little Pend Oreille, it's more of an experience of what it used to be like before we had cell phones and roads everywhere," she says.
The 40,198-acre refuge, about 70 miles north of Spokane, is much larger than Turnbull and Kootenai national wildlife refuges.
You're bound to see wildlife like birds or deer just about anytime of the year, but spring or fall are when there's more abundance of animals. Golden eagles, goshawks and waterfowl can be seen in the fall. Elk, moose, coyote, bobcats may be spotted in winter. All kinds of migratory birds turn up in the spring. In the summer, you may spot elk and moose calves.
You'll see much of the same at other refuges like Turnbull and Kootenai. But if it's seclusion you want, Little Pend Oreille might be the place to go.
"It's so big, you can really get away from people," Hanley says. (WILSON CRISCIONE)
MOUNTAIN BIKING
Spreading throughout the Colville National Forest, about a two-hour drive from Spokane, are more than 110 miles of rugged, mountainous singletrack trails known as the Kettle Crest Trail System.
"That's my weekend day ride," says Will Stone, former president of the Evergreen East Mountain Bike Alliance. "I'm probably shooting myself in the foot, but in reality the main thing it needs is more traffic. You hardly see anybody out there. It's so remote. World-class."
The entire Kettle Crest system is open to mountain bikers, with options for 4 to 14-mile loops. The vast, rolling trail system with big views is perfect for bikepacking and cross country mountain biking.
Stone specifically mentions the Jungle Hill loop, with a 4,131-foot climb spanning about 14 miles.
But one of the best things about the Kettle Crest, he says, is riders can just as easily find a nice 5-mile loop as they can explore for 40 miles in a single day.
"If you can, go camp for a night and ride for a couple days," he says. "It's low key. Car camp for a night, bring some leftover pizza, and you're pretty well set."
Other local mountain bikers also mentioned Mount Spokane's trail NO. 290, aka "The Goode's," named for David Goode, who helped design it.
"It's so different than anything else we have in this area," says Harley Dobson, who has been riding mountain bikes his entire life. "It's probably the closest thing to a westside trail that we have over here." (MITCH RYALS)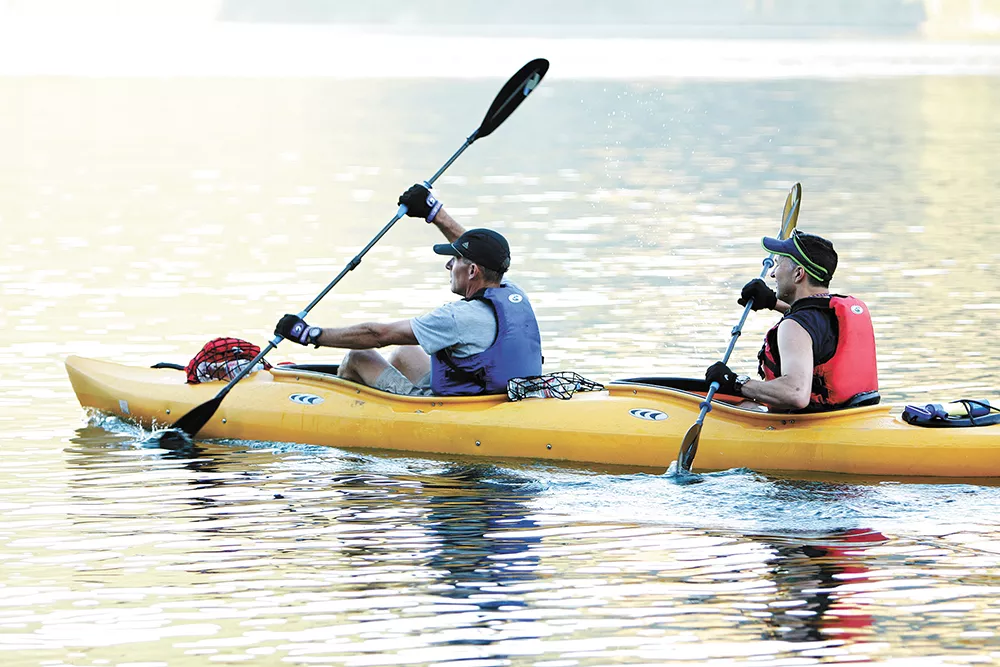 SCENIC HIKES
As summer gets into full swing, there's no better time to lace up some hiking boots and hit the trails for one of the many hikes in Eastern Washington and North Idaho that offer stunning views, meadows of wildflowers and vistas of blue lakes and mountain peaks.
When it comes to truly scenic hikes, Holly Weiler, Eastern Washington regional coordinator with the nonprofit Washington Trails Association, recommends hitting up at least a portion of the 44-mile Kettle Crest Trail in the Colville National Forest.
"It has several different trailheads to access it, but the easiest is right off of Highway 20 at Sherman Pass," Weiler says. "The views up there are 360 degrees, and on a clear day you can just make out the Cascades."
Another popular scenic hike that's definitely on the more challenging side, with almost 4,000 feet of elevation gain over the roughly 4-mile hike up, is the Scotchman Peak Trail east of Lake Pend Oreille, Weiler says.
"I hear they've done some rerouting of the trail to make it a little less steep," Weiler says. "If you're at the top, on a clear day you can look down right on Lake Pend Oreille and it's very beautiful."
The hike is also known for its bloom of bear grass, a tall plant with balls of spikey white flowers that looks like it was pulled straight out of a Dr. Seuss book, Weiler says.
Other scenic hikes to consider: Quartz Mountain in Mount Spokane State Park, Antoine Peak Conservation Area or Chilco Mountain Trail. (SAMANTHA WOHLFEIL)
FLY FISHING
There's no X marks the spot when it comes to fly fishing. There's no secret cove. Every day is different. You have to think on your toes.
"Fish don't think. They react. Our job as fishermen is to make them react," says Allen Peterson, the owner of Swede's Fly Shop.
With 63 years of experience fly fishing and having owned Swede's for 34 years, it's hard to ignore his advice.
If you don't know where to get started, Peterson says the Spokane River is great: "Anything on down[stream] from Monroe Street fishes quite well." Still lost? There are more than 75 lakes, within 100 miles of Spokane that are also great spots for fly fishing, he says. McDowell Lake and Browns Lake are solid fly-fishing spots, according to the Washington Department of Fish and Wildlife. The north fork of the Coeur d'Alene River is also well-known for fly fishing, as is the St. Joe River.
For those beginners out there, Peterson says to "use patterns that imitate nymphs and small fish" and to avoid dry flies. "The Spokane River is not a dry-fly river, traditionally."
If you're itching for some more river wisdom, Peterson offers classes on the first Saturday of every month at his shop, located at 825 W. Garland. (QUINN WELSCH)
RELAXING ON THE BEACH
I loved growing up in Colorado, a beautiful state full of towering mountains, breathtaking valleys and endless opportunities to explore the outdoors.
But living in the Inland Northwest has opened my eyes to a part of the outdoors that my home state almost entirely lacked, and a part I didn't even know I was missing: beaches.
The beaches and lakes in this part of the country are almost always spectacular — and almost always crowded. But when I went to Honeysuckle Beach off of Hayden Lake on a Sunday afternoon, my friends and I found ourselves as one of only two groups on the shore. According to the lifeguards on duty, the beach is one of the most popular in the area, but often early mornings and partly cloudy days cause the beach to remain quiet.
It's pretty clear why the beach is so popular as its dock, concession stand, picnic areas and volleyball courts can serve anyone from parents searching for a beach day with their families to fishermen looking to try their luck. Breathing in the fresh air, feeling your feet sink in the sand, wading into the brisk water only up to your knees can provide any beach novice (like me) or city dwellers with a wonderful experience at the beach, whether it's a busy day or not.
Other beaches in the area you should check out include, Bear Lake Regional Park north of Spokane and Q'emlin Park in Post Falls. (SEAN PRICE)
PADDLING
With lakes and rivers scattered all across the Inland Northwest, ideal locations to put in your canoe, kayak, paddleboard or inflatable raft for a day on the water abound. So where to go? It usually depends on what kind of experience you're looking for, or what your own level of experience on the water is.
If you're looking to join other paddlers, Spokane Canoe and Kayak Club (SCKC) President Barbara Kowalski suggests searching for locally organized outings on meetup.com, including excursions hosted by the club's members.
"If someone is interested in trying paddling and is very much a beginner or trying a new boat, small, small lakes like Fish and Sand lakes have good access and are nice and quiet to be trying new things," Kowalski says.
She says it's also easy to park, put in and paddle along flatwater sections of the Spokane River.
For more experienced paddlers, SCKC member Blake Sommers, who's been hitting the water for 12 years, suggests what's called "Trailer Park Wave" just downstream from the Post Falls dam on the Spokane River.
"It's a single wave in the middle of the rapids, and the way it's shaped you can surf it in a [whitewater] kayak," Sommers explains. "The front of your boat faces upstream, and there are all different tricks you can do while surfing that: cartwheels, front flips and backflips."
When the river's flow is lower, this area can also be a good spot for stand-up paddleboarding, he says.
Kowalski and Sommers also both suggest the Coeur d'Alene River and the St. Joe River, where each flow into Lake Coeur d'Alene. One of Sommers' favorite places a little further away for whitewater kayaking is on the Kootenai River outside of Troy, Montana. For more insight on where locally to float, paddle or hit some rapids, the club members also suggest checking out the Spokane River Forum, at spokaneriver.net. (CHEY SCOTT)
CAMPING
Living in the Inland Northwest, there's no shortage of camping spots within a short drive. Whether you're into backpacking, car camping or even glamping, the options are endless.
For me, when I want a quick weekend getaway from the city, I turn to designated campsites accessible by car. I also prefer a place with trees for cover and a nearby lake. That's why I end up spending a lot of summer weekends at Sullivan Lake in the Colville National Forest.
The campgrounds just 30 minutes south of the Canadian border have become a favorite of mine for many reasons. The area is great for anyone seeking day hikes or water recreation.
There are many trails nearby, but you don't need to look further than the Lakeshore Trail. It's an 8.2-mile hike that starts at the north end of the lake and takes you through the mossy forest and lower slopes of Hall Mountain.
There's also an abundance of wildlife. You'll be greeted by signs warning of bears in the area; you should always be bear-aware while camping in a forest. But from personal experience, you'll more than likely just end up with the occasional moose sighting.
Camping preferences are different for everyone. If Sullivan Lake doesn't sound like your speed, some other popular sites include Steamboat Rock State Park on Banks Lake and Lewis and Clark Trail State Park on the Touchet River. (DEREK HARRISON)