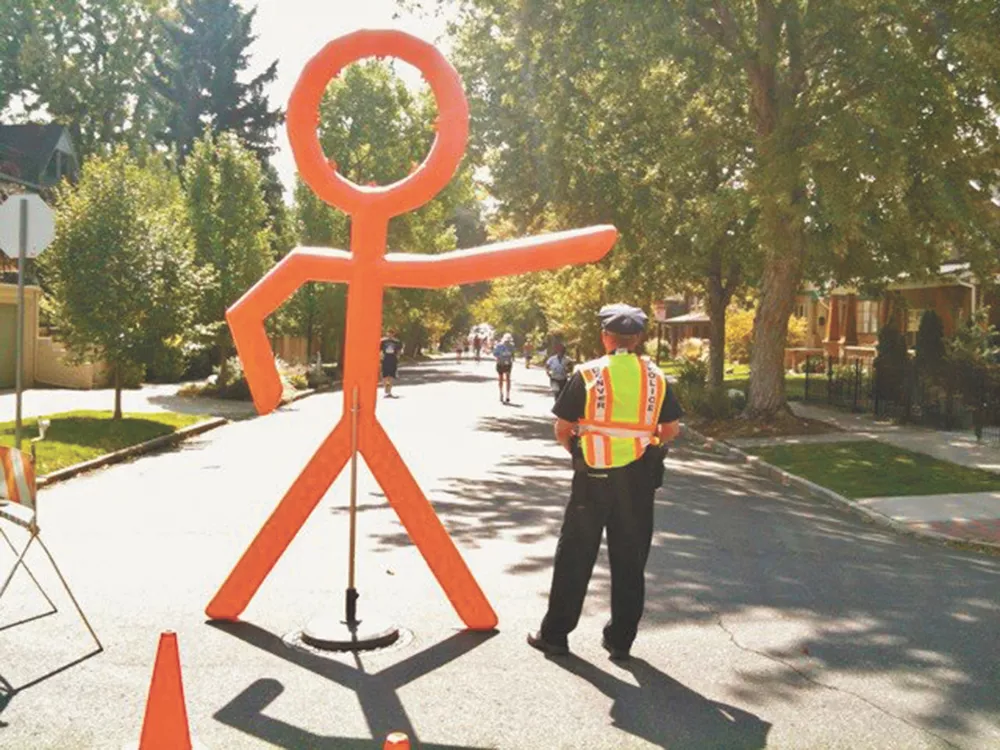 There's a reason some 50,000 runners, wheelchair racers, walkers and a few thousand more spectators flock to Spokane every May: Bloomsday and all the memory-making traditions that come along with it.
So you can understand why organizers aren't compromising the 39th Bloomsday by adding too many new bells and/or whistles. The course is still 12 kilometers, the race still begins and ends in downtown Spokane and yes, Doomsday Hill is still part of the run. But there are a few new additions to the storied race this year.
The first new aspect of the race is something you'll likely spot right off the bat. The new mile markers from Team Spinhead are inflatable stick figures with oscillating heads standing 10 feet off the ground. The Colorado company behind the towering markers calls the Spinheads "inflatable volunteers" capable of keeping folks on course and on pace.
If you're running Bloomsday, you'll want some photographic evidence of your athletic feat, and Photoboxx is on hand to make that happen. All you have to do is include the hashtag #BloomsdayRun on all your tweets and Instagram posts and those photos will be printed and available for pickup at the post-race festivities in Riverfront Park.
If you need to take your documentation a step further, this year Outside Interactive will be on hand to create a point-of-view video of the course. If you get the video, you can train in the off-season while the course plays in front of you on your TV screen or mobile device. Shot in high definition, the completed production is set to be available for purchase in July.
In other news, the character cards, cartoonish drawings of Bloomsday stereotypes complete with race facts and statistics, are back again with eight new characters, including one called Bruce Sprintsteen. Get it? In other news, the Marmot March will begin at 9 am on Saturday, an hour earlier than the kids' 1-mile race has typically started. Finally, another Bloomsday race means that another local charity benefits from a community outpouring of support; this year that charity is Spokane HOPE School, an educational program for young children who are deaf or hard of hearing. ♦