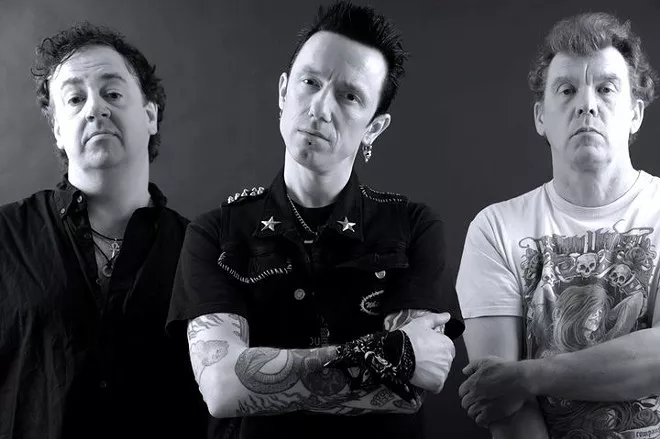 I know you're spending a lot of time at the county fair this week, but entertainment isn't made of fried food and questionable rides alone! Take a look in our event listings and Staff Picks for some primo ways to keep yourself happy this week. Here are some highlights of the days ahead:
Monday, Sept. 10
MUSIC | Speaking of the fair, the entertainment highlight of this year's event is tonight, courtesy of country cats
Old Dominion
. Rising stars and younger than your average county fair headliners, it should be a good gig. Here's a sample of their style:
Tuesday, Sept. 11
COMMUNITY | Talk about a perfect day to consider what you can do to further the American Dream for someone.
Learn how to be a foster family for unaccompanied refugee children
coming to the states from some horrific conflicts and strife around the globe at an info session hosted by Lutheran Community Services.
Wednesday, Sept. 12
MUSIC | Old-school punks
The Vibrators
return to Spokane for a gig at the Pin! Put on your moshing shoes, people!
BENEFIT | The one and only Ed Asner, one of the great TV actors of all time (Lou Grant,
The
Mary Tyler Moore Show
), swings by Coeur d'Alene for a one-night-only performance in
God Help Us!
, a politically charged show benefitting the Coeur d'Alene Summer Theater.
COMEDY | You might be a bored Spokanite if... you hit
Jeff Foxworthy
at the county fair tonight.
Thursday, Sept. 13
VISUAL ARTS | The Washington Cracker Co. Building is hosting a one-night-only showcase of local artists' work designed to turn our eyes to some of the community's most vulnerable neighbors.
Eye Contact: Homeless Art Exhibit and Fundraiser
will support the work of Volunteers of America in Spokane.
COMEDY |
Anthony Jeselnik
might just be the devil incarnate, at least if you believe his comedic persona to be the real thing. I do not, but I'm willing to risk some hang time with Satan to hear Jeselnik's hilarious standup, this time at the Bing.
MUSIC | If winning electro-pop is your thing, you'd be hard-pressed to do better than
the Blow
, the playful Brooklyn duo who mix originals with deconstructions of pop classics by Whitney Houston and more. They play the Bartlett tonight, here's a sample:
Friday, Sept. 14
MUSIC |
Rodrigo y Gabriela
was one of those unexpected treats when I saw them in concert, having virtually no knowledge of the genuinely rocking acoustic duo. They headline the Fox tonight, and here's a taste:
THEATER | The Spokane Civic Theatre kicks off its new season with
Mary Poppins
. Look out for our story about the show in our next issue.
Saturday, Sept. 15
COMMUNITY | An excellent opportunity to lend a hand taking care of our sweet river is here once again with the
Spokane River Cleanup
. There's always room for more volunteers to join the 600 or so folks who have joined up to do the work in the past.
FASHION |
Runway Renegades
is back, and the annual fashion show is once again showcasing six local designers, who take on local underserved youth to help them come up with the looks for the show. Watch for a story on this year's designers in the next issue of the
Inlander
.