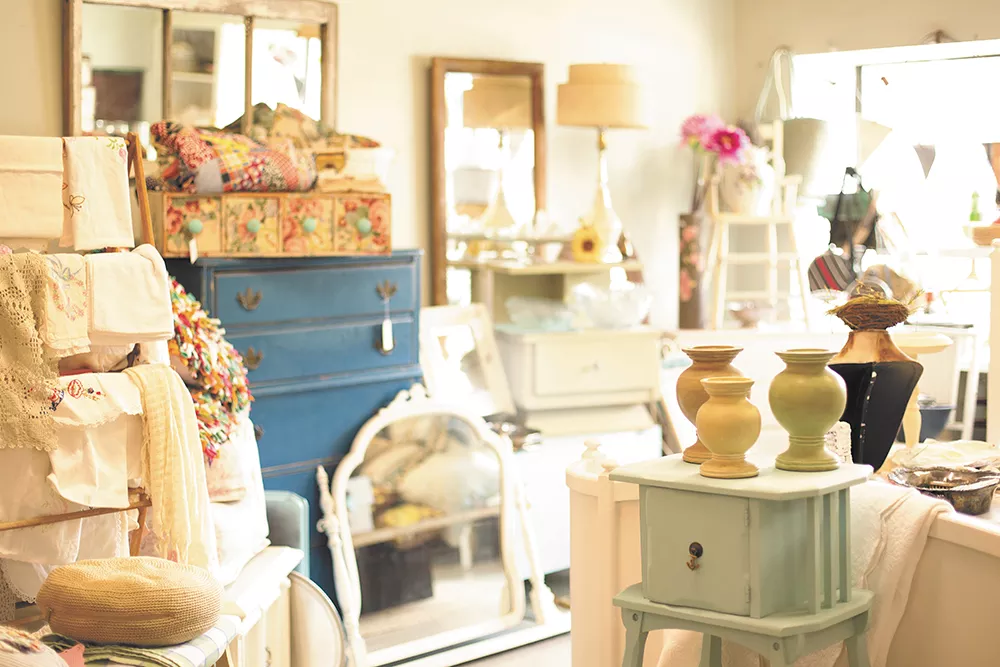 For some, shopping is a dreaded necessity, while others revel in the thrill of the hunt. No matter where you fall on this spectrum, let this guide lead you to some of the best sure-thing local shops the Inland Northwest has to offer.
Where to Treasure Hunt
Junking. Antiqueing. Flea market or salvage shopping. Whatever you call it, and whatever your style, French Country or farm chick-esque, options abound for Inland Northwest treasure hunters. At ROOST (7 W. Main), you'll find an eclectic assortment of galvanized steel tubs, vintage barware, antique dressers and old school lockers, rich with character. What you won't find are outrageous prices. "When I hear antique store, I think fancy, fine and expensive, and that's not what we are," explains co-owner Joy Arch. "We're more antique-ish." Ten different vendors sell within the sprawling space of Roost, so you'll notice some nooks might lean toward industrial salvage finds, while another vendor might have a more feminine flair. Whatever your style, turn every corner in Roost, because you never know what you'll find next.
At PINK SALVAGE GALLERY (154 S. Madison) you can typically find large-scale pieces, like a 16-foot-long schoolhouse cabinet or an old apothecary cabinet, alongside pieces by Deja Neu Furnishings, a local company that designs and refurbishes antique and industrial furniture. If you've seen the Twilight films, you've seen some of their work.
A whole stretch of thrift shops and upcycled treasure shops has recently popped up in midtown Coeur d'Alene. Start at PARIS ANTIQUES (823 N. 4th) and browse their assortment of vintage suitcases and antique croquet sets, then make your way to FRAY (811 N. 4th) for more mid-century modern stylings, or JUNK (802 N. 4th) where you can see all those chalk paint projects you like on Pinterest in real life.
Where to Find Gifts
Birthdays, Mother's Day, Christmas, anniversaries — so many special occasions that require so many gifts. It can be overwhelming, especially if a number of these blessed events pile up all at once and the month of June, for instance, means four graduation parties, Father's Day and a birthday or two thrown in. Knowing where to shop can make all the difference. Two of our favorite go-to gift stores are ATTICUS (222 N. Howard) and its next-door sibling BOO RADLEY'S (232 N. Howard). The merchandise at Atticus spans from quirky — like whimsical ceramic squirrels — to elegant, classic leather messenger bags that would make beautiful graduation gifts. A rainbow display of gurgle pots, pretty koi-shaped pitchers that make a gurgling sound when you pour them, provides a clever option for bridal showers or wedding gifts. A vast assortment of coffee-table books, candles, mugs, tea towels and canvas clutches have you covered for hostess gifts, Mother's Day or girlfriend gifts.
If you're after something with a sense of humor, take a short walk to Boo Radley's for serving platters with elegant scripting reading "Here's your snack, dumbass", Ghostbusters lunch boxes or Spokanistan T-shirts.
Smart-asses can find witty, clever gifts, like Porn for Women books with hunky men saying super-sexy things like "I love to do dishes" at PAPILLION PAPER EMPORIUM (210 E. Sherman Ave., CdA). This shop also has a wonderful assortment of cards and small treasures, like wine-tasting scorecards that would be perfect for oenophile hostesses.
Shopping at MIX IT UP (513 E. Sherman Ave., CdA) is like a little shot of retail Prozac. It's a cheery little shop, filled with bright colors and perfectly staged merchandise. They are gift pros here, so tell them who you're shopping for, and they'll guide you to the perfect gift. DECORUM (305 W. Second) owner Sandra Lambdin is also an exceptional personal shopper, and her charming Spokane SoDo District shop is always prepared for impending holidays like Father's Day, in addition to carrying locally made jewelry, wine racks made from repurposed wine barrels, decorative signs to adorn a lake cabin and thoughtful gift books for a friend struggling with cancer.
Unlike most hotel gift shops, the Davenport's gift shop, DAVENPORT HOME (10 S. Post), sells much more than single-serving packets of ibuprofen. Like the hotel itself, the lamps, linens, soaps, furniture and jewelry here are sumptuous and elegant. Francophiles will love the French placemats and tea towels, topiaries and bed linens. And everyone loves the hotel's signature soft peanut brittle.
When it comes to shopping for our girlfriends, our secret weapon is FERRANTE'S MARKETPLACE CAFE (4516 S. Regal) on the South Hill. You can grab dinner and a great birthday or hostess gift here. The jewelry selection is always on-trend, and the price point is perfect. Little decorative wine glasses, like they use in Italy, along with colorful tea towels, Caldrea lotions and candles, wine charms and a small but carefully curated wine selection round it out. The biggest challenge here is not buying something for ourselves.
Where to Buy Local Goods
So, you want to up the ante and not only shop at local stores, but shop at local retailers that stock local products? Here's a short list of where to go. Both THE KITCHEN ENGINE (621 W. Mallon) and CULINARY STONE (2129 N. Main St., CdA) carry a variety of local products — from ManPans cookware, made right here in Spokane Valley, to spices and sauces. Both POTTERY PLACE PLUS (203 N. Washington) and GALLERY NORTHWEST (217 E. Sherman Ave., CdA) are artists' co-ops, featuring locally handcrafted jewelry, paintings, sculptures and pottery. GLAMARITA (911½ W. Garland) is the area's only boutique to sell all locally designed clothing and jewelry. While THE SILVER ELEMENT (524 W. Main) has a national following, all of its necklaces, pendants and earrings are handcrafted in Spokane. The same can be said of MOUNTAIN MADNESS SOAP CO. (117 S. 4th St., CdA), which does a booming business on Etsy. But you can feel good knowing that each bar of soap or sugar scrub cube is handmade in Coeur d'Alene.
Where to Find Dresses
There's a story behind every dress at ARTEMIS (1021 W. First). Comfortable and unstructured, their Blue Platypus dresses are eye-catching from afar, and even more interesting up close. They fit Artemis' vintage-inspired aesthetic, but also appeal to owner/buyer Stacy Kraby because each piece is designed and made in the U.S. The dresses by Mata Traders, with fun names and personalities like the "Freelance Writer Dress" or the "Parisian Book Shop Dress" are a modern take on mid-century patterns and structure, and each fair trade purchase promises to help lift women out of poverty and provide safe working conditions (no sweatshops here). While the dresses at TIFFANY BLUE II (2027 Main St., CdA) might not have as interesting a backstory, they certainly will help you leave an impression. From flowy and feminine to sexy and sophisticated, the dresses here are also surprisingly affordable. VELVET HANGER (413 Sherman Ave., CdA), MARMALADE (117 S. 4th St., CdA) and JIGSAW (601 W. Main, #103) in downtown Spokane are our other favorite options, whether we're looking for a dress to wear to the Cobra Polo Classic or out on a first date.
Where to Find Denim
Unless you're blessed with the genetic makeup of a supermodel, shopping for jeans ranks just above the dreaded task of trying on swimsuits. There are only a small handful of women who will pull on the first pair of jeans they brought into the fitting room and think, "My butt looks great in these." The rest of us might need to work a little harder to find the right cut. CUES (108 N. Washington) is the destination in Spokane for premium denim by the likes of 7, McGuire, Current/Elliot and more. Yes, you'll shell out $215 for a pair of 7 for All Mankind's Skinny Slim Illusion jeans, but you can rationalize that denim is a staple and anything that hides those extra 5 pounds is worth it. In Coeur d'Alene, you'll find high end brands like Hudson and Joe's Jeans at TIFFANY BLUE (404 Sherman Ave.). Both boutiques have a deceptively robust denim selection, and offer a much more intimate shopping experience than big department stores. LOLO (319 W. Second) in Spokane's SoDo District has a smaller selection of designer denim on hand, but a decidedly more approachable price point, with most jeans under $100. Kut from the Cloth devotees can avoid sprawling department store parking lots and get their denim fix at FRINGE (12208 Division and 2622 E. 29th).
Where to Find Shoes
Yes, it's easy to buy a pair of shoes with a click of a mouse at 11:20 pm in your pajamas, but the path of least resistance isn't always the best. Shopping local strengthens our community. But don't think you need to sacrifice style for substance, thanks to fashionable options like BOOT GIRL (1025 W. First), where rows of vintage and refurbished cowboy boots are artfully displayed on reclaimed timber walls. Owner Susie Jarvis can't give up her sources and tell us where she finds the boots, but know that each pair is inspected, cleaned, and overdyed. If comfort is your priority, THE WALK SHOPPE (3707 S. Grand Blvd.) carries brands like Keen for walking and hiking, along with stylish wedges, sandals and heels that you could traipse around in for miles in Paris, and not be cursing your shoes. Comfort also reigns supreme at JJ'S SHOES (309 E. Sherman Ave., CdA) and HOMESTEAD BIRKENSTOCK (4750 N. Division). And if you need proof that Birks are back, check out the pictures of Leo DiCaprio sporting his Birkenstock Arizonas on Homestead's Facebook page.