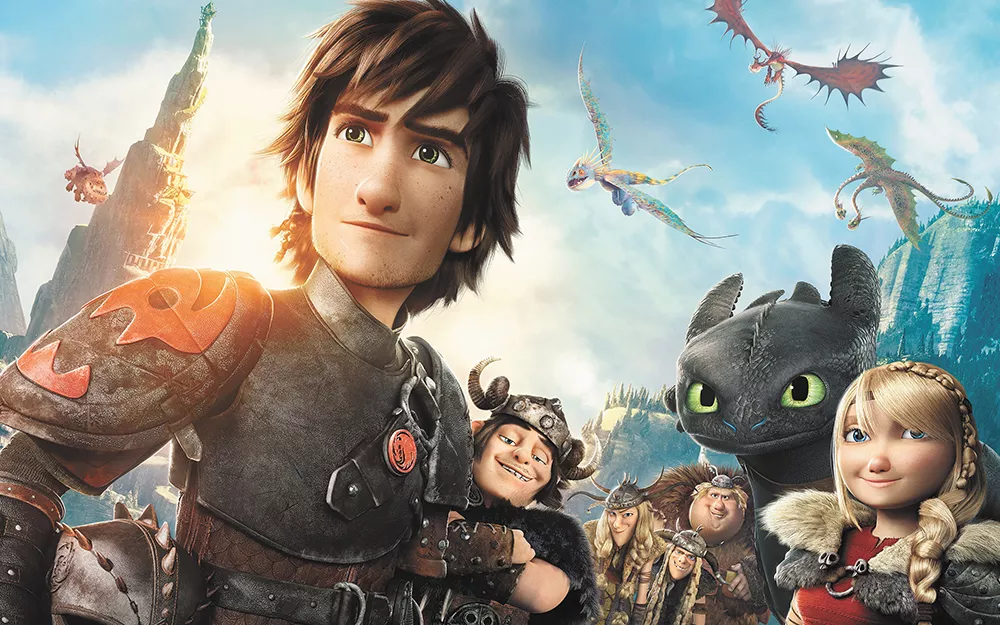 Forget Game of Thrones' Khaleesi. How to Train Your Dragon protagonist Hiccup has actually transformed his land into a dragon utopia as the series' second installment begins.
Picking up five years after the original, the isle of Berk has fully embraced the once-rival dragons as pets. And while Hiccup's father Stoick, the isle's Viking chieftain, is ready to cede power to his dragon-master heir, Hiccup's focus lies elsewhere, as he and his dragon best friend Toothless chart the previously unexplored world beyond Berk. Unfortunately, these travels lead to some unwanted discoveries, including the existence of dragon poachers and the tyrant Drago, who controls a dragon army. It's up to Hiccup to stop Drago's plans of world domination.
How to Train Your Dragon 2 succumbs to classic sequel syndrome, sacrificing the storytelling that made the original compelling in the name of upping the action. Between festive dragon races, discovering secret coves of the creatures, and dragon battles, it delivers much more aerial action than its predecessor, but the characters suffer as a result. There just isn't any room for the relationships. In the prior installment, Hiccup found an identity, went from enemy to best friend with Toothless, grew to understand his father, and broke through Astrid's hard exterior to woo her. The relationships in the first movie all grew and evolved, but they remain static here. While Hiccup encounters a new ally to bond with in place of the others, even that happens on a very basal level.
Most troublingly, How to Train Your Dragon 2 thematically undercuts its predecessor. How to Train Your Dragon is in large part a critique of macho culture: Rejecting warfare centered on stubborn male pride in favor of a caring and compassionate worldview. The sequel's main theme seems to be compliance; Hiccup's mercy becomes hubris. There's a constant echo compelling the characters to follow the rules or orders. When they're defied, trouble occurs. It's jarring to go from rattling the cage of the patriarchy to a message of obedience.
There just isn't enough substance to the script. Even the humor takes a hit. Basically, there are two oft-repeated jokes in the entire movie: 1) The dragons sometimes act like cats or dogs; 2) Berk's female twin Ruffnut swoons over the hunky dragon-trapper Eret. Ironically, it's toothless. How to Train Your Dragon 2 executes its aeronautical spectacle, but there's no fire in its breath. ♦