49 DEGREES NORTH
Situated on the southern portion of Washington's Colville National Forest, just 10 miles east of Chewelah, 49 Degrees North has been catering to powder-hungry throngs of snowsports enthusiasts for nearly half a century. Six lifts scattered across 2,325 acres of skiable terrain make for a truly shreddable experience, and on-area amenities like the Boomtown Lounge and Cy's Cafe offer all the hot chocolate, cinnamon rolls and craft beer that riders need to stay fueled. Add to all that, four Saturdays of night skiing per season and it's easy to see why 49 Degrees North belongs on this season's must-ski list.
What's new: After 23 years as owner and operator of 49 Degrees North, John Eminger passed the torch in April 2019 to Silver Mountain owner CMR Lands, which also owns and operates Silver Mountain.
LOOKOUT PASS
There's something strangely entertaining about riding a lift in Idaho, shredding fresh powder in Montana, then heading back across the border for a beer. Lookout Pass straddles 540 acres along the Montana-Idaho border just off Interstate 90, and the fact that the area can get as much as 400 inches per season goes a long way in explaining why skiers and snowboarders show up here in droves. A full complement of lessons, clubs and workshops ensure no family member will be left behind. And if a break from the slopes is in order, the Loft Pub is the perfect place to belly up for a brew, a burger and an update on the latest football scores.
What's new: Crews at Lookout Pass spent the summer swapping the area's frontside lift with a new quad, which marketing and sales manager Matt Sawyer says will nearly double Lookout's uphill capacity. Plus, Sawyer adds, replacing the old triple with a quad "allows families to ride together."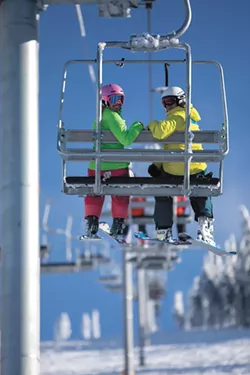 MT. SPOKANE
Last season brought a lot of hype to Mt. Spokane as the resort unveiled a new lift and seven new north-facing runs. The expansion upped the mountain's skiable acreage to 1,704, ensuring skiers and snowboarders even more of a shot at the kind of thrilling terrain Mt. Spokane has become regionally renowned for. With the summit-situated Vista House, late-week night skiing and three terrain parks, there's no shortage of options for riders at all skill levels. When those ski boots finally start feeling too tight, Mt. Spokane's two base lodges boast ample space to kick back and reflect on the day's gnarlier moments.
What's new: The 2019-20 season marks the return of the resort's Saturday shuttle service from Spokane. From Dec. 28 to March 7, riders can hop a 55-passenger bus from multiple in-town locations straight to the Mt. Spokane parking lot. "We've had lots of people ask about it, so we're excited to offer that," says Mt. Spokane's Brenda McQuarrie.
SCHWEITZER
With a mountain range or lake dominating the horizon in nearly every direction, the view from Schweitzer Mountain is enough to lodge a rider's heart in their throat. Throw in the resort's 2,900 skiable acres and an average annual snowfall of 300 inches and nobody could be blamed for a little lightheadedness. Schweitzer has been beckoning the snowsports crowd to its slopes season after season since 1963, and today offers a host of options. Miles of Nordic skiing and snowshoe trails, three separate terrain parks and a village complete with artist studio, movie theater and morning yoga sessions make it easy to keep the entire family occupied from sunrise until well after sunset.
What's new: Over the summer, crews removed the old Snow Ghost double chair in the Outback Bowl, replacing it with a high-speed quad and a triple. Visitors will also notice more protected outdoor seating at a couple base area restaurants, faster internet service and a newly paved road leading to the resort.
SILVER MOUNTAIN
An easy drive along Interstate 90 and a scenic ride up a gondola are all it takes to start making turns at Silver Mountain. From there, the resort's five lifts and 73 named runs send a clear message: take your pick. Average snowfall here is around 340 inches per season, an amount that tends to make the season pretty darned long. A tubing hill and top-notch terrain park lend any day at Silver a healthy helping of variety. The resort's Silver Rapids Indoor Water Park, nestled at the base of the gondola, add a family friendly vibe to the experience.
What's new: This season will feature a new ski shop at Silver Mountain's base area, complete with equipment tuning, boot fitting and an expanded selection of ski accessories. "We're expanding the beginning progression terrain park, too," says GM Jeff Colburn. "That's been pretty popular for us, so we're expanding that, putting in some new features and some music."