In the coming weeks, it's looking like more businesses in the Inland Northwest will reopen as restrictions implemented since the COVID-19 outbreak are loosened. But one big question still remains, and there's no real answer yet: What will live music look like in the wake of the coronavirus pandemic?
When you go to a show, will you be belting along to your favorite songs from behind a face mask? Will concert tickets become even hotter commodities due to reduced venue capacities? Could mosh pits become a thing of the past?
It has become clear in recent months that businesses reliant on large gatherings — concerts and sporting events, for instance — would be some of the last to reopen. Music venues and nightclubs have been sitting empty since late March, with no way of bringing in revenue beyond GoFundMe accounts or fundraisers.
National concert tours that were planned for this summer have largely been pushed to the fall or postponed until 2021. For the Spokane Arena and the First Interstate Center for the Arts, which are typically jam-packed with concerts, sporting events, live theater and graduation ceremonies throughout the summer, it could mean months without a single booking.
Matt Meyer, director of entertainment for both the arena and FICA, says both venues have been preparing for the possibility of reopening soon. In the week before Gov. Jay Inslee announced statewide business closures, the arena hosted the rock band Tool and State B basketball championships, while the FICA featured The Bachelor Live. Both places had already implemented advanced sanitization protocols, and those will only ramp up when they can reopen.
"It's going to come down to the safety of the general public, the safety of our staff, the safety of the touring shows," Meyer says. "After that, it's 'can we open the buildings back up and what will the capacity be? And will people come?'"
To get a better sense of that latter hypothetical, Meyer put together a public survey regarding the safety precautions attendees would expect from venues were they to reopen: Should all staff and audience members be required to wear masks, for instance, and how far apart should folks be expected to sit?
Meyer says he's already received over 4,000 responses, which should give management a decent idea of what kind of policies need to be in place going forward.
"We want to open again when it's safe but need federal assistance for that to happen with no income available during this time."

tweet this
Even so, it's possible that, due to CDC guidelines, larger entertainment venues like the arena will reopen after small venues do. But over at the Pin, the downtown all-ages venue that has a regular capacity of just over 260, owner Chelsey Heidenreich is still waiting to get the go-ahead to reopen. She says she's "basically still in the same spot" as she was a month and a half ago, when her business closed unexpectedly.
"We want to open again when it's safe but need federal assistance for that to happen with no income available during this time," she says.
Once the Pin is allowed to reopen, Heidenreich says, the Pin will follow the state's guidelines: Capacities will be reduced, the staff will most likely be in masks and gloves, and they'll diligently disinfect surfaces before, during and after shows.
But when will that happen? It's hard to say.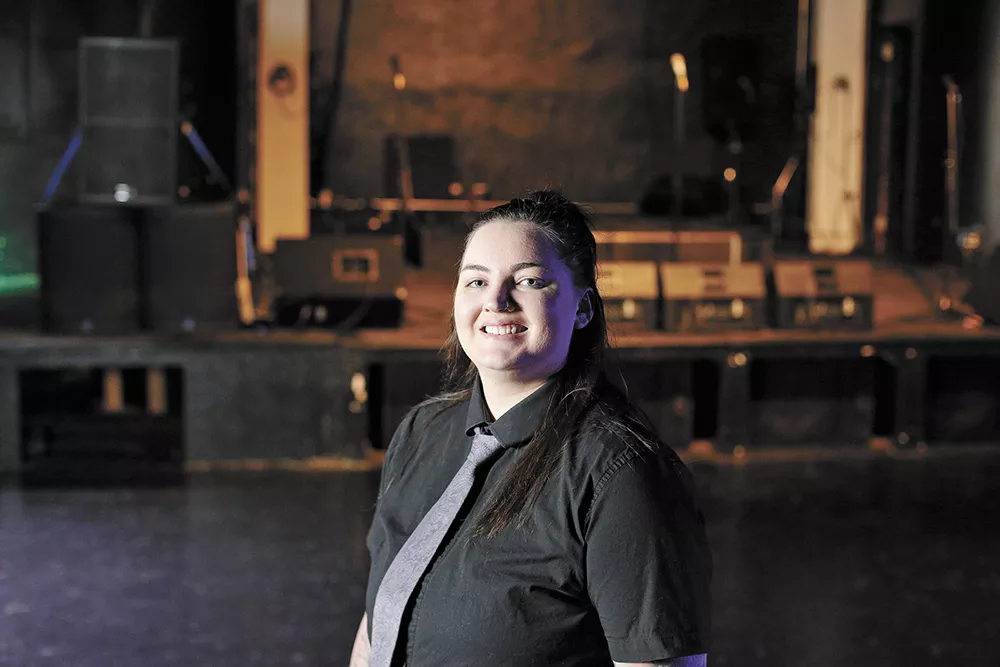 In the meantime, a coalition called the National Independent Venue Association (NIVA) has been lobbying for the federal government to provide financial support for concert venues. Among the 1,200 members of NIVA are Spokane venues the Knitting Factory and Lucky You Lounge, the latter of which has started selling takeout food while shows are prohibited.
Lucky You owner Caleb Ingersoll says venues are in a particularly precarious place because they're "first to close, last to reopen" businesses, and even though food sales are helping, most of their staff don't have jobs without live shows happening.
"If you want the arts and you want live music to still exist when all this is over, then we need support," Ingersoll says. "That's not saying, 'Give us donations.' It's more like we need help to push this through to a federal level, where they can provide stimulus specifically for music venues.
"These venues won't exist [anymore], and you won't have a place to go see live music."
This is an issue in major cities, too. Even a storied venue like the Troubadour, a legendary L.A. club that introduced American audiences to the likes of Elton John and Joni Mitchell, is struggling, launching a GoFundMe that raised nearly $74,000. But even if that money goes toward the Troubadour reopening, the business probably won't turn a profit with limited capacities. Fewer people through the doors also means that sales of booze, typically a venue's highest-margin product, are automatically less.
"You're already under the eight ball," Troubadour owner Christine Karayan told Rolling Stone last week, "and now the eight ball is just going to crush you if you haven't already been crushed."
The Troubadour has also aligned with NIVA, and a recent email blast from the coalition has already generated more than 280,000 signatures to the House of Representatives and the Senate, while big-name artists like Bon Iver are spreading awareness. There's still a giant question mark floating over the industry, but it's a solid start.
"I think it's a good eye-opener for patrons of venues to understand the reality of what it takes and what goes into running a small venue, and it helps spark a bigger conversation about what cities are doing to support local arts," Ingersoll says. "Venues do give a lot to the culture of a place. They inspire people wanting to live in that city. It has a huge impact on that." ♦