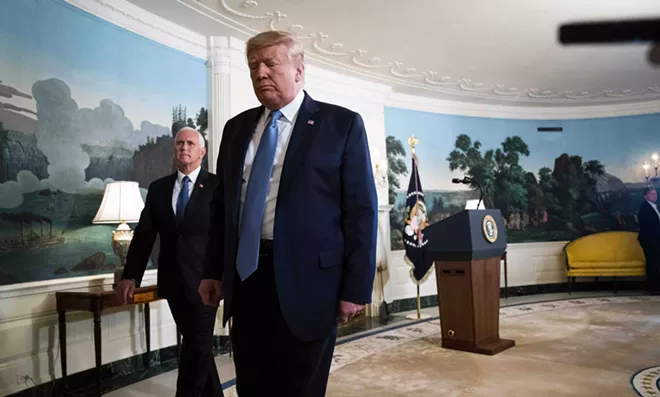 ON INLANDER.COM

NEWS:
Washington Gov. Jay Inslee says that his stay-home order will
be extended beyond May 4.


NEWS:
The Spokane County commissioners are seeking input on
how to spend millions in federal coronavirus aid money
. But they still have full control.
NEWS:
After calling for the state economy to "restart" amidst the pandemic, the
Spokesman-Review
didn't print this rebuttal letter from the Spokane health officer.


COVID-19

U.S. death toll
A little over 60,000 people have died nationwide due to COVID-19. (
Johns Hopkins University
)
End date

Federal social distancing guidelines are set to expire today while states move to reopen their economies. President Donald Trump has expressed no interest in extending the guidelines. (
New York Times
)
Revisionist history
The economy is imploding, the U.S. death toll from COVID-19 has surpassed that of the Vietnam War and cases nationwide have zoomed past 1 million. And yet the White House called its response "a great success story" on Wednesday. (
New York Times
)
Predicted rebound

Dr. Anthony Fauci said on Thursday that new COVID-19 cases will likely spike as states reopen their economies. "When you pull back there will be cases," he says. "You can't just leap over things and get into a situation where you're really tempting a rebound." (
Seattle Times
)
IN OTHER NEWS...
Economic carnage
U.S. unemployment claims over the last six weeks have topped 30 million. (
New York Times
)
Alleged assault
Women's rights advocates have called on Joe Biden to address a former aide's allegation that he sexually assaulted her back in 1993. But his lack of response has frustrated them. (
New York Times
)
Bad work

The city of Spokane Valley is suing the companies that rebuilt its City Hall, alleging negligence and breaching their contract. (
Spokesman-Review
)
Ousting a cop
The Spokane Police Department fired Officer Kristofer Henderson for kicking a suspect in the genitals during a July arrest. (
Spokesman-Review
)