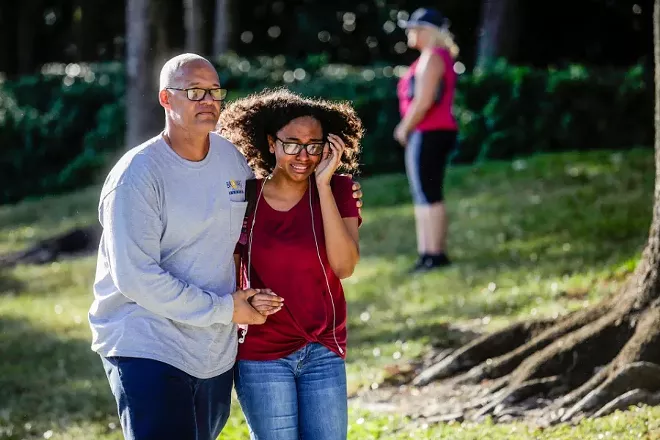 By THE NEW YORK TIMES
© 2018 New York Times News Service
PARKLAND, Fla. — The leader of a white supremacist group said Thursday that the suspected gunman in one of the deadliest school shootings in modern U.S. history was a member of his group and had participated in paramilitary drills.

Jordan Jereb, the leader of a group called Republic of Florida, told The Associated Press that he didn't know Nikolas Cruz personally and that "he acted on his own behalf of what he just did and he's solely responsible for what he just did."
Cruz, 19, faces 17 counts of premeditated murder — one for each of the people he is accused of killing with a semi-automatic AR-15 rifle at Marjory Stoneman Douglas High School in Parkland on Wednesday. Cruz appeared before a judge in Broward County via video conference.
Asked whether he understood the circumstances in which he found himself, Cruz whispered two words: "Yes, ma'am."
The shooting, captured on cellphone video by terrified students at the suburban high school about an hour north of Miami, has renewed a national debate on how to prevent more tragedies. Gov. Rick Scott of Florida said he would meet with state lawmakers to secure more funding for school safety and the treatment of mental illness. "If we have somebody that's mentally ill, they can't have access to a gun," Scott said.
President Donald Trump said Thursday he would make school safety a top priority when he meets with the nation's governors next month. He also said he planned a visit to the grieving Parkland community. "We are here for you — whatever you need, whatever we can do, to ease your pain," Trump said in an address to the nation.
The FBI on Thursday said it received information about a comment made on a YouTube channel that has been attributed to the gunman, but was unable to identify the person.
The AR-15 rifle used in the attack was purchased legally, at Sunrise Tactical Supply in Florida, according to a federal law enforcement official. In Florida, an AR-15 is easier to buy than a handgun.