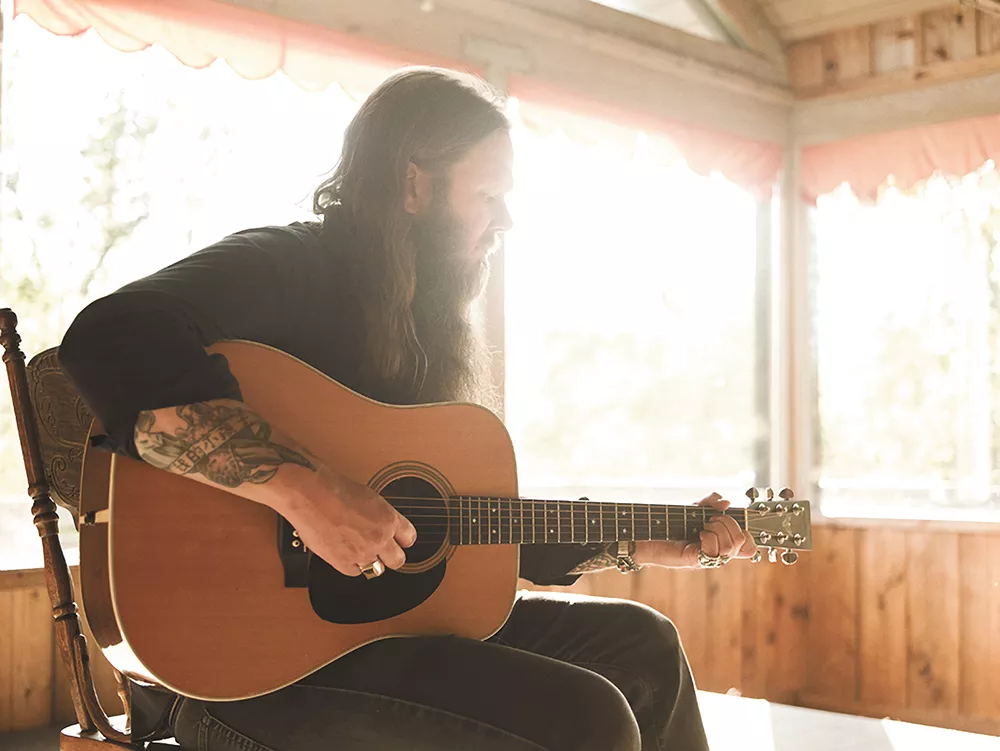 "I never get sick of hearing songs about men getting their heart ripped out by women," Whitey Morgan says. "That's classic country."
In many ways, Whitey Morgan is classic country, too, if you listen to his hardscrabble songs full of broken hearts and drunken nights, slathered in pedal-steel guitar, that would fit right in alongside the music of Waylon Jennings or Merle Haggard in any well-curated roadhouse jukebox.
Like many of the Michigan native's heroes, Morgan's songs are inspired by real-life trials and tribulations, and on his two most recent albums — 2015's Sonic Ranch and the new Hard Times and White Lines — he was able to turn some rough years on the road and at home into the best music of his career.
"Leading up to Sonic Ranch, I went through a divorce and I was really just a mess on the road a lot," Morgan recalls. "I didn't want to go home, so we were on the road all the time and I was drinking and other things way too much."
While he kept working on songs through the haze, Morgan says, "what was therapy for me back in those days was other people's music." He gravitated toward "more crooner stuff" like Ray Price and Faron Young. And in those songs about men getting their hearts destroyed by women, Morgan found himself inspired "even though technically my divorce was me doing the opposite to her."
"There's just something about that vulnerability of what we would consider a strong 'alpha man' in a bar, and this little petite woman can own him with three or four words, or by ignoring him for a week," Morgan says. "I really fell in love with that feeling I would get when I was drinking and listening to those songs."
As Morgan pulled himself out of his post-divorce blues, he found himself writing a hell of a lot of great songs. Tunes like "Around Here" and "What Am I Supposed to Do" on Hard Times and White Lines add to a hot streak he started with the brilliant Sonic Ranch album, named after the remote Texas studio where Morgan and his long-time band the 78s set up shop to record his two most recent records.
"I'm a creature of habit," Morgan says of working at Sonic Ranch, and producing Hard Times himself. "I do not like change. I do not like strange and uncomfortable atmospheres. To me, the studio is a very weird place to be. You go into this room to capture something, and you're under a microscope to capture something that's supposed to be great. It's just a weird environment."
And it's an environment where it's basically impossible to capture the live sound Morgan and his band create as they play upwards of 200 shows a year. Knowing that, Morgan just tried to make Hard Times "sound big," and he definitely succeeded. It's a great headphones album, especially when you crank up the covers of ZZ Top's "Just Got Paid" and Dale Watson's "Carryin' On," or the moody album opener "Honky Tonk Hell."
"Country music is kind of a different animal when it comes to energy on stage or energy in the studio," Morgan says. "I just want to make it sound big and raw, not too polished. Don't fix all the vocal parts. If this part didn't line up with that part, who gives a shit? Let it fly. That's what real music's about. I get a little tired of these people who go in and try to make everything sound just too perfect."
"Perfect" would never work for Whitey Morgan. The man needs life's rough edges to hone his songcraft, and they're getting sharper with each passing year. Morgan attributes that to surviving heartbreak and finding a new life with a new wife and now a 3-year-old child, and living in a Northern California mountain town when he's not on the road with his band.
"I'm a little bit more of a focused business-type person, not in a bad way, just in trying to get the best out of myself," Morgan says. "I've been drinking not a ton less, but just drinking for happier reasons instead of drowning memories and shit. I've been enjoying music again and being on the road. The band is so tight right now, it's a machine and I'm loving it." ♦
Whitey Morgan and the 78s with Alex Williams • Sat, Feb. 2 at 8 pm • $23-$27 • All ages • Knitting Factory • 919 W. Sprague • sp.knittingfactory.com • 244-3279