By Joe Coscarelli
The New York Times Company

T
he pop singer Whitney Houston
, the '90s industrial-alternative experimentalists Nine Inch Nails and the Brooklyn rapper the Notorious B.I.G. are among the latest inductees into the gradually broadening tent that is the Rock & Roll Hall of Fame, according to an announcement Wednesday.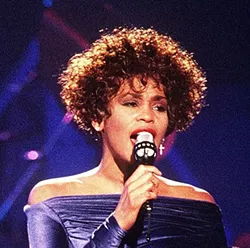 Rounding out the class of 2020, which will be feted by the Rock Hall on May 2 in Cleveland, are the gothy synth-pop group Depeche Mode, which had hits throughout the '80s and '90s; the Doobie Brothers, who brought soul, country and jazz sounds into its top-selling '70s soft rock; and T-Rex, the English glam-rock band fronted by Marc Bolan until his death in 1977.
All told, the latest honorees — which were voted in by a group of more than 1,000 artists, industry professionals and historians, as well as a fan vote that counts as one ballot — cover a wide swath of genres and generations, in line with recent Rock Hall classes that have welcomed Tupac Shakur, Radiohead, the Cure and Janet Jackson into the fold.
The hall, founded in the early 1980s, has consistently faced criticism for its opaque internal politics and lack of diversity. Jackson even addressed this issue in her speech at last year's induction ceremony: "2020 — please induct more women."
In fact, only three women were up for induction this year on a list of 16 potential Hall-of-Famers, and just Houston, who died in 2012, was voted in. Pat Benatar, who made the ballot for the first time, did not make the cut, while Rufus featuring Chaka Khan, eligible since 1999, was left out after its fourth time on the shortlist. (Artists become eligible for nomination 25 years after the release of their first commercial recording.)
Other acts that failed to receive enough support included Dave Matthews Band, Motörhead and Thin Lizzy — all first-time nominees — and Judas Priest in its second year on the ballot. Dave Matthews Band led the fan ballot with over 1 million votes; Benatar took second place with nearly 900,000.
This year's ceremony, which is typically taped to air later in edited form, will mark the first time that the speeches and performances will be broadcast live on HBO. Scheduled talent will be announced at a later date.