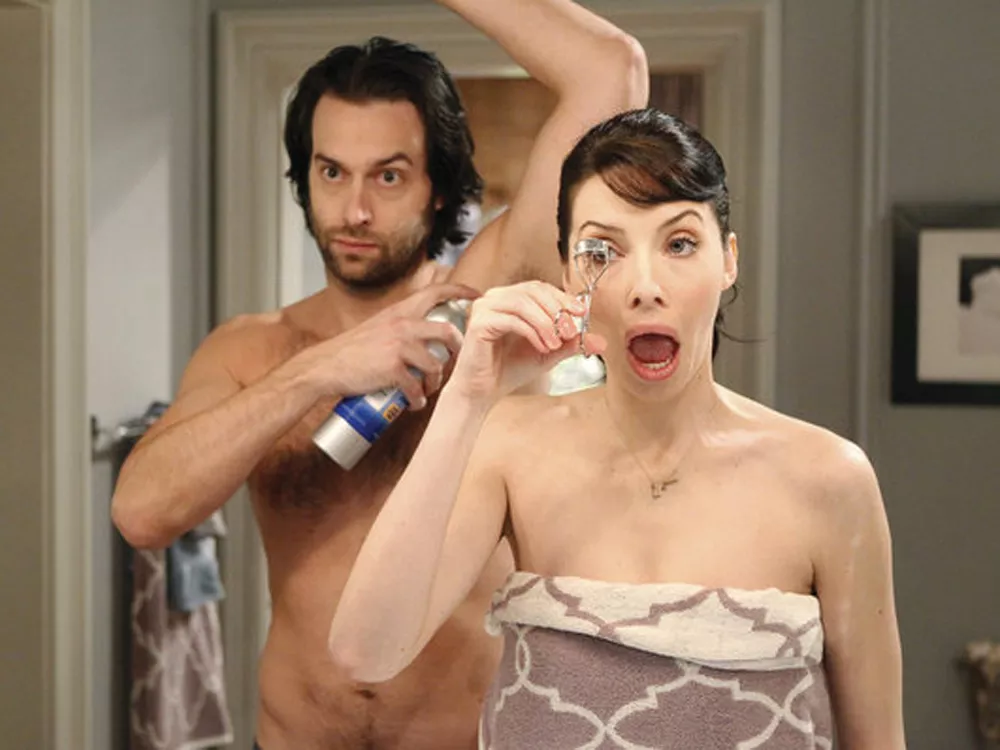 She's loud, theatrical and crazy-eyed in her comedy sketches. She drops f-bombs and raunchy jokes like Jason Mewes in Jay and Silent Bob Strike Back.
But then she downshifts into psychobabble rants about porn and wrinkly balls. Cummings can be funny when she isn't yelling or overacting. She just chooses to mostly yell and over-act.
In her sitcom, Whitney, which she created and stars in, Whitney (Cummings) and Alex (Chris D'Elia) are an unmarried couple living in a big-city loft apartment straight out of an Anthropologie catalogue. They don't have jobs. They're always meeting friends for drinks.
The show ebbs and flows in the same way Cumings' stand-up does: Slapstick fills the gaps between humorous kernels about drying jeans for too long and neurotic Nazis who oversee dog adoption.
These occasional bright spots of farce prove that time is grace when it comes to the inevitable growing pains of scripted comedy (see: Happy Endings, Parks and Recreation, Community). Things can get better when writers hit their stride — or let someone else take over, like Cummings did after penning the first two episodes. Now halfway through the season and showing a glimmer of improvement, Whitney no longer entirely deserves the criticism it received in September.
What made it such a mess then was the shoddy welding of standup and script. The funny was inorganic — a flaw that foreshadows potential hiccups with an upcoming NBC sitcom co-starring comedian Chelsea Handler: Are You There, Chelsea? Handler could fall victim to the same mistakes as Cummings, sucking the fiction right off the set by over-delivering asinine punch lines that are better suited for stand-up.
Whitney's best scenes peak when they draw from situational comedy, like when co-star Roxanne (Rhea Seehorn) hastens to preserves her eggs via hormone injections in the stomach.
What I like most about Whitney, actually, isn't Whitney. It's scene-stealer D'Elia, the shaggy-haired, onscreen beau for whom Cummings wrote the part, garnering the chuckles. D'Elia's insouciance is the most real thing in the show.
The show is better than it was, but even so, Whitney proves that comedians should take acting lessons before starring in sitcoms. Onthe-job training can make for awful watching. Hopefully Handler was paying attention. (NBC, Wednesdays, 8 pm)
TIVO-WORTHY
Are You There, Chelsea?
In a show based on her best-selling collection of autobiographical essays, comedian Chelsea Handler portrays Sloan (a character based on her born-again Christian sister), while Laura Prepon (That '70s Show) portrays Handler. Having already perfected being a likeable asshole, why isn't Handler playing herself? (Wednesdays, 8:30 pm, NBC)
House of Lies
Showtime never met an antihero it didn't like. As a high-falutin', unorthodox business consultant who "angry-bangs" his ex-wife and doles hugely expensive advice to wealthy CEOs, Marty Kaan (Don Cheadle) fits the mold. The pilot is seductive and visually compelling, but it remains to be seen whether its concept of conning "unsuspecting corporate fat cats" will resonate with the 99 percent. (Sundays, 10 pm, Showtime)
Portlandia Season 2
SNL star Fred Armisen is back with mocking (but loving) spoofs of Portland's deliberate idiosyncrasies (monomaniacal locavores, entitled bicyclists, professional hide-andseek teams, the "put a bird on it!" trend). The vignettes are hilarious, and, more often, just plain weird. But then again, so is Portland. (Fridays, 10 pm, IFC)