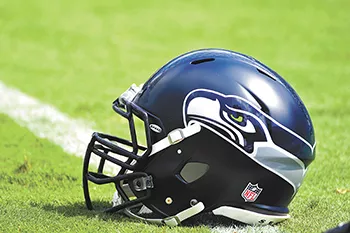 As a kid, I planted myself on the carpet in front of our TV, watching football with paper in hand and recording the jersey numbers of players who caught my eye. At school, I'd draw up offensive plays with lines and circles, have a friend sketch a defensive strategy and then, matching up our notebooks, analyze who got the best of a particular scenario. At night, I read about football (Randall Cunningham's I'm Still Scrambling was a favorite) and binged on video games (Tecmo Super Bowl, and later Madden). Playing tackle football at Greenacres Junior High, I fell in love with the game's warrior mentality. Later, joining the school paper at Central Valley High, my first assignment bloomed into the longest article anyone could remember, as I assessed every NFL team's prospects.
In other words, I loved football.
But it's harder now.
It's not that players protest during the national anthem; as a journalist, I support free speech and using your platform to start a dialogue. It's not really the drug use or the cheating (as if we needed another reason to hate the New England Patriots). It's not even that the sport has become big business, often at the expense of education, or the fact that college students have been barred from unionizing.
It's this: Football damages your brain.
Doctors can point it out on a scan — the trauma caused by repeated blows to the head. Notably, a study published in July found that 110 of 111 brains of former football players showed evidence of a degenerative brain disease known by the initials CTE. It reaffirmed what we already knew: The game can be devastating to the body, but hellaciously worse to the mind.
CTE leaves too many of our invincible warriors broken, suicidal, homicidal, drug-addicted, demented and destitute.
I'm not arguing that well-paid pro players are victims with no choices, and I'm not promising to never watch a game again. Habits and first loves die hard. But it's different for me now. There's some unshakable guilt, and a look at the NFL's ratings suggests I'm not alone: Football isn't the sweet escape from reality that it once was. ♦