A
t the City Council meeting Monday evening
, civic gadfly George McGrath had his usual red Make America Great Again hat on when he took to the public forum podium, deploying his stentorian voice of outrage to, once again, savage what he saw as tax-money-wasting ways of a liberal council.
McGrath's first target was the
$106,000
in incentives for the Riverside Commons, a six-story apartment building downtown. It's in the public right-of-way, and is intended to improve things like sidewalks and utilities. But McGrath saw it more as a gift.
"I do have a question: How many developers and builders have profited on taxpayers' money because this council and council president have decided that
profits
that benefit the city of Spokane are eligible for
gifts
from the taxpayers?" McGrath thundered. "The benefit to the developers and the builders is basically endless... What benefit is that to me and the other taxpayers in Spokane. It's of no benefit to us! It gets you guys
votes
because you're getting bought off to
have
these votes but it sure as
hell
doesn't help us in the least."
This is not an unusual line of argument from McGrath. And most of the council ignores McGrath's comments or corrects McGrath's factual errors in the guise of asking other council members questions.
Councilwoman Kate Burke, arguably the most left-leaning member of the council, was nodding right along with him. And when her turn to speak rolled around, she echoed McGrath's opposition. To her, the incentives Spokane was offering developers was a form of "corporate welfare."
"We need to stop tinkering around with trickle-down housing and start actually investing in low-income affordable housing that will actually benefit our community members," Burke says. "It's funny how we continue to hear about how much negative things we spend our money on when it comes to vulnerable families and community members... But when it comes to money to developer and profiters, we don't care. We just give it away like it doesn't matter. I'm here to say that it does matter, and this is how not how you build up a community."
<!————————StartFragment————————>A spate of applause rings out from the audience before Council President Ben Stuckart shuts it down.
<!————————StartFragment————————>It's a classic example of "horseshoe theory," that college dorm-room politics term for the idea that on some issues, if you go far enough to the right and far enough to the left, you find areas of eerie agreement, albeit typically for different reasons.
McGrath is angry that the city is spending tax money. Burke is frustrated that the city is spending tax money on developers instead of building more public housing.
THE HOUSING DIVIDE
B
urke's opposition also underscored
a key difference between herself and Stuckart.
While critics of the City Council like to paint the entire council with one big left-wing brush, Stuckart and Burke represent two points of view that feature in debates over housing in larger cities like Portland, San Francisco and Seattle.
In those cities, the conflict isn't just anti-housing NIMBY forces (Not In My Backyard) vs. pro-housing YIMBY (Yes In My Backyard) types. You also have YIMBYs, who want to spur both market-based housing and subsidized affordable housing, clashing with certain
affordable housing activists
, who worry that certain pro-development policies would reward rich developers while doing little for low-income people.
Stuckart, in most cases, falls into the YIMBY camp. He's run for mayor as an
urbanist
. He's repeatedly voiced support for a city zoning code that allows less parking, higher apartment building and more packed-together housing units. He's been supportive of prohibitions against, say, rental discrimination by income, but also believes that the more housing you have the lower housing costs get for everybody.
"The mayor of Minneapolis will say this over and over again: You've got to deal with rental protections, you've got to deal with the supply, and you've got to deal with the subsidies," Stuckart says. "I've been saying that for a year now."
But Burke argues that the time, money and effort spent on incentivizing market-rate housing is time that would be better spent on the city paying for housing itself.
"We could invest in public housing," Burke says. "With all of the money that we invested in these developers to do the wrong thing in our community by not putting in affordable or low-income housing, we could have done that ourselves."
Still, Burke argues that developers don't need incentives. She says that they'll just build and make money anyway.
<!————————StartFragment————————>
"Here's the thing: We can't regulate landlords, especially with this council. No one wants to regulate anything right now. We can't make sure that developers do the right thing, because they aren't," Burke says. "But we should be investing in public housing and infrastructure that's actually going to help our communities. And we're not doing that because we're doing this."
But Stuckart says that there's not nearly enough multifamily housing being built currently.
<!————————StartFragment————————>
"Right now we're getting zero apartments being built. Not enough to even dent the demand," Stuckart says. "We've got to try to build more because the solution isn't only the subsidized housing at the bottom. The people I'm talking to who are getting priced out of their apartments are in market-rate apartments are getting priced out because there's no supply."
Indeed, the number of permits for apartment or duplex units in Spokane County fell from nearly 1,900 in 2016 all the way down to 700 in 2018.
And other communities have found that public money often doesn't go very far, especially as land becomes more expensive. A proposed Seattle head tax on large companies would have spent $47 million on affordable housing only would have built 591 affordable housing units. Ultimately, even left-wing Seattle wasn't willing to back the tax against the opposition from
big businesses like Amazon
.
Stuckart launched run for mayor as an
urbanist
, going so far as to criticize neighborhoods opposed to infill housing in his
kickoff speech
. And back in 2015, the liberal council president won support from the developer-friendly Spokane Home Builders Association, an organization that has usually endorsed conservatives, praising Stuckart's ability to listen to others and his "efforts to incentivize in-fill development and allow urban style projects in and around our centers and corridors."
But while Stuckart has a few developers supporting him, like Kendall Yards-developer Jim Frank, Stuckart has been criticized by pro-development groups for not being willing to go far enough to push either
density or sprawl
. Stuckart's opposition to sprawl and support for a historical-preservation ordinance helped spur over $90,000 in spending by the Association of Washington Realtors in favor of his opponent, Nadine Woodward. Stuckart has responded by criticizing subsidies to developers outside the city limits, and warning of traffic congestion
if sprawl increases
.
Yet Stuckart also gets accused of being a bit too cozy with developers for progressives and neighborhood activists. Last year, his support for even a relatively mild proposal like increasing the height limit of buildings Riverfront Park caused a flurry of angry Facebook comments, including one accusing him of
betraying his future children
.
"People just want to either say, 'Oh, it's only about supply,' which you'll hear from the Home Builders, sometimes," Stuckart says. "And then you'll hear from Kate and her group, that it's only the [affordable housing] subsidy.'
Both are wrong, Stuckart says.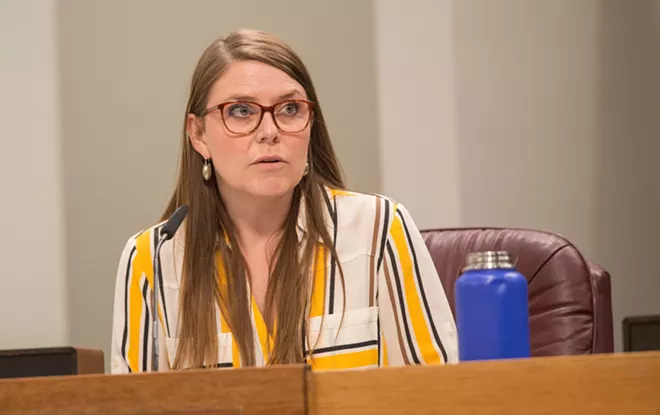 IN THE ZONE
L
ast night
, Stuckart also championed an effort to expand the
multifamily tax exemption
zone to larger sections of the city.
And there too you had George McGrath.
"Once again we're looking at gifts from the City Council to certain individuals," McGrath says. "
Every penny of it is taxpayer money
and we don't benefit from that... It buys favors for you people on this council, but it doesn't do a
damn
thing for us."
McGrath calls attention to the "Stop the BS" button stuck to his Make of America Great Again hat.
"This little button I have here," McGrath says. "That's what it is. A bunch of BS. And I'd like to see the BS stop. Because it is
really
painful to think of the many, mega-mega-mega millions that you have
wasted
of taxpayer dollars."
And again Burke ends up on the same side of the issue.
She argues that the city needed to have more strict affordable housing requirements in order for developers to access incentives.
"We're going about it in a backwards way. We should be protecting people rather than investing in developers to do what they should already be doing in our community," Burke says. "If we all spent as much time as we spent on these incentives to protect vulnerable people, we wouldn't have as many homeless folks."
But Stuckart repeated his contention that the biggest problem is the fact that there's just not enough housing, period.
"There's not enough supply. It's a basic supply and demand. Yes, you need tenant protections. Yes, you need low-income housing and subsidies. But you also need the supply end," Stuckart says. "The way we get that built is the multifamily tax exemption."
"It is not just one or the other," Stuckart says. "It's
both
or we all fail together."
Both ordinances passed, with Burke the only council member opposed.