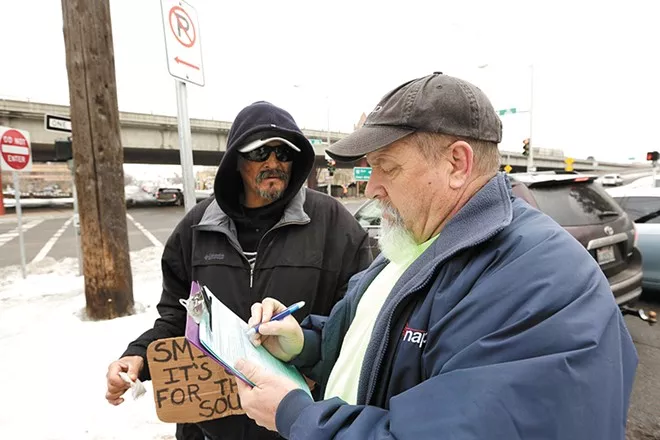 F
or the past week
, volunteers in Spokane have been going out and talking to people on the street in an effort to better understand the scope of homelessness in the region.
But in a change from recent years, they'll no longer be asking how people became homeless.
This year the annual point-in-time county survey — a federally required service intended to provide a snapshot of homelessness in the community — doesn't include questions asking the reason a person is homeless. Nor does the survey ask where a person last had a home, or how many emergency room visits they've had, says Tija Danzig, senior manager of the city of Spokane's Community, Housing and Human Services department. The survey is wrapping up today, and the results will be made public in the coming months.
"We had been asking a number of questions interesting to the community but not required," Danzig says. "The point-in-time count is a requirement for federal funding but it has limitations... if taken on its own, it doesn't necessarily give us a full scope of what homelessness looks like in the community."
But that doesn't mean the city isn't interested in learning why people become homeless. Instead of being asked in the point-in-time count survey, those questions will be asked as part of a different report called the Longitudinal Systems Analysis, an annual assessment of homelessness throughout an entire year — not a snapshot of a night.
The point-in-time count was often a point of contention in the election cycle last year, with Mayor Nadine Woodward skeptical about the data it provided. As homelessness became the central issue in Woodward's campaign, she argued the main drivers were drug addiction and mental illness. Her opponent, Ben Stuckart, would refer back to the point-in-time count, which indicated that other factors such as family conflict and lack of affordable housing played a large role as well. Woodward, however, didn't trust the data.
"That point-in-time survey is one day out of 365," she
said in this KXLY story
. "It is a snapshot and not an accurate reflection of what's going on. Unfortunately, we're using that as a base for a lot of our decisions."
Though Woodward has been wary of the point-in-time count in the past, she wasn't responsible for removing the questions this year, says city spokeswoman Marlene Feist.
"The decision was made before she took office," Feist says.
Rather, the change was made following discussion among the
Continuum of Care
Board, which administers services for those experiencing homelessness.
Fawn Schott, vice chair of the board and the president and CEO of Volunteers of America of Eastern Washington and North Idaho, says making the change had been discussed throughout 2019 before the decision was made in December. The board has similar concerns with the data as Woodward.
"The community bases a bunch of decisions, thinking and narrative around this one point-in-time count that addresses that single moment," Schott says. "What we'd really like to do is tell the story in one system over a length of time, not a sliver in time."
Questions about the reasons for homelessness have been asked in the point-in-time count in various ways over the last several years, Danzig says. Last year was the first time people were asked about both the primary and secondary reasons for homelessness. Family conflict was cited as
the top reason for homelessness
, followed by a lack of income and then drug use.
But the board decided that people will be asked about reasons for homelessness when accessing services through the Continuum of Care. That could be when, for example, a person is pursuing house assistance through SNAP or Catholic Charities. Those results will then be shared as part of the annual Longitudinal System Analysis. The argument is that it will be a more robust dataset — the people who would have been asked in the point-in-time count will be asked anyway, and it will provide a clearer picture since it covers people who were homeless over a whole year.
"We want that information," Schott says. "We will still ask those questions. We're just putting it in the right dataset."
Dawn Kinder, vice president of stabilization services with Catholic Charities, says Catholic Charities supports the change. It's a question that agencies have asked for years, but now has an opportunity to be captured in the appropriate way.
"My understanding is that we'll actually get better data on community-based questions," she says.