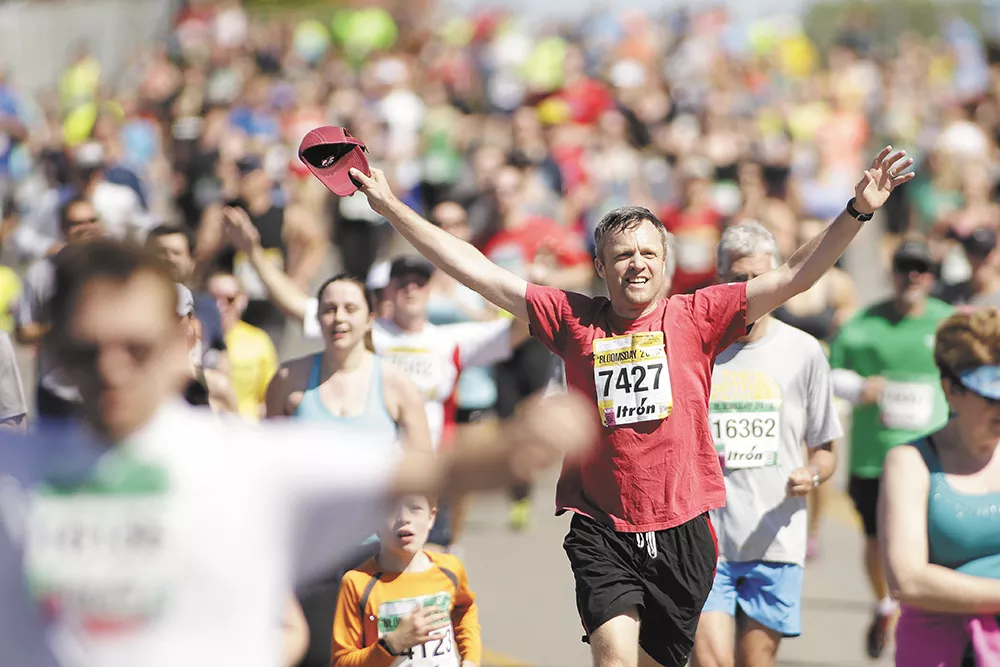 The statues in Spokane's Riverfront Park, with men and women and children and wheelchair competitors all clumped together, appearing to race around the bend across from City Hall.
"The Joy of Running Together" celebrates Spokane's massive Bloomsday road race of more than 40,000 competitors, in all its elite international talent and all its mascot-costume-wearing, out-of-shape schlubs.
This sheer democracy of distance running has become embedded in the culture of Spokane.
Spokane has had its champions and near-champions, but this isn't a distance-running town like Eugene or Portland, where elite runners are assessed and augmented in high-tech superlabs. This town is about the joy of running together.
It's about the pack, not the glory of the man leading it.
"When we started Bloomsday and we started drawing in these thousands of citizen runners, it was the culmination of Spokane running tradition," says Don Kardong, Bloomsday's founder. "It had gone from being something that was marked by elite runners to something that was embraced by thousands of citizens."
You could trace this sentiment back to one of those elite runners: Gerry Lindgren, the scrawny, scrappy Rogers High School kid who jogged his entire 5-mile long newspaper route as a middle-schooler because his family was too low-income to afford a bike. Right out of high school in 1964, he faced off against the two Russian champions in Los Angeles for the USA vs. USSR dual meet. His epic 10,000-meter race represented the first time the Soviets had been beaten by an American in an international distance event.
But the key wasn't just Lindgren, alone. His secret was that he had a whole crew.
"He even established something of a social phenomenon in the northern outskirts of Spokane where he lived. Several times each week packs of Rogers High School runners, led by the spirited, diminutive Lindgren, would go on long-distance excursions around town," a 1967 Sports Illustrated story read. "Local residents began to think that young Lindgren had formed his own variety of Hell's Angels — on foot instead of on motorcycles."
Decades later, a teammate of Lindgren's named Len Long would become the assistant coach for North Central High School's boys cross country team. In 2008, North Central took first in the nation in the Nike Cross Nationals championship. In 2009, Ferris High school took second. Again and again, Spokane's high school cross country teams reigned victorious.
"Since I've been here, every high school in the area has either had spectacular teams or spectacular individuals," Kardong says. "You can't name a school that didn't have some really top high school runners and/or some really spectacular teams."
Maybe some of it is Spokane's weather, suggests North Central boys coach Jon Knight.
"It doesn't rain a lot," he says. "Even in the hottest point of the summer, you can get up in the morning and run and it's in the 60s. That's a really pleasant temperature to run in."
There's something else at play here. It's the legacy of running, passed down from generation to generation.
For a time, Mead High School was king of distance running in the region, coached by Pat Tyson, former roommate of distance-running legend Steve Prefontaine. Then came the victories of Ferris and North Central. Now, Knight says, Central Valley has been nipping at North Central's heels. The competitive environment breeds better competition, which creates a more competitive environment.
"Everybody is trying to catch up with the next guy," says Knight.
In other words, in the Inland Northwest, the adults often run to have fun, to be a part of a larger community. But the kids? They run to win.