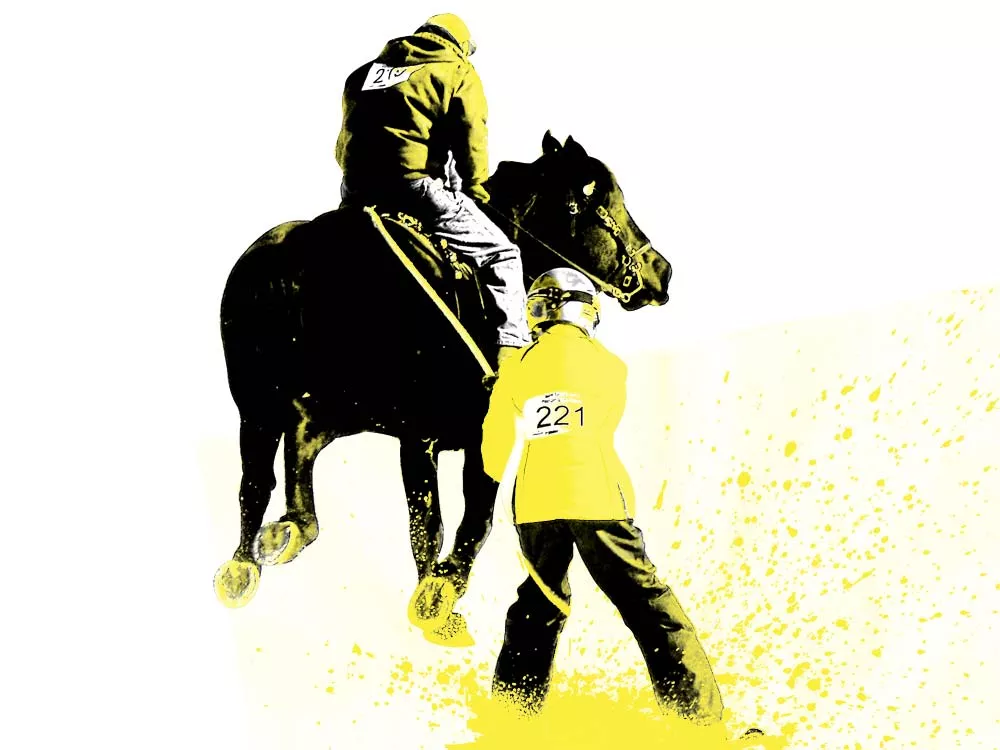 It's a lunatic sport, really. It's waterskiing on land. It's rodeo on ice. It's the classic 6-year-old's scheme to have his dog tow him on his cross-country skis, but with the dog swapped out for a half-ton of rippling equestrian muscle. It's — technically speaking — a man on skis being dragged by a horse barreling along an obstacle-laden track at 40 miles an hour.
It's called skijoring, and it's a sport that Spokane resident Cody Smith absolutely dominates.
Smith's home is a shrine to speed and adrenaline. There's his glowing Wired Energy Drinks sign, his ski-cross racing sponsor. There's the massive flat-screen HDTV broadcasting mixed martial arts. There are his car-racing awards and paraphernalia. And there are the large cowboy belt buckles on his mantel, each a first-place trophy for skijoring. Smith has won the national championship 10 or 11 times. He's won so many belt buckles, he now just gives them away to fans.
"Sometimes I end up selling them," Smith says.
Smith had been ski-racing the traditional way since he was 6. When a ski patrolman at Jackson Hole, Wyo., recruited him to ski behind a horse for the upcoming Red Lodge competition, he picked up the sport easily. But it's still risky.
"Chris Anthony is one of Warren Miller's skiers," Smith says, pointing to a painful YouTube video. "He eats it. Breaks his nose. Has to go off an ambulance."
Each competition begins with that pre-race attack of butterflies. "You're nervous," Smith says. "I've got to make it. I don't want to disappoint my teammate" — the guy riding the horse.
After all, everything's riding on split-second decisions and quick-twitch muscle-memory.
"Fifteen seconds, and — boom — it's done," Smith says.
The horse is nervous, too, rearing up on his hind legs. He knows what's coming.
With the flash of a light or wave of a flag, it begins. The horse launches — zero to the full 40 galloping-miles-an-hour in seconds.
Smith grips one end of the rope — a one-inch-thick braid anywhere from 30 to 50 feet long — with the other tied to the horse's saddle horn. There's no handle or knot. He's counting on the strength of his hands and the persistence of his grip. The slack is gone. The horse yanks him forward. And with that: adrenaline.
The skier passes the starting line, and the timer starts. Across 400 meters, Smith has to deal not only with the horse, the curves, and the skies, but with obstacles. He soars over a jump, aiming to quickly return to the snow. He carves around a gate. If this were a straight track instead of a round track, he'd also have to snag a series of "rings" between his arms.
In the seconds he can spare, he pulls himself forward on the rope, slack snaking through the mud and snow behind him. The closer he gets to the horse, the sooner he'll cross the finish line.
The horse makes a sharp turn. The next gate is too far out to the right. If Smith doesn't act, he'll miss the gate. He lets the rope behind him slip through his hand, giving him the time and momentum to baaarreeely carve over to the gate before he passes it.
THWICK! The trailing rope snags on the gate behind, yanking the gate out from the snow. Without his body in the way, the rope would have been ripped from his fingers, and Smith would have been disqualified. Instead, it throws his entire body to the side. It feels like "an NFL football player has tackled" him. He holds on. He slides through the finish line. The timer stops. Fifteen seconds.
In a few minutes, he'll partner with a new horse rider, and race again. A single win, Smith says, can pay as much as $4,000.
For most competitions, his cadre of elite skiers and horse riders will rent a house — one with a hot tub — for the weekend.
"It's a freaking tailgate party," Smith says. "There's bonfires. It's a bunch of cowboys. They just drink and have a good time."
But even though he's one of the best in the nation, Smith's thinking of giving up the sport — because he's one of the best in the nation. The dominance of a few elite skiers began to cause a decline in the attendance of the sport.
"There's a small group of people who are fairly competitive… We can smoke everybody else," Smith says. "Me being a professional skier, and you bringing your wife and your pony and trying to compete against us, you're like, 'Why am I paying $100 and $150 to enter when this Cody Smith, this group of elite guys, are coming?'"
Skijoring competitions have begun to split the competitions into two divisions, one for experts and one for novices. That means a far smaller purse for Smith. Which, for Smith, drains a lot of fun out of it.
But not all of the fun. "I've been in the World Cup ski cross. I race cars, I race motorcycles," Smith says. "The main reason most of us do it is the adrenaline rush."
The closest location for skijoring is at Whitefish, Mont., but the Spokane Parks department has often offered Nordic skijoring classes, allowing you to go cross-country skiing while being pulled by your dog.