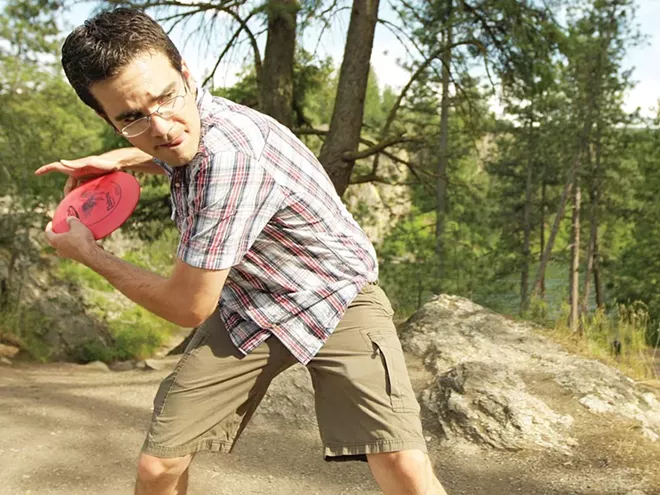 Every year I say the same thing: I'd like this to be the year I don't suck at Hoopfest. The final weekend in June is always a fun one for me. Being a fan of basketball with a love for the Spokane community, Hoopfest is close to an ideal event for me regardless of how my team performs. That said, we normally perform poorly and win about one out of every three games.
Last year I learned, while playing around the corner from David's Pizza, that slices taste sweeter after a win. I'll never forget that feeling, and maybe this will be the year I experience it more than just once over the weekend.
But it probably won't be the year. So, I've got some plans to play a sport without winners and losers. Something more serene and connected with nature. I'm going to get back into disc golf.
The Inland Northwest is home to a bunch of courses, from deep-in-the-woods monsters at Farragut State Park to the simplicity and convenience of High Bridge Park. My personal favorite is at Downriver. Winding along a bend in the Spokane River immediately upstream of Riverside State Park, Downriver is a perfect summer disc golf spot because of, you guessed it, the river.
Yeah, it's a natural hazard and getting in up to your thighs to retrieve a wayward disc sucks in spring or fall. On a hot August afternoon, though, the temptation to hook a shot just to go for a swim can be overwhelming.
For those less active days, when I find myself surrounded by friends with cold drinks and grilled meats, the competitor in me hopes there will be some kind of lawn game to play. More often than not that game seems to be cornhole, a game of bean bags and wooden slabs whose popularity belies its banality. Or maybe I'm just being a pretentious lawn game snob.
Originally from the Midwest, the game was wildly popular at bars and restaurants during my years in Chicago. I spent more time laughing at the simplicity of the game than actually playing it. So, naturally, its popularity followed me back West. Thanks, karma, I get the message. Pass me a bean bag this summer and I promise to toss it with an open mind.