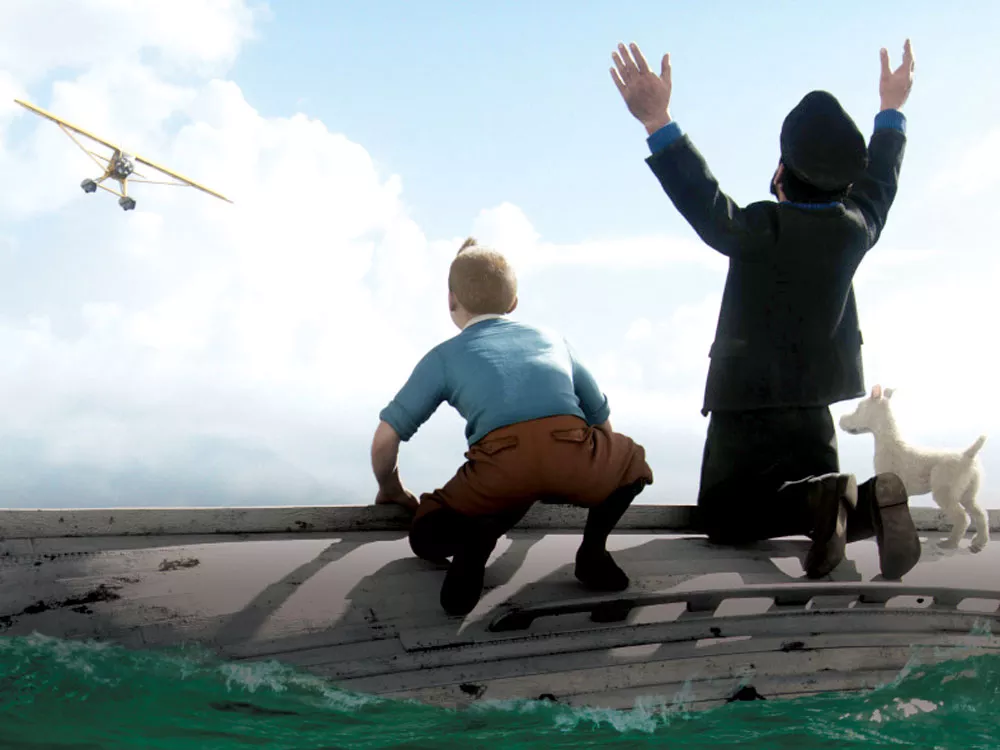 Steven Spielberg is no stranger to animation. He's produced Monster House and Who Framed Roger Rabbit, and the TV series Animaniacs.

Rated: PG
Directed by: Steven Spielberg
Starring: The voices of Jamie Bell, Daniel Craig, Simon Pegg, Toby Jones, Andy Serkis
But this adaptation of the popular Belgian comic book series marks his first time as a director of an animated feature.
The story has the brave and curious and often foolhardy young newspaper reporter Tintin (voice of Jamie Bell) and his loyal (and braver and more curious) pooch Snowy roaming the streets, stumbling upon a beautiful model of a sailing ship called the Unicorn.
Tintin buys the model, then immediately finds out that others will do anything to get their hands on it.
Ah, there's a secret, or two, or three, attached to the ship, one that some believe will lead to a treasure. But, shiver me timbers, there'll be no more spoilers revealed here!
With the villainous Sakharine (Daniel Craig) coming after Tintin, the jovial and drunk Captain Haddock (Andy Serkis) trying to help our hero, and the bumbling, bowler-wearing Thompson Twin cops (Simon Pegg and Nick Frost) providing comic relief, the film is, as the title suggests, an adventure.
And a pretty darn violent one at that. Sakharine will off anyone who gets in his dastardly way. We expect this from the bad guy; killing is what he does. What is more startling is the small, child-like, clean-cut Tintin's ability both with his fists and with a gun.
The violence never mars the film's (and Spielberg's) sense of wonder, which forms the reliable backdrop to equal portions of slapstick comedy and perilous action. The story features a spectacular mid-ocean battle between two ships, complete with sword fighting, blazing cannon, crashing waves and huge helpings of fire and lightning. Once aground, viewers get thrown into the midst of a breathtaking chase through the streets of a hillside town. In a dazzling display of imaginative editing, there's some frenetic but seamless jumping back and forth between the captain telling Tintin his family story and that story splashing out on the screen.
Spielberg's animation department is content to stay rooted in the cartoonish characters that made the Belgian comic strip such a classic. That cartoonishness doesn't lessen the feelings of peril, though. After only a few minutes, you fall into the film's visual style, and those characters become as real as you hope they'll be. This is also a 3D production, done, thank goodness, with all the right technology. Tintin was shot with dedicated 3D cameras, not made in 2D, then cheaply transferred over. Showcasing some quirky humor, one sequence gives us Captain Haddock's bad breath, made all the better by the third dimension.
Yar, I suppose there be one spoiler more (though it's one you could have guessed): As with any great franchise-in-the-making, the film comes to a satisfying conclusion while still setting up the inevitable sequel.