After a journey filled with false hopes fed on every fenestrated structure in town, I first saw the window surreptitiously loitering on the side of a certain building. It couldn't be the one I was supposed to find for the Spokane Historic Preservation Office's monthlong scavenger hunt. I had "recognized" so many windows as "the one" for a brief moment that a feeling of recognition felt like counter-evidence.
Then, a closer look at the picture on my phone and the window itself revealed it actually was one of the features I was looking for, and left me strangely thrilled about the existence of a window decorated with a green-striped lintel.
This year, the architectural scavenger hunt in recognition of May as Historic Preservation Month showcases 10 features across an area of downtown Spokane for participants to find, ranging from windows to brick ornamentations to ledges.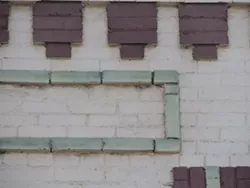 For participants who successfully find all the features, the organization is offering a chance to win tours of the Spokane County Courthouse building and tower, the Carr Electric Building, behind-the-scenes tour of the Campbell House or tickets to Spokane Preservation Advocates' fall historic homes tour.
Historic Preservation Specialist Logan Camporeale says he tried to carefully balance the difficulty of the hunt.
"I handed the photos to a few people first and asked, 'Hey, is this too hard?' People seemed to have a greater attention to detail than I anticipated."
Although some of the features may be hard to find, the rewards are worth it.
"Even as a local historian, I've never been to the top of the courthouse tower," Camporeale says. "It's really cool we get to have these historical experience prizes donated."
Spokane has an unusual number of old brick buildings dating to the first decades after the Great Fire of 1889.
"Unlike Seattle, in the middle of the [20th] century Spokane was ignored, and many of the buildings weren't torn down," Camporeale says.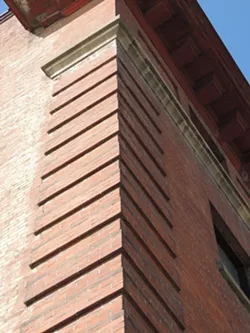 Today, lovers of historical architecture strive to maintain and preserve these parts of Spokane's heritage. Walking through the downtown core on this scavenger hunt can help residents see the buildings they live in and around with new eyes.
As I wandered around looking for architectural features, the scavenger hunt changed arches and windows from peripheral details to exciting clues. I started to notice the patterns of the bricks, the straight lines and decorated supports that merge together. It wasn't so much finding the locations that made the scavenger hunt great as it was looking at Spokane's architecture with new eyes.
Every building in Spokane has its own history. Camporeale says his favorite is the former Hotel Aberdeen, located at 101 S. Stevens St. Now, the building serves as a retail office. Its most prominent historical owner was a woman named Carrie Harris. After divorcing her husband over financial issues, she bought real estate, built houses and managed the hotel. When her daughter died in a tragic steamboat accident, "All differences were forgotten by Mr. and Mrs. Harris" and they remarried, according to the Los Angeles Times.
The architectural scavenger hunt is open to entries through May 31 at historicspokane.org/hunt2019.
The hunt is part of a lineup of other activities hosted by the Historic Preservation Office in May, including a historic bike tour through Browne's Addition, which starts at Coeur d'Alene Park on Sunday, May 19, at 2 pm. The three-mile ride is free to participate in.
There's also a special happy hour at Iron Goat Brewing Co. on Tuesday, May 21, from 5-7 pm. Tickets for the event are $20, and include a drink ticket and small bites. Reservations are requested by May 17.