ON INLANDER.COM
ELECTION:
The
blue wave
didn't quite reach Eastern Washington.
Cathy McMorris Rodgers maintained a healthy lead over her opponent Lisa Brown
on election night.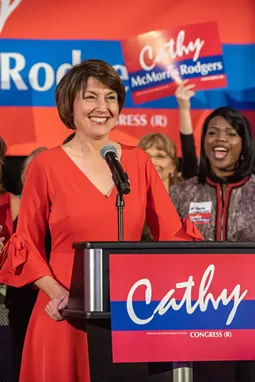 ELECTION:
The Dems took the House,
but Republicans strengthened their grip on the Senate
.
IN OTHER NEWS...
The race Washington's 5th needed

"In the end, it wasn't blue. But it was definitely a wave,"
writes Shawn Vestal
. (
Spokesman-Review
)
Could've been better
Democrats
had a good night. They took the House and gained some governor's seats.
But it could have been better
. (FiveThirtyEight)
Beto's bomb
Beto O'Rourke lost the Texas Senate race to Ted Cruz.
In his concession speech
, he dropped an
F-bomb
on live TV, saying "I'm so f—-ing proud of you guys!" (Politico)
Racists in the running
Self-described "Nazis" didn't fare well in the midterms (good!),
but candidates linked to white supremacist organizations did good
. (Vox)
What's next?

With Democrats in leading the House,
health care will be a major focus
and maintaining
Obamacare will be a top priority
. (Vox)