Last year, it was the Stockton show, as David Stockton finished off his Gonzaga career with his dad, John, up in the stands. This year, the sequel has been just as exciting, as Parker Kelly winds down his days in an Eagles uniform with his hoop-star dad, Terry, cheering him on.
Thirty-five years ago, Terry Kelly was a senior on the WSU Cougar team that won a spot in the NCAA Tournament — the school's first since 1941. This year, his son Parker, also a senior, is following the same path.
"There have been a lot of magical things about this year," says Terry, a Spokane attorney.
"I hear it a lot, how there are so many similarities in our careers," says Parker from Cheney, getting ready for his team's hop to Portland. "Both of us scored over 1,000 points, both got to the NCAAs, the style we play, how we shoot. It never gets old hearing about it."
Terry uses the phrase "full circle" when he describes his son's senior year. They both went to Gonzaga Prep, and made it to the state tournament their senior years. Parker's team won it in 2011, plowing through teams featuring Tony Wroten, DaVonté Lacy and Gary Bell Jr.; Terry's team took third. They're both deadly from the outside. Parker's a career 41 percent three-point shooter; Terry played before there was a three-point line, but his son swears Dad's a better pure shooter.
One difference is that Parker has had the benefit of his dad's perspective.
"There were lots of times, after games or practices, when I was down," recalls Parker, now the all-time Eagle ironman with 125 games played. "But after a quick phone call or text, my dad always knew how to put it the right way to calm me down."
"I knew what he was going through," says Terry. "People have no idea how hard that can be; I know because I was there, too."
Here's how hard it can be: Terry's final shot in Pullman was a game-winner against the hated Huskies. He missed, and they lost. Parker's final shot at Reese Court was a game-winner against the Griz. He missed, too.
"If you play enough, sports are going to expose you," Terry says. "It will happen. So the respect I have for him fulfilling his role over four years is off the charts."
But there's another memory for Terry, and it still haunts him. Just a year after Bird and Magic faced off, in March of 1980, his Cougs were one of those ranked teams (No. 16, in fact) sent across the country to play. In West Lafayette, Indiana, they tipped off against a clear underdog in the University of Pennsylvania; Duke awaited the winner.
"I can still remember it like it was a few weeks ago," says Kelly of losing that day, "and it's not a good feeling. Don Collins [WSU's Pac-10 Player of the Year] got in foul trouble, they spread us out. But that's sports. That's competition."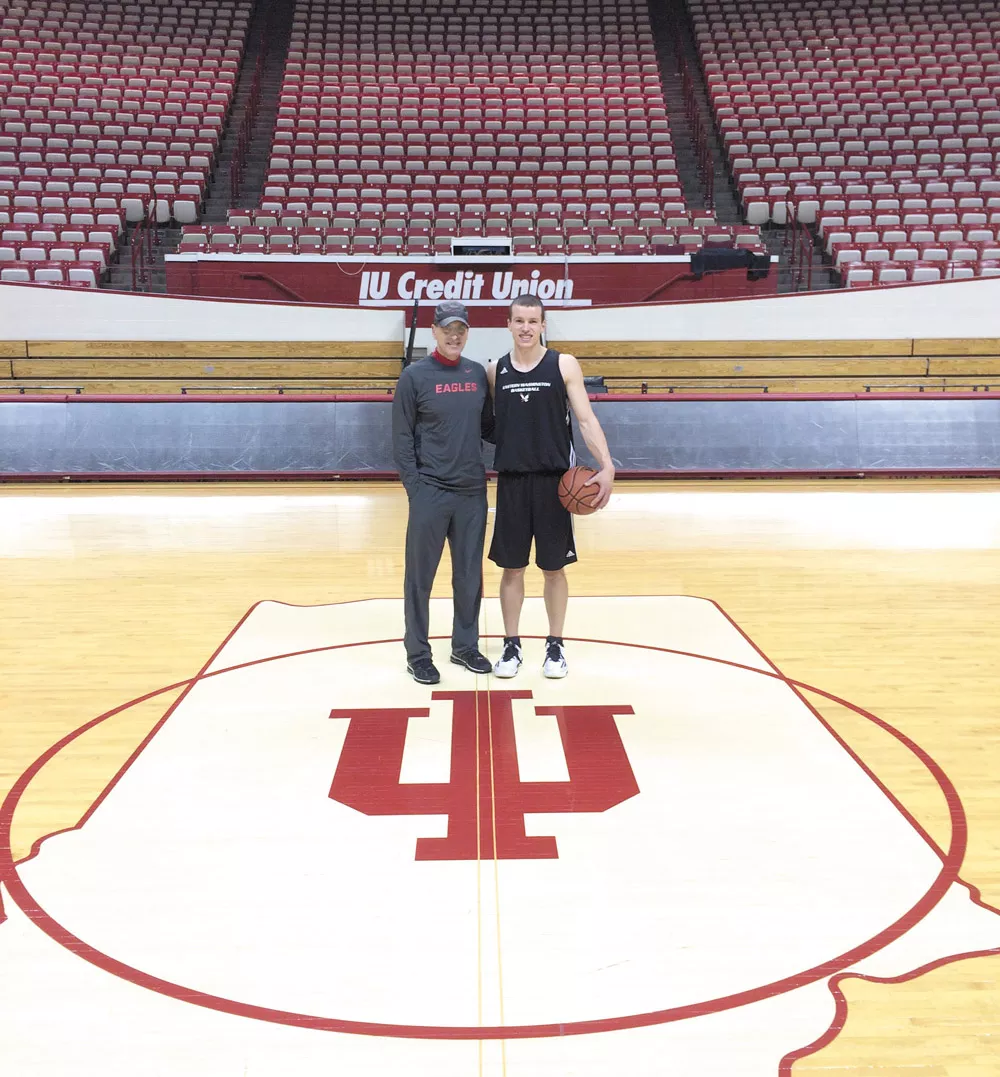 So it felt like karma when the state of Indiana appeared on the EWU itinerary for November — specifically Indiana University. Things weren't going well, Terry remembers thinking along with his wife Cyndi up in the stands of IU's legendary Assembly Hall. But heck, he reasoned, these are the five-time national champion Hoosiers. Then it got worse: A flying elbow broke Parker's nose, and they weren't sure he'd continue. But by the end, a bit of Madness broke out: Parker hit a three-pointer, then made three of four free throws to seal the greatest win in EWU history. It was also a final salvo in the 35-year-old fued between the Hoosier State and the Kellys of Spokane.
"That game," says Terry, "that's obviously going to be something we're never going to forget."
But getting to that point, and Thursday's game against No. 22 Georgetown, took years of hard work.
"When I came as a freshman, I knew it was going to be a rebuilding process," says Parker, who started with the Eagles the same year as Coach Jim Hayford. "I can't stand losing, so it was very tough — definitely a vision we all had to buy into. But after last year, with the talent we had coming back, we knew we'd be hard to beat."
"Coach Hayford needed to surround himself with guys he could lose with," adds Terry, "guys who could take it and learn from it. And they lost their fair share. Then it was gut-check time. They had to have the internal fortitude to do whatever it takes to win — that's guys making sacrifices."
Terry Kelly is easygoing, quiet even, but anybody who has ever played a pickup game with him knows there's a fire in there. The years have just revealed the bigger picture.
"I still dream about playing," Terry says. "You've got all of your senses just firing. You can't help but draw on that for the rest of your life. I went to GU law school, and a master's program in tax law at NYU — I have never learned as much as I did playing. And you absolutely learn the most about yourself when it doesn't go right. You draw a very realistic approach to life — a humility. Those impressions run deep." ♦