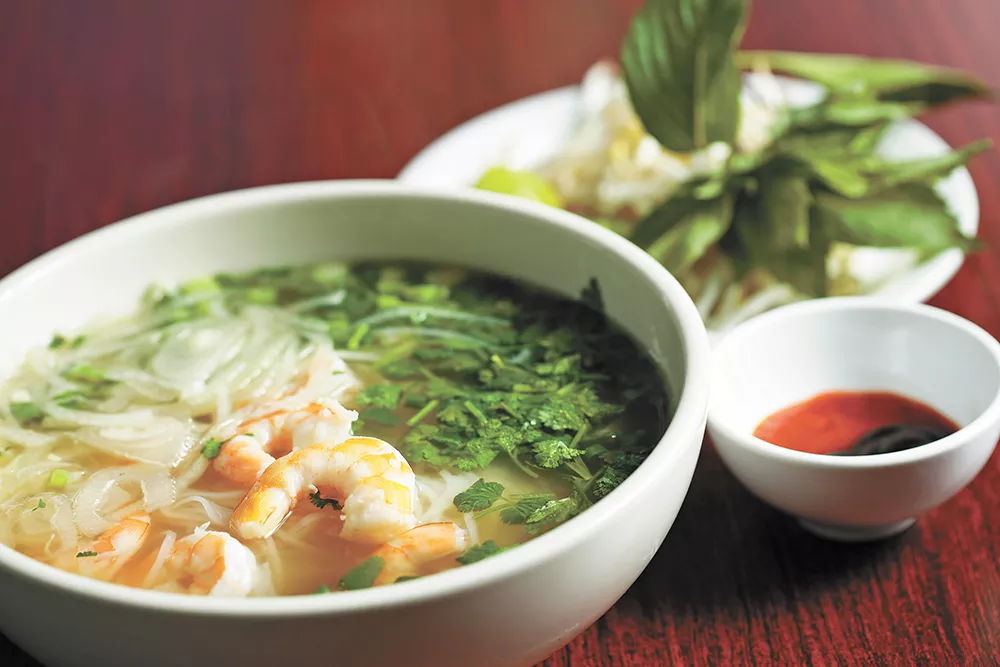 Say what you will about the awful darkness and ice of an Inland Northwest winter: It's time to shift into soup mode! What better way to start than with a steaming bowl of Vietnamese noodle soup, or pho? Whether you bring some takeout home when you're feeling crappy or sit inside a steamy-windowed restaurant booth while it rains or snows outside, the piping hot broth and any spicy condiments added provide instant warmth from the inside out. It's really not the worst trade-off for cold-weather living.
Vien Dong 3435 E. Trent Ave.
What we got: beef pho with shrimp, $10
This local institution was, for years, as famous for the quality of its food as the tiny, Pepto Bismol-pink building that housed it. Small quarters, sure, but they were serving up large portions. Last spring, the restaurant closed its corner space on East Sprague and was out of operation for a while, but they've since opened a new location on Trent. The space is brighter and certainly bigger than the previous digs, and it also offers more seating, which is a plus — on a recent Wednesday visit around lunchtime, nearly every table was occupied. What hasn't changed is the food itself, which is as filling and soothing as it has always been. The savory pho broth is salty with just a hint of sweetness, and all the veggies and proteins — from brisket to chicken to tendon to tofu — are fresh and colorful. We opted for the shrimp pho, and could have eaten a whole second portion when it was all gone. (NATHAN WEINBENDER)
Vina Asian Restaurant 2303 N. Ash St.
What we got: large chicken pho, $10.25 ($9.25 small)
I've never been a big fan of traditional American-style chicken noodle soup (I blame the blandness of the fast and cheap stuff in a can we ate as kids), but give me a steaming bowl of chicken pho and I'll slurp it down hungrily, any time. Vina's pho is simple and traditional, but totally customizable using many condiments and sauces stationed on each table — hoisin, soy, fish, hot chile, sriracha — if you like it saltier, spicier or both. Pile on as much as you like of Thai basil, bean sprouts, lime and jalapeno peppers served separately with each bowl. For its chicken pho (there's also traditional beef and seafood on the menu; all come in large or small portions) Vina doesn't skimp, filling the already brimming bowl with a generous amount of shredded white meat that floats above the pile of thin rice noodles. Don't be afraid to slurp, ramen-style, as you pull bunches of noodles from the bowl with your chopsticks, and don't leave too much of that savory broth behind. (CHEY SCOTT)
Pho Van 2909 N. Division St.
What we got: beef pho with eye round steak and meatballs, $11
Add Pho Van to my rotation of cheap eats in Spokane. Think you can't get full off soup? Talk to me after you've had a large order of pho from this Division Street eatery. For $11, I got a steaming bowl of pho thai bo vien big enough to drown in, filled with rice noodles, broth, beef and meatballs. Don't forget to toss in the hoisin, sriracha, bean sprouts, Thai basil and jalapenos before making the inevitable mess. And what better way to avoid the diseases floating around this time of year than by slam dunking your own head into a bathtub-sized bowl full of spicy pho? I also ordered egg rolls and a Thai iced tea and, still, my bill was under $20, tip included. (QUINN WELSCH)
Pho Liberty 23505 E. Appleway Ave., Suite 100, Liberty Lake
What we got: beef pho with eye round steak and brisket, $10 large ($9 small)
On a cold, rainy early winter day after a few hours running errands and other banal activities, pho was just the ticket: Hot, fragrant, fast and customizable for spice. Although the broth was not as rich as I'd have liked, the meat and all the accoutrements were perfectly done. Pho Liberty also gets points for price — less expensive than my experience in North Idaho, which is usually the reverse — and pho options. In addition to six beef soups, there's a chicken and vegetarian noodle version, as well as one with seafood like squid and shrimp, and soup with pork. Another plus; they have boba tea smoothies, a detail worth remembering for warmer weather. (CARRIE SCOZZARO)
Pho Thinh 6022 N. Division St.
What we got: large pho tai with thinly sliced steak, $9.50 ($8.50 small)
The exterior isn't much to look at, and probably had something to do with why I'd driven by the place and never stopped in. That was my bad, because now that I've been, I'll definitely go back. The interior of the family-owned place is clean and inviting, and the two colorful large fish tanks almost hide the fact you're sitting in what was clearly at one point home to a fast food joint or something. The pho will make you forget that even faster, though, thanks to a rich broth serving as a base for my bowl featuring thin strips of steak that cooked as I slurped. There are other pho options, from adding meatballs and tendons to phos featuring chicken and seafood, not to mention plenty of non-soup options as well, like curries and rice vermicelli dishes. The pho is served up with all the extras — jalapenos, sprouts, Thai basil — and the table had a nice selection of hot sauces and oils, too. (DAN NAILEN) ♦
ALSO TRY:
Pho City
112 N. Howard St.
Three Sisters
4003 E. Sprague Ave. and 10615 E. Sprague Ave., Spokane Valley
Le's Teriyaki
2018 N. Hamilton St.
Le Brothers
12012 E. Sprague Ave., Spokane Valley
North Hill on Garland
06 W. Garland Ave. (Fridays only)
Pho Thanh
2108 N. Fourth St., Coeur d'Alene