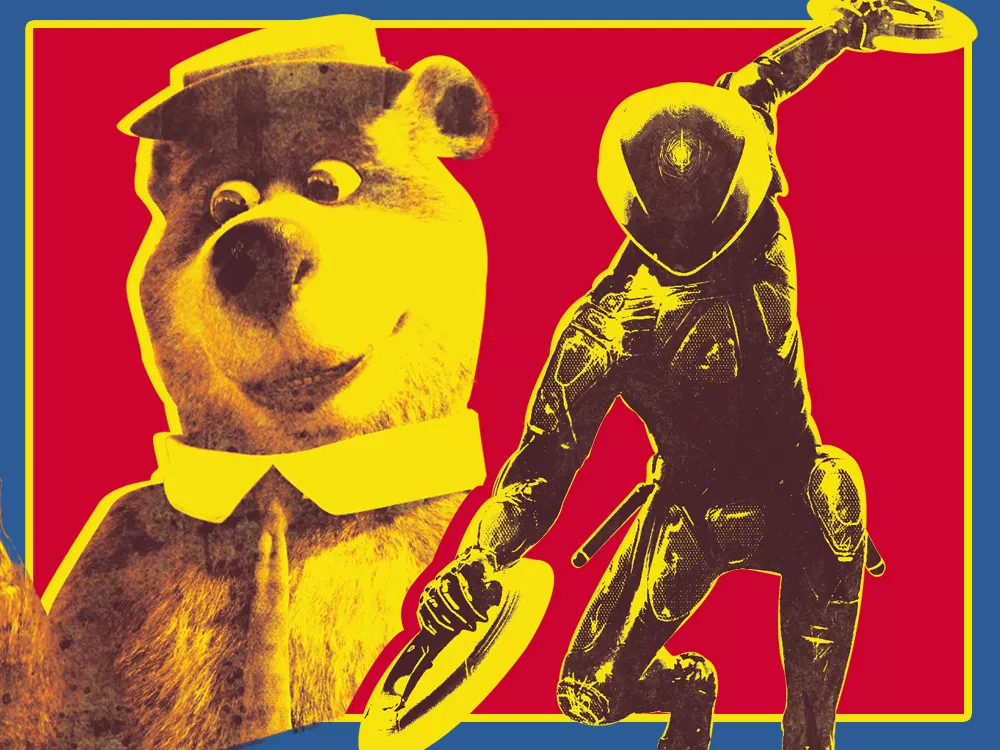 Nov. 5
Fair Game
Premise: The Valerie Plame blame game
Starring: Naomi Watts, Sean Penn, Sean Penn's ego
Oscar Buzz: Best Actor (Penn), Best Actress (Watts) maybe
Rated: PG-13
IMDb • Trailer

Fair Game asks you to remember the tale of Valerie Plame. Yes, from the Decemberists song.
Joe Wilson wakes to find the identity of his CIA-employed wife, Valerie Plame, outed in the Washington Post. It's done as retribution for Wilson's column denouncing George W. Bush's claim during his State of the Union speech that Iraq purchased uranium from Niger.
Some operatives have been imprisoned or executed when their covers have been blown; Plame was condemned to a grim life of book deals, Vanity Fair spreads and, now, being played by Naomi Watts in a movie. (Her Iraqi contacts weren't as lucky.) Sean Penn, playing Joe Wilson, is righteously indignant, as Penn is wont to be. And Watts appears to play Plame with the mix of charm and hardness you'd expect from a CIA agent.
From the breathless trailer, expect a taut political thriller. But also expect, in the dark of theater, to secretly wish it had been scripted by Aaron Sorkin. (DW)
Nov. 11
127 Hours
Premise: A thriller chronicling one man's challenge to survive.
Director: Danny Boyle
Starring: James Franco, Kate Mara, Amber Tamblyn
Oscar Buzz: Best Actor (Franco), Best Picture, Best Director (Boyle)
Rated: R
IMDb • Trailer
This is the true story of Aron Ralston and his big ol' oopsy-daisy. Back in 2003, Ralston (Franco) went on a Utah canyoneering adventure. Scads of people (mostly of the patchouli oil-wearing stripe) do this every year and they come back just peachy. But those people usually don't go alone, or at the very least bother to tell other people where they're going.
Alas, Ralston did neither of those things. He went on to take some asinine risks, which resulted in a decent-sized boulder trapping his arm against a wall. Oopsy. Daisy. As the hours creep by, we are reminded all good things must come to an end. And by "good things," we mean Ralston's water supply.
He's soon forced to start drinking — to put this delicately — "recycled water."
Nearing death, he records his good-byes to loved ones on his video camera, and waits for things to get real. We won't say how real. And for those who have read the book and/or paid attention to media coverage of this story: Shhh! Let the oblivious moviegoers have their horrifying surprises. (TH)
Nov. 11
Unstoppable
Premise: Denzel Washington vs. anything (a train in this case) = dollar signs
Starring: Denzel Washington, the new Captain Kirk (Chris Pine)
Director: Ridley Scott's lil' brudder Tony
Rated: PG-13
IMDb • Trailer
Because having Denzel Washington in your action film is like owning a fully stocked Park Place (and because Big Daddy Denzel is slightly less expensive than buying three red hotels), he ends up in all sorts of weird life-or-death showdowns.
Against racism, against the DEA, against the space-time continuum, against John Grisham's plot contrivances, against Clive Owen. See? Sillier and sillier.
Unstoppable, though, maybe contains Denzel's most ridiculous duel to date.
Veteran train engineer Denzel is told to train some snot-nosed kid. But then a train goes out of control, and it's up to Denzel and little-britches to stop it.
We hear filmmakers wanted to call it Training Day, but Denzel had already made that movie once, with some slight differences in plot. So they went with the only film name left in the entire world: Unstoppable.
For a grand finale, and because the chemical death of thousands of humans doesn't set the stakes high enough, the filmmakers put another train on a collision course with Denzel's death train too. So it becomes Denzel versus two trains. This second train is full of adorable little children. Boom goes the absurdity. (LB)
Nov. 11
Morning Glory
Premise: Network meets The Devil Wears Prada
Starring: Rachel McAdams, Harrison Ford, Diane Keaton
Rated: PG-13
IMDb • Trailer

Rachel McAdams — who we would watch doing just about anything in the whole wide world (sweeping chimneys, curling) — is having a tough time getting a gig as a TV producer. Then she lands one on Day Break, an early-morning network show so bad that it's a step backwards.
But McAdams has a ton of pluck — adorable, sexy pluck — and she sets her sights high, recruiting a cranky, retired, super-serious newsman Harrison Ford to turn the ship around. Diane Keaton plays his foil, a woman who has been doing morning-show schlock for way too long. Morning Glory was created by the woman who wrote The Devil Wears Prada. That's why McAdams is rumpled and a little nerdy — like Anne Hathaway's character in Prada — but so totally smart and driven. She also has to survive in a cutthroat world while still finding love and self-fulfillment. Oh, and dancing around in public when something finally goes right.
So initially we were all, like, uh, déja vu, but then we got to think about it, and we just think McAdams is way, way more talented than Hathaway. So we're still totally going to marry her see this film. (LB)
Nov. 19
Harry Potter and the Deathly Hallows: Part 1
Premise: Wizards and wands and Horcruxes, oh my!
Starring: Daniel Radcliffe, Ralph Fiennes, Alan Rickman
Director: David Yates
Rated: PG-13
IMDb • Trailer

Oh please, like you haven't been checking off the days until this movie was released. The first of a two-part finale, Deathly Hallows is the beginning of the end for everyone's favorite wizards.
Following the death of their beloved Professor Dumbledore, Harry (Radcliffe) and the gang have taken it upon themselves to finish what Dumbledore started, finding and destroying Voldemort's (Fiennes) Horcruxes.
What's that? You don't know what a Horcrux is? You could ask the nearest 9-year-old, or you could just remember this: A Horcrux is a container a dark wizard can put a part of his soul in, thereby gaining immortality.
The rest of the movie is essentially an "I Spy" of sorts, sans all the cute objects and with too much brooding by Radcliffe.
Overall, the tone is darker, the effects are specialer and Voldemort is, well Voldemort-ier. If you've stuck with the series for this long, then Deathly Hallows is the Harry Potter movie you've been waiting for. Just like all the others. (AP)
Nov. 19
The Next Three Days
Premise: Prison Break: Couples Edition
Starring: Russell Crowe, Elizabeth Banks, Liam Neeson
Director: Paul Haggis
Oscar Buzz: Best Actor (Crowe) maybe
Rated: PG-13
IMDb • Trailer

Don't you hate it when the cops interrupt your breakfast to arrest your wife for murder? Russell Crowe sure does.
In The Next Three Days, Crowe's character, John Brennan, is the only one who believes his wife (Banks) is innocent, despite a mountain of evidence against her.
After his wife attempts suicide, Brennan decides to do what any rational, loving husband would do: break his wife out of prison.
Which is where Liam Neeson comes in.
Playing a hardened criminal who escaped from prison years earlier, Neeson gruffly doles out advice like, "You have to ask yourself, can you kill a guard, leave your kid at a gas station? Because to do this, that's who you have to become."
Point well taken. Like any good, albeit slightly predictable, action movie, The Next Three Days features enough police chases, flying bullets and random explosions to keep you on the edge of your seat.
But really, don't you already know how this movie is going to end? (AP)
Nov. 19
Made in Dagenham
Premise: It's the British Norma Rae, with the Happy-Go-Lucky woman playing the Sally-Field-organizes-the-workers role.
Starring: Sally Hawkins, Bob Hoskins, Miranda Richardson
Oscar Buzz: Best Picture, Director (Nigel Cole), Actress (Hawkins), Supporting Actress (Richardson)
Rated: R
IMDb • Trailer

Women still don't get equal pay for equal work. But in 1960s England, they really didn't get equal pay. They didn't even get the respect that the servants and domesticated animals enjoyed.
Sally Hawkins (irrepressible as optimistic Poppy in Mike Leigh's Happy-Go-Lucky) has the kind of sly, smiling quality that Rita needs when the wife and mother finds herself doing drudge-work at a Ford Motor Company factory in 1968 — and not having much to show for it.
When co-workers urge her to speak up — and when she takes a day off to talk to male managers about it — she's treated with disdain. Just some rabble-rousing woman, they say. Well, this peeves Rita right off. She develops some connections — among the wealthy, among the powerful. And soon those male managers are needing to pay some attention to the little woman who's not so little anymore. (MB)
Nov. 24
Burlesque
Premise: Small-town girl tries to make it in the big city.
Starring: Christina Aguilera, Cher, Stanley Tucci
Not Yet Rated
IMDb • Trailer

Ali Rose moves to the big city and gets a job in a burlesque bar as a waitress, but where she really wants to be is onstage. She tries out for a role, but the bar's owner, Tess (Cher), is all, "you don't have 'it.'" This makes Ali very, very sad, because she thought she really had "it."
But wait! Ali has something up her sleeve — or down her throat, really — that lands her the job. No, not that.
What she has that the other dancers don't is a voice. Like, a super-sexy amazing voice. Paired with her hotness and some mediocre dancing, Ali lands the role and proceeds to pull the burlesque club out of its financial hole with her act.
There's sure to be a lot of blossoming love and montages and Christina Aguilera flipping around from note to note like Whitney Huston on crack. Oh snap. That joke wasn't supposed to get that real. Well, you know what we mean. (TH)
Nov. 26
The King's Speech
Premise: A would-be king must find his voice in order to lead his country.
Starring: Colin Firth, Geoffrey Rush, Helena Bonham Carter
Oscar Buzz: Best Picture, Best Director (Tom Hooper), Best Actor (Colin Firth), Supporting Actor (Geoffrey Rush), Supporting Actress (Helena Bonham Carter), Best Original Screenplay
Rated: R
IMDb • Trailer

It's a somewhat … unorthodox premise for a movie, though appealing to Americans' latent Anglophilia is usually a winning proposition. (We love our kings and queens, be they monarchic or drag.) Colin Firth stars as Prince Albert (not the one you're thinking of), the second son of George V — and, therefore, not expected to take the throne. But when his elder brother abdicates to marry an American, he's suddenly in line for succession. Problem is, the new king's got a stammer, and the "in" technology, radio, generally requires leaders to be well spoken. The king thus employs a speech therapist (Rush).
The world supply of English period pieces is ample, but The King's Speech has something for everyone: a bromance (between the king and his therapist); the older brother's romance with a commoner; and, of course, the king learning how to bad-mouth the Nazis. (DH)
Dec. 3
Black Swan
Premise: A psychological thriller about two dueling ballerinas
Starring: Natalie Portman, Mila Kunis
Director: Darren Aronofsky
Oscar Buzz: Best Actress (Portman)
Rated: R
IMDb • Trailer

Dedicated and disciplined, Nina makes the perfect ballerina. More than anything, she wants the lead role in her ballet company's production of Swan Lake. The role requires the ballerina to be innocent and sweet as the White Swan, but then transform into a seductive goddess for the Black Swan half of the role. Nina's got that innocent White Swan business down, but not so much when it comes to the sexpot Black Swan. (She's kinda frigid.) Soon, the director brings in a rival ballerina. The competition heats up, because the director likes Lily's sexiness — but he also likes Nina's reliability. (Men.) Anyway, after some prissy freaking out, the two ladies manage to pull a "frenemy" thing. (Women.) Pretty soon, things get weird when Lily begins delving into the role's darkness and Nina starts to feel hunted. Who will triumph? Also, why is poor Natalie Portman always up against the dark side? (TH)
Dec. 10
All Good Things
Premise: Drama about generational conflict and young love among New York aristocrats in the 1980s — until it turns into a murder mystery.
Starring: Ryan Gosling, Kirsten Dunst, Frank Langella, Kristen Wiig
Rated: R
IMDb • Trailer

Once there was a wealthy real estate mogul (Langella). His son Robert (Gosling) was in line to inherit the family business, but Robert behaved erratically — probably because, when he was 7, he witnessed his mother's suicide. When Robert married a middle-class medical student named Kathleen (Dunst), Dad didn't approve.
And then, in 1982, Kathleen went missing. Over the next two decades, Robert kept getting connected to murders all over the country.
Director Andrew Jarecki took on another real-life New York mystery in Capturing the Friedmans (2003), a documentary also set in 1980s New York and also focused on criminals lurking within a seemingly typical family. In that case, the father and son appeared to be child molesters. Jarecki left that exposé unresolved, leaving viewers to sort through what's believable and what's not. In a fictionalized film — and given Gosling's and Langella's adeptness at portraying disturbed and emotionally remote characters — Jarecki will probably leave the conclusion ambiguous again. (MB)
Dec. 10
The Fighter
Premise: Oh look, another movie about the athlete who could
Starring: Mark Wahlberg, Christian Bale, Amy Adams, Melissa Leo
Directed: David O. Russell
Oscar Buzz: Best Picture, Supporting Actor (Bale), Supporting Actress (Leo), Director (Russell) maybe
Not Yet Rated
IMDb • Trailer

Football had Friday Night Lights. Horse racing had Seabiscuit. Hockey had Miracle. Now, it's boxing's turn. (Well, OK, there was Rocky.)
David O. Russell's (I Heart Huckabees) The Fighter stars Mark "Say Hi to Your Mother for Me" Wahlberg as "Irish" Micky Ward, your typical down-on-his-luck boxer.
You see, Micky's got a fight coming up and could really use the prize money. So being the arrogant you-know-what that he is, he promises everyone in Lowell, Mass., that he's going to kick some serious ass.
I think you know what happens next.
After a major defeat (and a nasty black eye to boot), Micky returns home, which is when all the trouble begins.
Micky gets offered another chance to make it as a boxer. The thing is, his half-brother Dickie (Bale), the one who's trained Micky from the start, must stay behind. Something about him being "too much trouble."
Obviously, brotherly rumbles, police brutality and jail time ensue. The question is: Can everyone band together when it's time for the big fight? (AP)
Dec. 11
The Chronicles of Narnia: Voyage of the Dawn Treader
Premise: Wacky aquatic road trip misadventure
Starring: Ben Barnes, Simon Pegg, Aslan
Rated: PG
IMDb • Trailer

The good news: From one perspective, this is a horror flick about children sold by slavers and besieged by gigantic killer rats, invisible creatures and one-legged mutated freaks; then they're trapped on a island wreathed in the pitch-black chill of liquid nightmare.
The bad news: From the other perspective, this is another PG-rated Chronicles of Narnia movie. And not based on one of the better books.
This time, our beloved Narnianauts (and Eustace — everybody hates Eustace) are sucked back into the titular dream world of magic via a painting of an old-fashioned sailing ship. From there, it's a bit of island-hopping as our heroes (and Eustace) sail toward the end of the world (as they know it), making sure to have little vignettes at each stop.
Narnia is a far more charming place to visit than most films, at least when it captures C.S. Lewis's snuggling-with-a-mug-of-tea-on-a-winter-day warmth.
But the latest Chronicles of Narnia adaptations have unfortunately felt like a Miniature Christmas Village diorama version of Middle Earth, far less alive than the yellowed pages in the paperbacks you thumbed through as a kid.
Make sure to watch it in 3-D, so you can see chunks of blatant Christian allegory coming right at you! (DW)
Dec. 11
The Tourist
Premise: Smoking lips and smoking guns
Starring: Angelina Jolie, Johnny Depp, ludicrous accents
Director: Florian Henckel von Donnersmarck, which is totally his real name
Not Yet Rated
IMDb • Trailer

Don't you hate American tourists? They talk loudly on the Tube. They say soccer. And of course, they have the most obnoxious habit of flirting with beautiful foreign women, becoming swept up in a steamy romance with them and then getting entangled in an international bullet-riddled conspiracy. At least, that's how my trip to Europe went.
And apparently the same thing happens to Frank (Depp, with a confusing lack of elaborate makeup and costuming) when he meets Elise (Jolie, doing all sorts of sultry things with her eyebrows) while grieving over a broken heart in Europe. He gets mistaken for a former lover of hers whom unsavory elements want dead, and bam-bam-bam here come the hired guns. The rest looks like pure action-movie checklist: The boat chase. The door being broken down by gunmen. Paul Bettany being evil in a suit.
This is by-the-numbers action. Sexy, explosive numbers. (DW)
Dec. 17-ish
The Tempest
Premise: Exiled wizard-duchess seeks revenge.
Starring: Helen Mirren
Director: Julie Taymor
Oscar Buzz: Best Actress (Mirren) maybe
Rated: PG-13
IMDb • Trailer

Take a famous Shakespearean role and flip the gender: Turn Prospero — the duke with magical powers who's been exiled to a barren island with his teenage daughter — into Prospera. Get Helen Mirren to play the role. Suddenly, the relationships change: mother/daughter, mistress/servant, sister/brother.
Other Shakespeare plays may be boring, but not The Tempest: It has sex and violence, racial prejudice and racial acceptance, revenge and reconciliation. All that, and then director Julie Taymor (Titus, the staged The Lion King) took a stellar cast to Hawaii for filming.
As Ariel, the airy spirit who does Prospera's bidding: Ben Whishaw (John Keats in Bright Spirit). As Caliban, the islander who freed himself from slavery only to have his turf invaded by a bunch of Europeans: Djimon Hounsou (Blood Diamond). As the villains: Chris Cooper, David Strathairn and Alan Cumming. As the clowns: Alfred Molina and Mr. Katy Perry himself, Russell Brand.
In a movie with plenty of magical and supernatural events, unfortunately, special effects seem under-funded.
The Tempest has been adapted for film — often distorted unrecognizably — and there are three originally televised versions. But Taymor's rendition will supersede them all. (MB)
Dec. 17
YOGI BEAR
Premise: We couldn't get the rights to Strawberry Shortcake.
Starring: Justin Timberlake, Dan Aykroyd, Anna Faris
Rated: PG
IMDb • Trailer

It's not often a movie can generate negative Oscar buzz, but rumor has it people are so upset Justin Timberlake chose to make this awful movie, his chances for a Best Supporting Actor nod for The Social Network are plummeting. That's right, this movie's so bad it's making other, completely unrelated movies seem worse. With him playing Boo-Boo alongside Dan Akroyd playing Rodney Dangerfield playing Yogi Bear, it's … it's difficult, you guys.
It's a slapstick-y CGI film (half the fun of watching slapstick is making sure absolutely no real things are involved, right?) that operates under the premise that talking bears, though rare, are not "OMG it's a talking f---ing bear run for your life!" rare. It seems aimed at the same sort of demographic those Cats vs. Dogs and Chipmunks squeakquels were: Small children who aren't manipulative enough to steer their parents into movies they actually want to see. Actually, this movie could serve one purpose: Getting a ticket is probably easier and maybe cheaper than buying your children coal. (DH)
Dec. 17
TRON LEGACY
Premise: Tron 2 — this time, it's personal.
Starring: Jeff Bridges and CGI Jeff Bridges
Not Yet Rated
IMDb • Trailer

Kevin Flynn (Bridges), the original Tron Guy, mysteriously disappeared in 1989 (eaten by a computer) when he was working on some computer program that would "change everything." In the present day, his former partner receives a page (because apparently he still carries around a pager?) from Flynn's abandoned arcade, so Flynn's son goes to check things out. He naturally starts poking around at things he's never seen before — and ends up inside the computer.
Now he's got to play some of the same games his father did almost 30 years ago, plus some new ones, in order to save himself — and his dad. It's a movie some people (nerds) have been waiting 28 years to see. So make sure you buy your tickets before you get to the theater, because nerds go to movies like this early, and they go often. Though if they try to take your seat, you can usually beat them up.

Dec. 17
HOW DO YOU KNOW
Premise: Reese Witherspoon can't decide between Paul Rudd and Owen Wilson.
Starring: Paul Rudd, Reese Witherspoon, Owen Wilson
Not Yet Rated
IMDb • Trailer

On the one hand, former softball player Reese Witherspoon has feelings for aw-shucks baseball player Owen Wilson. But on the other hand, she also sorta has a thing for bumbling financier Paul Rudd. (Apparently, Ben Stiller's contract to be placed opposite Owen Wilson in all romantic rivalries has expired.)
Whomever will she choose? And how do you know, the movie's title and advertising asks, when you're in love?
Now, I have self-interested reasons for rooting for the stressed-out bumbler and against the good-natured shaggy athlete, but you'll have to make up your own T-shirts declaring which "team" you're on. Because that's the only way our society can cope with love triangles these days.
How Do You Know seems to be an affable but oh-so-generic romantic comedy, but there are two promising signs. Both Wilson and Rudd are skilled at injecting a grounded charisma into any character they play. And director James L. Brooks (As Good as It Gets) shepherded The Simpsons through its best years with a mix of sweetness and satire. (DW)
Dec. 25
TRUE GRIT
Premise: The Coen Brothers reimagine The Duke as The Dude.
Directors: Ethan and Joel Coen
Starring: Jeff Bridges, Matt Damon, Josh Brolin
Oscar Buzz: Best Picture, Best Actor (Bridges), Supporting Actress (Steinfeld), Best Adapted Screenplay
Rated: R
IMDb • Trailer

Some say it's a remake of a 1969 movie; others claim it's a reimagining of the source novel. All we know is, it looks awesome. A 14-year-old farm girl, Mattie Ross (Steinfeld), knows what she has to do after her father is murdered by one of their hired hands, Tom Chaney (Brolin). As 14-year-old girls so often do, she hires the grizzliest U.S. Marshal around (Bridges), whose somewhat uncouth manner spooks her enough into joining him. A Texas Ranger (Damon), who wants Chaney for his own reasons, joins the hunt. Characters will inevitably come face-to-face with their inner demons, and only then will they find out whether they've truly got the "grit" to handle life in the West.
When teamed up with favorite actor Jeff Bridges, the Coen brothers are unlikely to go wrong — and gritty realism is their forte. Expect a lot of expansive, washed-out cinematography to draw you in, and some amazing acting to keep you engaged. Oh, and don't be surprised if you see some hardened old guys in the theater with tears in their eyes. Things might get dusty. (DH)
Dec. 22
GULLIVER'S TRAVELS
Premise: Goofball toys with tiny people, er, stunning literary adaptation of the greatest satire in the English language, er, um … oh, who are we kidding? This is a stupid Jack Black vehicle, with lots of dumb physical gags. In 3-D.
Starring: Jack Black, along with several actors who can't believe their agents got them associated with this turkey
Not Yet Rated
IMDb • Trailer

Gulliver — isn't that the guy who visits the tiny people, and then the giant people? And then there's a couple other worlds he goes to — a flying island, and the land of talking horses. And that Swift guy who wrote it 300 years ago or something, he got all dark and, like, full of misanthropy at the end. But that's OK, because this one's got Jack Black! And they cut three-quarters of the book so they could focus on the midgets! And they filmed it in places like Greenwich and Blenheim Palace, so it would look all British-ish. And it's in 3-D!
The characters, though, seem utterly flat. So does the script. But did I mention the tiny people? And it's in 3-D!
Poor Emily Blunt (The Devil Wears Prada) had to give up a part in Iron Man 2 just so she could appear as the Princess of Lilliputia in (alternate title) Jack Black Dreck. (MB)

Dec. 22
LITTLE FOCKERS
Premise: Uptight forebears re-encounter hang-loose parents while distrusting the son-in-law and causing the grandkids to run wild.
Starring: Ben Stiller, Robert De Niro, Dustin Hoffman
Rated: PG-13
IMDb • Trailer

First the husband met the in-laws; then the two sets of in-laws met each other; now they're all dealing with the grandchildren.
It's been 10 years since male nurse Greg Focker (Ben Stiller) agreed to Meet the Parents — only to find out his potential father-in-law (De Niro) was ex-CIA, insisted on lie-detector tests and would soon pledge to "keep my eyes on you."
In 2004, everyone went to Meet the Fockers — who turned out to be a hippie lawyer (Dustin Hoffman) and a sex therapist (Barbra Streisand) — and it was revealed that Greg's actual name is Gaylord.
The sequel made $280 million, so you knew this second sequel would eventually emerge, despite Hoffman's dislike of the script and the new director — reducing his role to just six scenes. But with over-extended parodies of other movies like The Godfather and Jaws included, this franchise may be signaling its lack of new ideas. We're sorry, Fockers, but we're just not sure anymore that you're in our circle of trust. (MB)
Dec. 25
CASINO JACK
Premise: A very greedy man makes very large amounts of money very illegally.
Starring: Kevin Spacey, Kelly Preston, Jon Lovitz
Oscar Buzz: Best Actor (Spacey) maybe
Rated: R
IMDb • Trailer

People are all about the movies based on true stories this winter, so here's another. Kevin Spacey stars as Jack Abramoff, a former D.C. lobbyist whose dirty dealings with the Republican Party earned him oodles of money and power. But for being in it that deep, it's hard to imagine this guy didn't think he'd get caught — because he totally did.
In 2006, Abramoff went on to plead guilty to "defrauding Indian tribal clients of millions of dollars, conspiring to bribe members of Congress and evading taxes." The movie chronicles the rise and fall of Abramoff's lavish glory days, right on into his ushering into federal prison, where he served nearly four years. He now works as a pizza-delivery man. And owes the government more than $20 million. Sucks to be him! Oh, and the real Jack Abramoff is scheduled to be released from his halfway house on Dec. 4. So he's got plenty of time to buy a ticket for his movie. (TH)
Dec. 29-ish
BIUTIFUL
Premise: Guy with cancer fights to save immigrant workers and connect with his kids.
Starring: Javier Bardem
Director: Alejandro Gonzalez Iñárritu
Oscar Buzz: Best Actor (Bardem), Best Director/Screenplay (Iñárritu)
Rated: R
IMDb • Trailer

Ain't got much book larnin', but still pretty sure "beautiful" ain't got two "I"s in it? Right you are, my friend. Biutiful is a Spanish language film*, which means that it's not for the faint of heart. You'll have to read to understand what people are saying, for example. But you'll totally want to, especially if you saw and liked Iñárritu's other films like 21 Grams, Babel and Amores Perros.
Important people at Cannes thought this might be Iñárritu's best film ever. Javier Bardem plays Uxbal, whose recent cancer diagnosis gets him thinking a lot about his kids, his legacy and all that horrible stuff he did when he was younger. Two hours of uninterrupted woe give way to an apparently redemptive final act. (LB)
* "Biutiful" isn't a Spanish word either, but a Spanish phonetic spelling of the English word, which we take to be an outward manifestation of Inarritu's inner conflict at being the saddest effing director working in either language.
Dec. 29
THE WAY BACK
Premise: Men escape from a prison camp and must survive the travel home.
Starring: Colin Farrell, Jim Sturgess
Director: Peter Weir
Rated: PG-13
IMDb • Trailer

Siberia is chilly — yet another reason why it would suck to be put into a penal labor camp there, especially during World War II. But that's exactly what happened in 1940 to a bunch of unfortunate souls, whose imprisonment, escape and long journey home are chronicled here. Based on the true-ish (maybe) memoir of S%u0142awomir Rawicz, we follow him and his crew (seven men and one teenage girl they find along the way) as they fight against extreme conditions, walking 4,000 miles through Siberia, the Gobi Desert, Tibet, and the Himalayas until finally reaching British India. As you can imagine, all that traveling's going to put some wear and tear on your Keds.
It's an amazing story, full of ups and downs, always keeping sight on the strength of the human spirit — aka the need to get back home to that special lady-person. She may be wearing a bonnet, but that apparently can't quell the allure of "the goodies," if you know what I mean. She knows how to warm you up. RATED PG-13 (TH)
January, probably
RABBIT HOLE
Premise: Parents grieve their young son's death in different ways — and their marriage suffers for it.
Starring: Nicole Kidman, Aaron Eckhart, Dianne Wiest
Director: John Cameron Mitchell
Oscar Buzz: Best Actress (Kidman), Supporting Actress (Wiest)
Not Yet Rated
IMDb • Trailer

Thirty-three years ago, back when director John Cameron Mitchell was 14, his younger brother died of a heart ailment. Mitchell says that even now, his family is still recovering.
That's what grief is like, says Dianne Wiest, playing the grandmother in the movie (scripted from his own play by David Lindsay-Abaire). Grief is like a rock in your pocket, she says. At first it weighs you down; gradually, you become accustomed to it. But it never completely goes away.
The premise of Rabbit Hole, however, isn't as much of a downer as you might think. Becca (Kidman) has a teasing/disapproving relationship with her younger sister; openly makes fun of other grieving parents' facile views of the afterlife; and, against the odds, develops a philosophical friendship with the artistic teenage boy who drove down her street one day. And accidentally ran down her son. NOT YET RATED (MB)