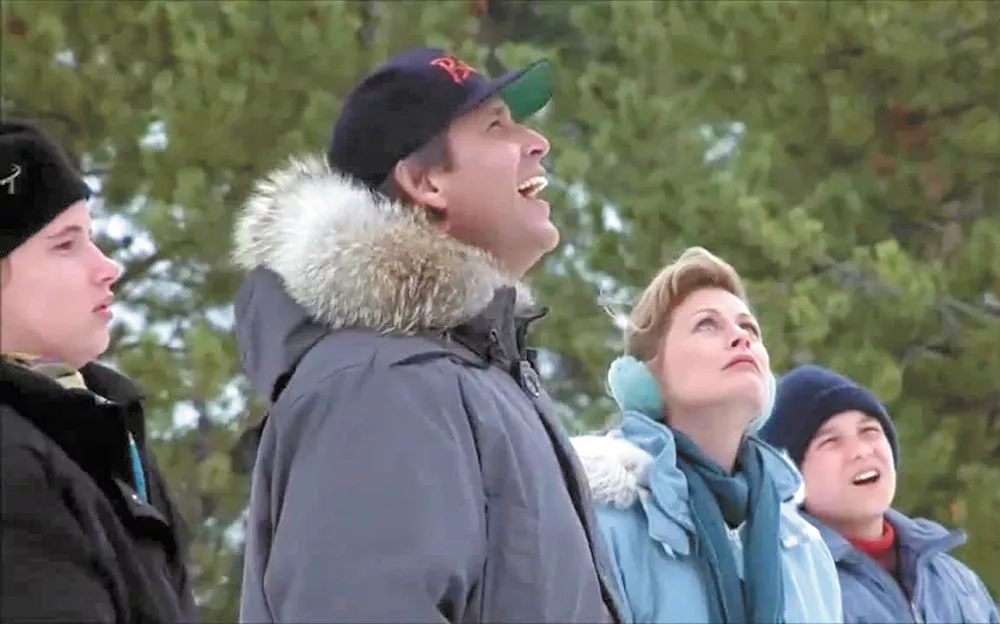 The Perfect Tree
For some, the act of cutting down a Christmas tree is a holiday ritual. There's something about slogging through several miles of wilderness, up to your knees in snow and sweating buckets, just to find that perfect tree. It may be easier to go to a tree farm, but no sir — your family is that family, and you'll be damned if the tree in your living room isn't the real thing and you didn't do all the work to get it there.
For both seasoned tree-chopping vets and families fresh to the practice, the Colville National Forest offers tips to make the experience of finding the perfect tree as smooth as it can be.
Before loading the family into the car and heading for the nearest tree line, get a permit. They can be purchased for $5 from ranger stations in Colville, Kettle Falls, Newport, Sullivan Lake or the National Forest Information Center in Spokane.
Then it's time to bundle up. Preparation is key — map out a route, call ahead to check road conditions and tell someone when you're leaving and intend to return; these are all good practices. Make sure your party is equipped with warm clothing, footwear and gloves, and that you have the proper instruments for the job.
Once you've found the perfect conifer, it's time to cut that sucker down. According to the Forest Service, trees must be harvested at least 50 feet from a road. Also, it's illegal to cut trees in national parks, or from campgrounds and picnic areas.
Make sure to cut the tree from a thicket; the Forest Service recommends leaving a healthy tree every 20 feet. Cut the tree as low to the ground as you can while someone else supports the weight. Once you're done, scatter any fallen limbs or branches and attach the permit to the tree. You can transport your tree inside your vehicle or outside on a rack. Just be sure to firmly secure your tree and use a tarp to protect it from losing needles on the journey home.
That's it! You've done it! Now, as you kick back with some Christmas tunes and enjoy that sweet pine smell, revel in the fact that your synthetic tree is spending another year where it rightfully belongs — in the garage. For more information, visit fs.usda.gov/detail/colville and go to the "Passes & Permits" tab.
Forest of Lights
What better way to jump-start a new family Christmas tradition than living out one of the most famous seasonal tunes? Experience the transformation of Riverside State Park into a literal Winter Wonderland this holiday season. Somewhere among the 2 miles of brightly lit trees you'll find Santa Claus, two hayrides, and of course the famous swinging bridge over the river. After your trek, relax around one of eight blazing fires, sipping some hot chocolate and munching on Christmas cookies and other treats. Riverside State Park, Bowl and Pitcher. Dec. 12-14, daily from 6-8 pm. $5/adults; kids ages 3 and under free. No Discover Pass required. tinyurl.com/q2d5mxm
Powder Pedaling
Maybe it's to save on gas money, or to avoid congested traffic filling town during the gift-buying rush. Maybe you enjoy that rush of cold air on your face, the warm burning in your thighs and the feeling of the frozen ground beneath your tires. Or, let's be honest — you need a mind-clearing break from those exhausting relatives visiting this year. Whatever the reason, braving the weather to bike during the winter months is not only doable, but can be positively enjoyable. However, there are several things to remember when cycling in the cold. Waterproof, lightweight jackets and pants will keep you warm and won't absorb moisture like cotton. If you're out after dusk, keep yourself well-lit from both the front and the back. Dan Schroter, service manager at Wheel Sport bike shop, advises vigilance in studying road conditions and avoiding routes that force you to ride in an unsafe way.
"Even with studded tires or a fat bike, you can slip out pretty fast," he cautions.
One of the most important aspects of riding in the winter, Schroter says, is maintaining your ride. Riding on icy roads or pavement that's been salted can kick up an assortment of nastiness, so ensuring that your chain and drivetrain are well lubricated and your tires are clean will keep everything working. Finally, always make sure to wear a helmet. Cycling in the winter can be a rewarding experience, and with proper preparation and some common sense, you'll wonder why you ever bothered to get those snow tires on your car in the first place.
Lights, Camera, Christmas
If holiday spirit is quantifiable by size and frequency of explosions generated in honor of the season, the city of Coeur d'Alene would have the most spirit in the world. A perennial family favorite, the Coeur d'Alene Resort's Holiday Light Show kicks off the season in spectacular fashion. A parade through town is followed by the lighting of more than a million twinkling lights and a fireworks show, marking the official beginning of the season. Illuminated lake cruises begin the night of the event and run through New Year's Day. Holiday Lighting Ceremony, Fri, Nov. 28, starting at 5 pm. Ceremony cruise departs at 5:30 pm. $20.75-$31.75. Journey to the North Pole cruises run Nov. 28-Jan 4; $5-$19.75. cdaresort.com
Spirit on the Slopes
Nothing compares to the pride you feel watching your son or daughter perfectly nail that (insert ski trick) in front of a cheering crowd. During Lookout Ski Resort's new Holiday Games, aspiring park junkies can show off to their heart's content in a rail jam sponsored by Red Bull and Pistole Boardshop, with prizes awarded to the top three finishers. After the jam, parents can enjoy brews from Alaskan Brewing Co. in the Loft. Day Two promises an equal amount of fun, with stocking stuffer (potato sack) races and an ugly sweater contest. Sat-Sun, Dec. 20-21. $10/rail jam entry. Full-day lift tickets: $40/adults, $29/ages 7-17, free/ages 6 and under. Lookout Ski Resort, Mullan, Idaho. skilookout.com
Don't Miss the Big Game
For the first time in 15 years, the Inland Northwest rivals Washington State Cougars and Gonzaga Bulldogs face off under the lights of the Spokane Arena. While the game sold out about a month ago, local watering holes have you covered. The game will be televised on ESPNU, and most places we talked to will have game day specials, decided a few days in advance. In the meantime, here's a list of spots to catch what's sure to be one of the most highly anticipated games of the season.
Game time: Wed, Dec. 10, at 8 pm
The Swinging Doors
1018 W. Francis, 326-6794
Reservations: Yes
With 60 TVs, Swinging Doors supports local sports of all kinds. Game day specials will be available a few days before the game, and this Northside favorite features 27 beers on tap.
Waddell's
4318 S. Regal, 443-6500
Reservations: No
With a rotating lineup of more than 50 beers on tap, Waddell's is prepared to handle any mood you might find yourself in the night of the game.
Chairs Public House
1305 N. Hamilton, 381-0909
Reservations: Yes
In addition to game day specials, Chairs offers Gonzaga students who show their Kennel Club cards 15 percent off. Regular specials include housemade pizzas and nachos. Minors are allowed until 11 pm, allowing plenty of time to catch the game.
Fast Eddies
1 W. Spokane Falls Blvd., 455-8752
Reservations: No
This downtown hangout features its regular Wednesday specials: $10 pitchers of any microbrew, and the "shot special" for Zags and Cougs fans. Come early for power hour (3-4 pm) for $1 domestics and $2 micros.
The Ref Sports Bar
14208 E. Sprague, 315-9637
Reservations: Yes
Regular specials that day include power hour (2-4 pm) and happy hour (4-6 pm). ♦