Since late last year, a new coronavirus, now dubbed COVID-19, has been sweeping the globe, sickening more than 114,000 with flu- and cold-like symptoms and killing more than 4,000 so far.
On Monday, the New York Stock Exchange halted trading for 15 minutes after stocks took a major dive amid coronavirus fears and a spat between Russia and Saudi Arabia over oil prices. Earlier that morning, President Donald Trump tweeted that "fake news media" and Democrats were inflaming "the CoronaVirus situation, far beyond what the facts would warrant," noting the surgeon general says, "The risk is low to the average American." Later in the day, Italy, which has seen more than 460 deaths, took the extraordinary measure of declaring a nationwide quarantine, telling people to stay home at all times except for work and emergencies.
As public health officials try to get a handle on the spread of the virus, with some universities turning to online classes and people flocking to buy hand sanitizer and toilet paper, some contend that fears are being overblown. Others insist it's not being taken seriously enough.
Officials in Washington state — the first and, so far, hardest hit in the U.S. — have issued a state of emergency and hope to slow the spread of the virus. In addition to dusting off emergency plans and contemplating worst-case scenarios, officials have consistently asked the public to take common-sense measures. That includes washing hands regularly for at least 20 seconds, avoiding touching your face, staying home when you get sick and, in some cases, working from home.
The worst outbreak in the U.S. is at an elderly care facility near Seattle. Unfortunately, that's exactly the population most susceptible to the worst effects of COVID-19, which include pneumonia and respiratory issues. For at least 29 in Washington it has proven deadly.
With a handful of cases popping up east of the Cascades, here's a look at how the Inland Northwest is preparing.
How serious is COVID-19?
Since December, there have been more than 114,000 confirmed COVID-19 cases globally (though many more are suspected), with more than 4,000 deaths.
The flu, meanwhile, infects roughly 1 billion worldwide each year and kills between 291,000 and 646,000. In the U.S., the flu kills between about 12,000 and 61,000 yearly.
Similar to the flu, many with COVID-19 may have had mild symptoms and gotten over it. But unlike the flu, most people haven't been exposed to this coronavirus yet, there is no vaccine (although several are in development), and there is no specific treatment other than typical respiratory illness responses.
About 0.09 percent of the 35.5 million Americans who had the flu in 2018-19 died, according to the CDC. Of those who died, 75 percent were adults 65 and older. By comparison, the World Health Organization (WHO) estimates COVID-19 has a "crude fatality rate" of 3 percent to 4 percent — calculated by the number of deaths divided by reported cases — with those over 60 and with other health complications most likely to die.
The good news is, health officials expect the fatality rate to drop as they learn how widespread the virus truly is. In China, for example, the crude fatality rate, which was initially closer to 17.3 percent, had dropped to 0.7 percent for patients diagnosed after Feb. 1, according to a WHO-China joint mission report. (SW)
Is it in Spokane yet?
As of Wednesday afternoon, there were no confirmed COVID-19 cases in Spokane County. A highly publicized test tied to Gonzaga University came back negative for the virus.
Since the CDC loosened its rules for who can be tested, many more in Spokane County are likely being tested.
Given that, the Spokane Regional Health District will now only report if the county gets confirmed cases, and follow up with cases that require public health assistance to reach out to others who may have been in close contact, explains Kelli Hawkins, the health district spokeswoman.
Statewide, there were 366 confirmed cases and 29 deaths, according to the state Department of Health. Health officials urged people to stay vigilant about washing their hands, covering their coughs and staying home when sick.
Idaho has no confirmed cases, but officials at Kootenai Health have prepared a special isolation tent should it be necessary.
Meanwhile, Washington Gov. Jay Inslee and lawmakers agreed to provide financial assistance for health care workers and first responders who may get sick or quarantined due to COVID-19. State Insurance Commissioner Mike Kreidler also issued an emergency order requiring insurance companies to cover COVID-19 testing, appointments and treatment without requiring a deductible or co-pay. The state will cover testing for the uninsured. (SW)
Who can get tested and how? Why aren't people with similar symptoms allowed to be tested?
Not everyone needs to get tested. Many people who get this coronavirus are experiencing symptoms similar to a common cold or the flu, explains Dr. Bob Lutz, the Spokane Regional Health District officer.
Without a complicating risk factor like age or chronic health problems, and short of showing more drastic symptoms, your doctor likely wouldn't change your treatment even if you're positive for COVID-19, he says. Mostly, patients will be told to do the same thing they would with flu: Stay home; keep away from older people, pregnant women, little kids and those with medical issues; wash your hands regularly; cover your cough; and take care of yourself, drinking plenty of fluids and resting.
"There are some things which I really need to know as a clinician and you need to know as a patient, because that is going to affect your treatment and your outcome. There are others where it's not quite as important," Lutz says. "The 'need to know' has been sort of replaced by 'I want to know.'"
From a scientific standpoint, Lutz says he'd also love to know exactly how many cases are in the community for preparedness. But it's a balancing act with resources and exactly how useful that information is after a certain point, he says.
"If I test everybody who comes in with a cold, the burden of impact on the health care system is significant," Lutz says. "It's a conversation with your provider that balances that 'need to know' with 'What am I going to do differently if I do know that as a patient?'"
If, for example, someone is a caregiver for an older parent, Lutz would likely recommend they be tested to confirm whether they have COVID-19, as it could impact the person they care for. But for healthier and younger patients, it may not be necessary.
"It's never going to be like rolling up to a McDonald's, I put a swab in your nose, and I give you test results back in a couple minutes or a day or two," Lutz says. "It's never going to be like that." (SW)
What are schools doing?
Schools in the Inland Northwest say they're taking extra cleaning precautions to prevent the possible spread of coronavirus.
But in Spokane Public Schools, budget cuts for this school year are forcing the custodial staff to do more with less. The district has 23 fewer custodians this year compared to last, and there are no plans to change those staffing levels, according to district spokeswoman Ally Barrera.
The reduction has meant classroom floors are cleaned less often — though the district says other surfaces in classes are still cleaned as much as the year before. During the day, custodians are prioritizing high-touch areas like door handles, handrails and faucet knobs.
School districts say they're coordinating with local health officials to determine whether school closure is necessary. Colville School District, for instance, shut down temporarily last week while it awaited test results of a suspected case, though that result came back negative. (WC)
Are major events being canceled?
While massive events like SXSW in Austin, Texas, and Emerald City Comic Con in Seattle have been canceled or postponed, most Inland Northwest events appear to be moving ahead under current guidance from the Spokane Regional Health District. Lutz, the regional health officer, is not yet asking groups to cancel.
"Obviously, you as an organizer, you as a school district, you can make those decisions on your own," Lutz says. "But from a public health standpoint, we're not making those recommendations at this point. Talk to me in two weeks, in three weeks, and things may have changed."
Even looking ahead to Bloomsday, Lutz says he's not thinking about canceling the massive event yet, but he is brainstorming possibilities like changing the way people are packed in at the starting line, should that be needed.
However, as of Wednesday, the NCAA announced its tournament would be held without fans and only limited attendance by family members of players. The first and second rounds of the NCAA tournament are set to start in Spokane (and several other cities) on March 19 and 21.
Large concerts and shows at the Spokane Arena and First Interstate Center for the Arts are also going ahead as scheduled, with the facilities well-stocked with hand sanitizer stations and signs about COVID-19, says Spokane Public Facilities District CEO Stephanie Curran. The Chinese dance performance Shen Yun is not canceled, but organizers are offering refunds to people who are concerned about attending, Curran says.
"I've been working with the health department," Curran says. "So far they've said there's no need to cancel anything." (SW)
Should I wear a mask?
"Unfortunately, it's a false sense of security that you wear a surgical mask and it's going to protect you," Lutz says. "I was traveling this past weekend and I saw all kinds of variations on the theme to include bandanas, which are just as effective as wearing a surgical mask."
Which is to say, not effective at preventing COVID-19. However, wearing a mask when you're sick may help prevent you from spreading germs to other people, Lutz says, and certainly, for people who are caregiving for someone who has coronavirus, N95 masks may help.
"But I'm not encouraging people to go out right now and buy N95s, first of all because it's impractical, secondly, because you can't find them because people have gone to the extreme and bought them all," Lutz says. "It gives people a sense of empowerment, 'I am doing something proactively to prevent myself from getting illness.' But you're better off washing your hands and practicing good cough etiquette than wearing a mask." (SW)
How is the jail preventing an outbreak?
Jails, which by design house large numbers of people in close proximity, pose a unique challenge to preventing a potential COVID-19 outbreak. The Spokane County Jail, where chronic overcrowding has been an issue for years, is no different.
"People in prisons are innately vulnerable to a pandemic and spreading it," says Wanda Bertram, a spokeswoman for Prison Policy Initiative, a reform-minded criminal justice think tank. "When jails do things like sticking two or three people in a cell meant for one person, you're going to increase the risk that viruses [get] transmitted."
Adding to that risk are common underlying health conditions, the number of inmates and staff cycling in and out, and the increasing number of older inmates, she argues.
At the Spokane County Jail and Geiger Corrections Center, new inmates are now being screened during booking for symptoms like fever or persistent cough, while "high-touch" parts of the facility are being sanitized daily and cells are being cleaned as they become vacant, says Jared Webley, the Spokane County spokesman.
Inmates only have access to soap and water, while jail guards have alcohol-based hand sanitizer, Webley says, to avoid previously seen "cases of inmates using hand sanitizer to get drunk."
In the event an inmate exhibits COVID-19 symptoms, they will be given a mask and quarantined in a "negative air flow" cell, Webley says. Any cellmates would also be quarantined.
However, if an inmate with symptoms is exposed to a large number of inmates outside of their cell, it is unclear what the protocols are.
"It would be a case-by-case decision that would be made by leadership in the jail," Webley says.
Jail officials are also in regular contact with the Spokane Regional Health District as the situation evolves. (JK)
Are homeless shelters ready?
Spokane homeless shelters are also taking steps to prepare, following protocols provided by the health district.
"The homeless population is already medically fragile. These are people who are sick all the time anyway."

tweet this
At the Union Gospel Mission men's shelter, for instance, staff are screening new clients for fever and cough and giving them a mask if they do show symptoms, says Joel Brown, UGM's director of ministries. Staff are also educating clients on proper hygiene and handwashing, and providing ample hand sanitizer.
When it comes to N95 masks, which can help protect from respiratory droplets that spread COVID-19, the supply at Spokane shelters is limited.
"We have a small supply of them, but if there were to be an outbreak, that would be a concern for everybody," Brown says. "We can't get them anymore. They're sold out."
They're also exploring how to create an isolation room in the men's shelter for clients who need to be quarantined. In the worst-case scenario of a widespread outbreak at the facility, UGM would close to new clients if directed to do so by public health officials.
Catholic Charities — which runs Spokane's House of Charity shelter and affordable housing complexes for seniors and people transitioning out of homelessness — has well-established protocols that were developed during a norovirus outbreak at House of Charity in 2016.
"We've been well trained on how to handle these exact situations," says Rob McCann, director of Catholic Charities.
Some of their new affordable housing developments feature quarantine rooms with bathrooms, showers and sleeping space for around 50 people. Procedures are also in place to make sure that senior residents get food and medical prescriptions if they are required by health officials to stay quarantined in their units. Staff are also increasing the frequency of cleaning community spaces.
House of Charity is also screening clients.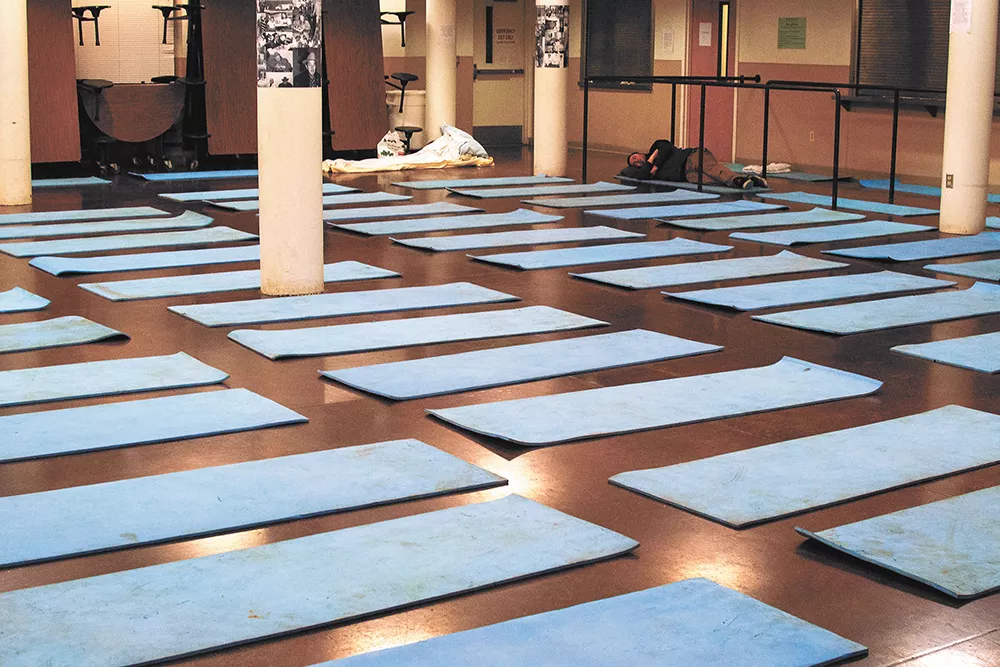 "The health department has given us lists of questions to ask people and we can take people's temperatures on site," McCann says. "We know what to ask and if we see certain symptoms, we call Providence or the health district."
But since the local homeless population already deals with a variety of chronic health conditions, walking the fine line between proactively identifying COVID-19 and avoiding false alarms is going to be tricky, some argue.
"The homeless population is already medically fragile. These are people who are sick all the time anyway," McCann says. "It's going to be very difficult to tell who has coronavirus and who has the same cough they've had for years. Same with seniors. We don't want to overreact." (JK)
What about senior living and care facilities?
With the worst outbreak of COVID-19 in the United States so far at an elderly care facility near Seattle, where at least 22 people have died from the virus, facilities in the Spokane area are trying to avoid a similar deadly crisis.
At Touchmark nursing home, which houses over 300 people on the South Hill, staff are removing items like magazines and puzzles from common areas, replacing shared menus with a large sign and switching to individual condiment packets, writes Jan Bellis-Squires, a spokeswoman for the company, by email. Frequently touched surfaces like toilets, faucets, handrails and light switches are also being disinfected three times a day.
In the event that a resident shows symptoms of COVID-19, facility staff will contact their primary care physician and request a clinical assessment, obtain a "detailed account" of their last 30 days of travel and potential exposure, and use gloves and masks when entering the ill resident's home, Bellis-Squires writes.
At Alderwood Manor, which is operated by Life Care Centers — the company that owns the Kirkland facility with a major COVID-19 outbreak, as well as facilities in North Idaho and around the country — a staffer who declined to give his name tells the Inlander they are "following all of the recommendations" that the CDC has published for nursing facilities. (JK) ♦
Editor's note: This story was updated from the original print version to reflect new information as of March 11.