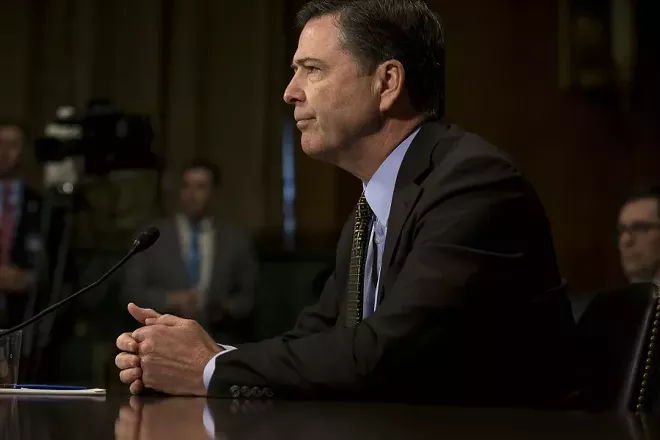 By MICHAEL D. SHEAR
© 2018 New York Times News Service
WASHINGTON — If there was any chance that President Donald Trump and James Comey could avoid all-out war, it will end Sunday night.

That is when ABC News will broadcast an hourlong interview with Comey, the president's fired FBI director, as he seeks to publicize his searing tell-all memoir, "A Higher Loyalty."
Clips aired by the network show Comey questioning Trump's character as he says that Trump repeatedly pressed him to conduct an investigation to refute a salacious allegation that he had cavorted with prostitutes in Moscow.
In the book, which is scheduled to be formally released Tuesday, Comey goes just as far. He calls Trump unethical and says he is a serial liar who could be vulnerable to blackmail by the Russian government. He compares the president to a mafia boss.
"Donald Trump's presidency threatens much of what is good in this nation," Comey writes in the book.
The interview with Comey and the weekslong media blitz he plans for his book amount to a remarkable public assault on a sitting president by someone who served at the highest levels of power in the government.
The stakes for both men could not be higher. Comey seems likely to be the star witness in any obstruction of justice case brought against the president by Robert Mueller, the special counsel in the Russia investigation. Trump's legal fate, as well as his political fortunes in Washington, may depend on whether he succeeds in undermining the credibility of Comey and the law enforcement institutions he views as arrayed against him.
The ABC interview is Comey's first major attempt to prevent that from happening.
Hours before the interview aired, Trump called Comey a "slimeball" for the second time in three days, saying in a pair of early-morning tweets that he belongs in jail for what the president said were lies to Congress and leaks of classified information.
Comey responded later in the day with a more subtle dig of his own.
"My book is about ethical leadership & draws on stories from my life & lessons I learned from others," he tweeted. "3 presidents are in my book: 2 help illustrate the values at the heart of ethical leadership; 1 serves as a counterpoint."