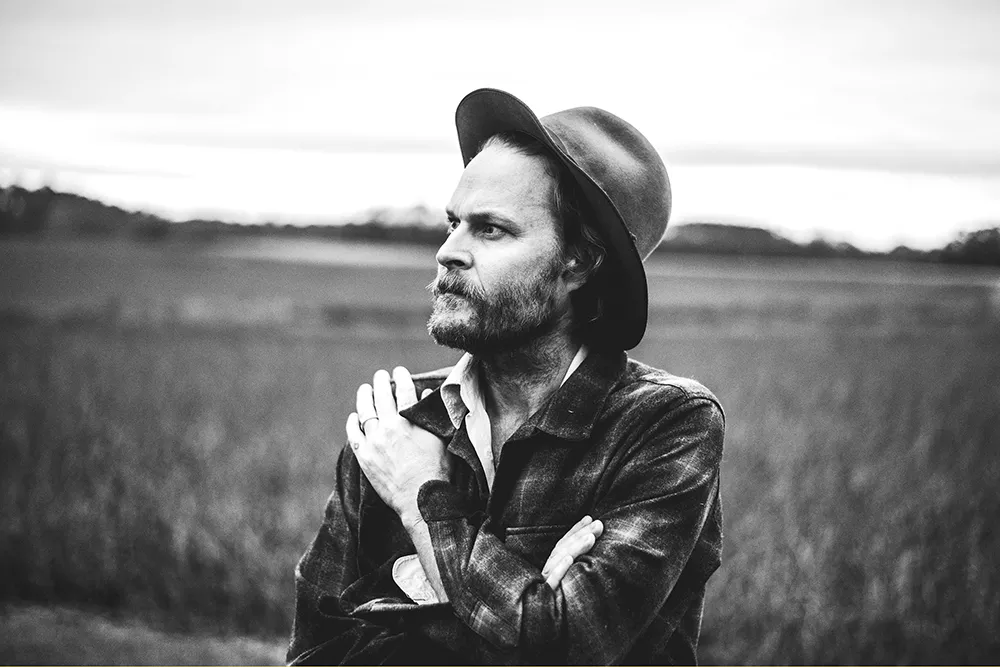 Under the moniker Hiss Golden Messenger, singer-songwriter M.C. Taylor has been making folk-tinged alt-rock for the last decade, playing with a rotating lineup of musicians and morphing between styles, his weary voice and humane songwriting the axis around which the wheel spins.
It's an approach that's indicative of Taylor's eclectic musical background. He grew up in Southern California with a folk musician father — "There was always a guitar around the house, and he always sang," he tells the Inlander — and Taylor himself was obsessed with early hip-hop acts like Eric B & Rakim and EPMD, and later hardcore punk. That might seem a strange jumping-off point for such an inward-looking artist, but Taylor says he related to musicians who could project their feelings, sometimes at the highest possible volume.
"As I got older — and I don't think I would have said this at the time — I needed to understand how to convey my emotions, and hear the emotions that I was feeling in music in a way that was more nuanced," Taylor says.
Hiss Golden Messenger's latest album Terms of Surrender conveys that many times over. It was written at an emotional impasse: Taylor's dad had recently suffered a heart attack, which only underlined his own uncertainties as a father whose job required him to be away for long periods of time, and he found himself in a period of depression.
He retreated into Virginia's Blue Ridge Mountains to write, and the material he came back with finds him pondering his own station in life. "Katy (You Don't Have to Be Good Yet)" is a wisdom delivery system for a friend who has lost their way, while the closing title track lays out Taylor's conditions for finally letting go completely. "Happy Birthday, Baby," a song to his young daughter, is both a soothing lullaby and something of an apology ("I'm trying to repay you for all these miles that I roam"); on the very next track, "Down at the Uptown," he seems to come to terms with his way of life — "I guess we only get so many chances to shine," he determines.
Terms of Surrender was recorded in a series of studios — in the upstate New York facility owned by the National's Aaron Dessner (who also plays on the album), in the legendary Sound City in Los Angeles, in Nashville — and features musicians, including Dessner and Jenny Lewis, who happened to be around at the time. That approach, Taylor explains, is in keeping with "the pleasures and pitfalls of wandering for a living," the idea that the places we inhabit have a way of imprinting themselves onto us.
And as for the personal lyrical themes: Getting them onto tape and putting them out into the world isn't unlike spilling his guts to a therapist.
"I'm not talking about quantum physics — I'm talking about why life feels so complicated and so joyful at the same time," Taylor says. "And that's something everybody understands. I'm not trying to put any answers out into the world. I just think it's a good idea to voice the questions. ... The trick is to actually articulate what the question is, because then you start to understand what path it is that you're on."
Listening to Terms of Surrender, you get the sense you're overhearing conversations that were always meant to be private, or peering into the most personal thoughts of someone who's doing their best to overcome their own worst impulses. That's the idea, Taylor says.
"My number one goal is to not obscure the initial impulse for writing the song," he says. "It's got to feel like it's coming straight off the page of the journal, even if there are a million moving parts." ♦
Hiss Golden Messenger with Erin Rae • Mon, Oct. 14 at 8 pm • $21 • 21+ • The Bartlett • 228 W. Sprague • thebartlettspokane.com • 747-2174