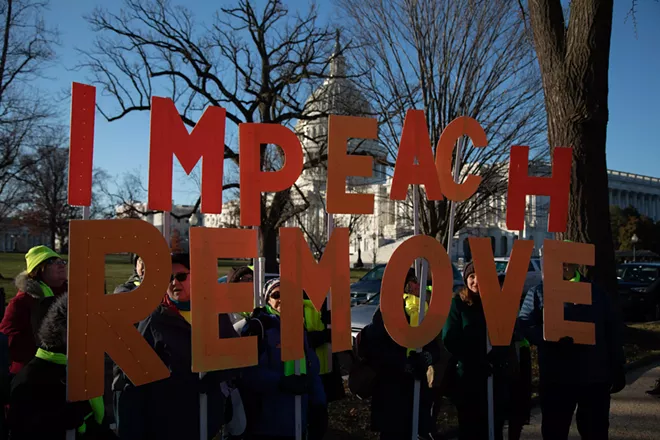 By Nicholas Fandos and Michael D. Shear
The New York Times Company
W
ASHINGTON —
Republicans and Democrats clashed fiercely Wednesday as the House of Representatives barreled toward a historic vote to impeach President Donald Trump, debating a pair of charges that would make him the third president in history to face removal by the Senate for "high crimes and misdemeanors."
The epic debate on the House floor reflected the deep polarization gripping U.S. politics in the Trump era, but the outcome was considered certain. Majority Democrats were expected to push through two impeachment articles, abuse of power and obstruction of Congress, over the vehement protests of Republicans. The charges stemmed from Trump's attempts to use the powers of the U.S. government to pressure Ukraine to investigate his political rivals.
A vote Wednesday morning to lay the ground rules for the proceeding signaled that the final outcome — like the debate itself — would fall almost purely along partisan lines, with nearly every Democrat in favor of impeaching Trump. The test vote was 228-197, with just two Democrats voting with Republicans in opposition. It began six hours of passionate back-and-forth between Democrats and Republicans, as they warred over whether to charge the president with offenses that could lead to his ouster less than a year before he faces reelection.
Immediately after the test vote, the clerk of the House read the two articles in full aloud to a rapt House chamber, concluding by reciting: "President Trump thus warrants impeachment and trial, removal from office."
Speaker Nancy Pelosi began consideration of the charges by appealing to every member to uphold their oaths to "protect and defend" the Constitution.
"Today, as speaker of the House, I solemnly and sadly open the debate on the impeachment of the president of the United States," she said. "If we do not act now, we would be derelict in our duty."
Republicans accused the Democrats of manufacturing a case against a president they never viewed as legitimate. Though they conceded few of them, they insisted the facts against Trump nonetheless fell woefully short of impeachment.
"This is an impeachment based on presumption," said Rep. Doug Collins of Georgia, the top Republican on the Judiciary Committee. "We win on process, and we win on the facts. Why? Because the American people will see through this."