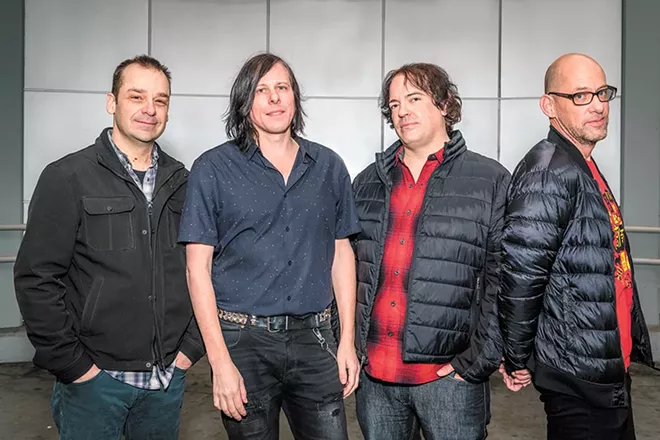 Have you ever heard a pop song that seems so perfectly calibrated, its harmonies so lush and its melody so catchy, that you find yourself listening to it over and over again because you can't get enough of it? The Posies have written a lot of songs like that.
The band specializes in the kind of sugary power-pop pioneered in the 1970s by Big Star and Todd Rundgren, and was later boosted in the '90s by the likes of Matthew Sweet, Redd Kross, Jellyfish and Teenage Fanclub. The Posies were in that second camp, forming in Bellingham in the late '80s when its primary songwriters, childhood friends Ken Stringfellow and Jon Auer, were still teenagers.
"All those bands you know, the Pearl Jams and Nirvanas and Mudhoneys, all those guys are older than I am," Stringfellow says. "Jon and I were younger, so we missed out on being friends with them early on because we couldn't hang out in the bars. We were kids, and they were adults. We were from Bellingham and we were young and desperately looking in at a music world that we could still hardly access."
By the time the runaway success of Nirvana's Nevermind and Soundgarden's Superunknown put Seattle and its deliberately scraggly rock on the map, the Posies had two studio albums and a cult following to their name. Auer and Stringfellow looked the part of the standard-issue Seattle musician — they were young, long-haired dudes in vintage duds brandishing guitars — but they were melodic and heartfelt, tipping their hat to the Hollies and the Raspberries while their most popular contemporaries were thrashing and screaming.
Of course, the burgeoning Seattle scene was less monochromatic than history books like to remember — Stringfellow points to the Young Fresh Fellows and Beat Happening as acclaimed Pacific Northwest bands that happily played outside the box — but the Posies, despite their accessible hooks, found themselves the musical outsiders all over again.
"It is true that we were a little bit odd in a certain way," Stringfellow says. "We were certainly bookish at a time when the fashion was to howl, and the fashion to be bookish came along later. One could say we were ahead of our time. As much as I love them both — and I do think we're an influence on both — I would say the people in the Head and the Heart and the guys in Death Cab have much bigger houses than we do.
"If we'd come out in 1998, it'd probably be a very different story."
Those early Posies albums (particularly 1990's Dear 23 and 1993's Frosting on the Beater) were met with critical adoration and received significant airplay on college radio stations, and they're now frequently listed among the greatest power-pop records of all time. The band also contributed to the soundtrack of the 1994 cult classic Reality Bites, which cemented their Gen X bona fides.
And while mainstream popularity mostly eluded them, the Posies are one of those bands that were beloved and championed by other prominent acts. One was R.E.M., who asked Stringfellow to appear on several late-period albums and numerous tours. He and Auer were also part of a reformed version of Big Star, the most influential of all power-pop groups, performing with them regularly until frontman Alex Chilton's unexpected death in 2010.
"The people on my bedroom wall in 1986 would be the Beatles, Led Zeppelin and R.E.M. — I didn't know about Big Star yet — but I've played with 'em all," Stringfellow says. "I've played with Ringo, I've played with John Paul Jones. I joined R.E.M. It really defies all logic. ... I'm just a dweeb from Bellingham, Washington. I know this sounds very Disney, but my feeling is, if that can happen to me, then the universe is a place of infinite possibilities for everyone."
The one constant in Stringfellow's career has been Jon Auer; they've now been performing together for more than 30 years. Stringfellow, who will turn 50 by the time this current tour wraps up, recognizes that kind of chemistry is rare, to find someone whose musical sensibility and voice meshes so effortlessly with yours.
"You could probably put us on opposite sides of the moon for a year, and come back and we'd probably be working toward a similar goal even if we had no way to communicate in the meantime," Stringfellow says. "We kind of programmed ourselves to have similar musical DNA. ... I've had a couple of good singing partners where it really clicked, but it's at a different level growing up with somebody. We started playing together when we were 14 and 13, so our voices actually formed singing together, and that only happens once in a lifetime."
The Posies with the Colourflies • Tue, July 3 at 8 pm • All ages • $25 • The Bartlett • 228 W. Sprague • thebartlettspokane.com • 747-2174