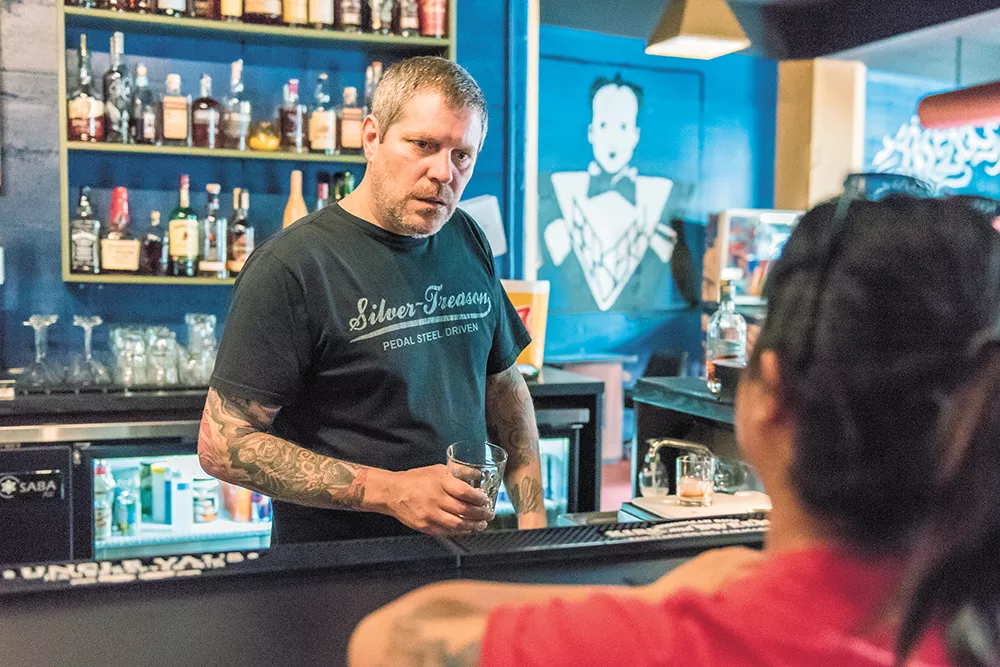 The first night Berserk bar was open for customers was also the first night of the Inlander's 2018 Volume Music Festival; the place was set to be one of nine downtown venues hosting live bands.
There was a mad dash to get the space in order, and owners were still sweeping debris off the floor mere hours before the doors finally opened. Despite the scramble, though, that weekend actually gave the bar's four owners a sense of relief: They aimed for a seemingly unrealistic deadline, and it went smoothly.
"I wouldn't do it differently if I had the choice," says co-owner James Hunt.
"And if Volume had been a different weekend, we might still not be open," co-owner Beth McRae adds with a laugh.
It was a bit of chaos four years in the making. In 2014, Hunt, a longtime Spokane musician who's tended bar at the Observatory and the shuttered Jones Radiator, first floated the idea of opening a bar to his friend McRae, who previously managed the Flying Goat and Downriver Grill.
"I was fully expecting her to say no — and I think she was fully expecting to say no," Hunt recalls, "but somehow we both had the same ideas in mind."
"We wanted something that's kind of eclectic, that's different than anything Spokane has seen," McRae says. "We've all been in the Spokane music and bar scene for years, and we wanted to create the kind of place we'd want to hang out in all the time."
McRae brought in her husband Lon and their friend Josh Davis, both of whom were in the liquor distribution business, and the quartet signed a lease for a large space in a previously vacant building on Stevens Street last November.
True to its name, Berserk has a lot of quirks. The walls are painted a bold electric blue. An old vault has been converted into a walk-in cooler. There's a pool table in one corner and several pinball machines in another. A pair of armchairs, a sofa and a vintage coffee table are arranged near the center of the space. A painting of eccentric German singer Klaus Nomi watches over everything.
Berserk currently offers eight beers on tap and a simple cocktail menu, including the Tiki old fashioned ($9) with rum and pineapple juice and the Blinker ($9), which mixes whiskey, chambord and grapefruit juice. Happy hour, which goes from 4-6 pm every day and all day Sunday, knocks $1 off wells and drafts. A Bloody Mary bar, featuring McRae's Asian-inspired tomato mix, is available every Sunday at noon. Berserk doesn't serve food.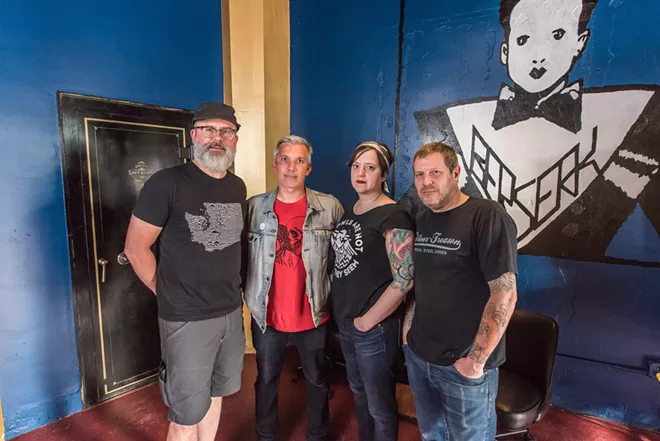 But Hunt says he mostly envisioned Berserk as an "art bar," and it will showcase a different local artist every month starting on First Fridays. Susan Webber (who also designed Berserk's David Lynch and Stanley Kubrick-themed logos) is currently the bar's featured artist; Jon Swanstrom's work will hang in July.
The owners say they also wanted to pay tribute to the other Spokane bars they've long frequented. In fact, one of Berserk's nooks has been designed to resemble the Baby Bar — they call it the "baby Baby Bar" — and comes adorned with a mural depicting that beloved watering hole's owner, Patty Tully, as the Lady Guadalupe. It's the best kind of shrine: one you can drink to.
"We wanted to focus on reciprocity with our community, and a lot of that came into the design here," Hunt says. "We wanted to take all the things we loved about Spokane and put it all in one space."
Berserk • 125 S. Stevens • Open daily 3 pm-2 am • facebook.com/berserkbarspokane