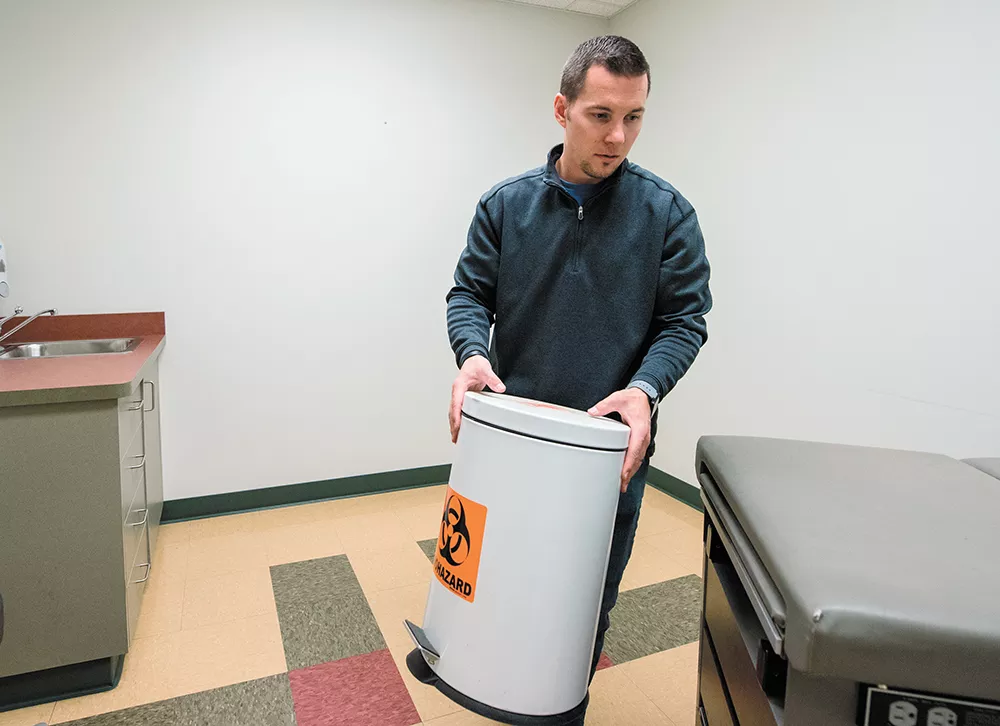 Do you know how much your last doctor's visit cost? What if you could leave the insurance middleman out of the picture and pay for your primary care provider the same way you pay for Netflix or a gym membership?
It's possible, and it's already here, says Matt Dinsmore, a nurse practitioner who is working with Dr. Barry Bacon to open a new family clinic in Spokane called Direct Primary Care.
Named for the payment model they'll be using, the clinic won't take insurance and instead will charge patients a monthly fee based on their age. In return, patients get primary care and more personalized access to their doctor, with same-day appointments and other services like some basic labs or prescriptions available at a lower price or at cost, Dinsmore says.
While looking into opening his own practice, Dinsmore settled on the funding model because it seemed like the most feasible method that's still accessible to average patients.
"It's very difficult to be profitable in a family clinic. As I was researching it, I came across direct primary care, and fee-for-service models," Dinsmore says. "The one that spoke truest to me was direct primary care, because it seems like Joe Schmoe can get this care, and it was the highest care that I can provide as a nurse practitioner."
The setup is simple: Patients pay a monthly rate, usually between about $30 and $200 depending on their age and the clinic. In exchange, they get to see their primary care provider as needed without worrying about copays or insurance.
It's a model that's ebbed and flowed in popularity in Washington state for about 20 years, says Bob Perna, director of the practice resource center at the Washington State Medical Association, which helps physicians explore the business side of their practice and figure out how to stay profitable.
While the numbers didn't change dramatically from 2015 to 2016, there was a 31 percent increase in the number of patients participating in a direct physician care model in Washington from fiscal year 2016 to 2017, according to the most recent direct practices report from the state Insurance Commissioner. With 14,790 patients participating statewide last year, that's still only about 0.22 percent of the state population participating in that model, according to the report.
Two or three other clinics in Spokane already offer direct primary care, and a statewide list can be found on the Office of the Insurance Commissioner's website, insurance.wa.gov.
The model may not look as appealing to young healthy people, but it can be very beneficial for those with chronic conditions, says Philip Eskew, a family medicine physician and attorney who founded DPC Frontier (dpcfrontier.com), a website geared at providing the most up-to-date information on the direct funding model.
Having the ability to call your doctor and know they'll be available is one of the main benefits, he says.
"If you have diabetes, or lupus, or what-have-you, having your physician who knows everything about you, it's much easier than trying to call some random phone number and getting assigned somebody who doesn't know anything about your history and they're trying to make a snap judgment about it," Eskew says. "It's those efficiencies over time that make all the difference."
Initially, direct-care models started with wealthier patients who were able to pay for more direct access to their doctor, with "concierge care" models, where their doctor is more on-call and sees far fewer patients. For example, one of the earliest was MD Squared in Bellevue, where patients paid more than $1,079 a month to have a 50-to-1 patient-doctor ratio in 2017, according to the most recent Insurance Commissioner report and MD Squared's website.
"I think we've seen that model as the beginning," Perna says. "But then over time we've seen many physicians who didn't like working in larger practice settings, who are interested in having more autonomy and individual decision-making in what they think is right for their patients, they're exploring this model."
Because with many direct care systems there's no billing or haggling with insurance companies, providers cut way back on administrative costs, with virtually no office staff. Patients, in turn, usually get better access to their doctors, who carry smaller caseloads of patients.
Indeed, the goal for Dinsmore was to save on costs and still be affordable for more of the average patient, someone who may pair direct care with a high-deductible "catastrophic care" insurance plan that covers large unforeseen medical expenses but not as many of the primary and preventative services provided at his clinic.
"Basically the problem is increasing premiums and higher deductibles," Dinsmore says. "A lot of people are feeling the pinch."
At Direct Primary Care, the monthly fee will include all standard primary care, including preventative care, chronic disease management, and most acute-care conditions, Dinsmore says.
The new clinic is set to start seeing patients in early November at Holy Family's campus at 212 E. Central Ave. Prices to start are planned to range from $29 to $109 per month depending on age from infant to 64, with a $100 initiation fee per patient and bundled packages available. For now, the clinic won't see patients 65 and older, as Dinsmore and Bacon want to continue being credentialed with Medicare, Dinsmore says.
With the bundles, couples can pay $149 a month, which is cheaper for patients over 40, but wouldn't be for a couple of 30-year-olds, for example, who'd be charged $49 a month individually. A family plan is $199 a month.
Critics argue that for many patients, paying both a monthly fee and for an insurance plan can leave people being overcharged for services they'd already receive with just insurance. A representative for America's Health Insurance Plans, a national association working for insurers, told the Chicago Tribune earlier this year that the practice is essentially double billing patients, and if some people opt not to get traditional insurance and use only direct primary care until they get sick, it can mess with the healthy-to-sick ratio required to keep risk pools working.
Still, Dinsmore says their model will work better for patients. Rather than having a doctor see 800 patients or more, as many primary care practices do, Dinsmore and Bacon are looking at closer to 200 or so, which means appointments can last longer, and patients get the time they need, Dinsmore says.
Accessibility by phone and text can help strengthen the doctor-patient relationship, and save time on both ends if patients aren't sure whether to come in, or just need something answered quickly, he says.
"A lot of phone conversations can't be done in order to bill, in the insurance world," Dinsmore says. "In the direct primary care world, we're not worried about that."
Other services, like reasonable in-clinic testing for strep throat or bladder infections may be covered as well, or simply charged at the cost of supplies, he says. Other labs could still be ordered through the clinic and charged at cost, he says, and many common prescriptions may be dispensed at wholesale costs. (More information on what's covered can be found at mydpcclinic.com.)
When direct primary care was first starting as a model, many patients signing up likely didn't have insurance, says Eskew, who's written academic articles on the model and defends it against criticisms.
"But more and more, patients with insurance, patients even with Medicare and Medicaid, want to sign up for it because they see the quality," Eskew says. "Anybody who cares enough to ask the important question, 'How much does it cost?' is going to be drawn toward a DPC practice. We focus on answering that question."
In fact, he says direct care models essentially force transparency on other portions of the health care system, as they help patients navigate services even outside their clinics. He can tell a patient how much it'll cost to go to Hospital A versus Hospital B, and how much more or less that would be if they use their insurance.
But one major criticism of a model that moves toward doctors seeing fewer patients is that there's already a shortage of primary-care physicians, and the model could make that issue worse.
In an opinion article for Family Practice Management, a publication by the American Academy of Family Physicians, which supports direct primary care as an option, Eskew wrote that while a traditional physician panel size is about 2,300 patients on average, the average direct care physician is seeing 400 to 1,200.
"I will admit that in the short term DPC may exacerbate the primary care physician shortage by increasing patient utilization of primary care services," Eskew wrote in the 2016 article. "However, this effective use of primary care decreases the burdens placed on the rest of the health care system and highlights the real problem: a physician maldistribution problem, with an overabundance of specialists."
Eskew says he thinks many patients are referred to specialists needlessly for things their primary doctor could help diagnose or treat.
Part of what got him interested in direct primary care as a model in the first place was seeing the pressures placed on primary care physicians who do bill insurance. Many of them have maybe 10 minutes or so to see a patient due to their large caseload, he says, and a good chunk of each visit is spent just filling out forms and checking boxes required by insurance companies.
"I don't think it's the right way to treat patients," Eskew says. ♦