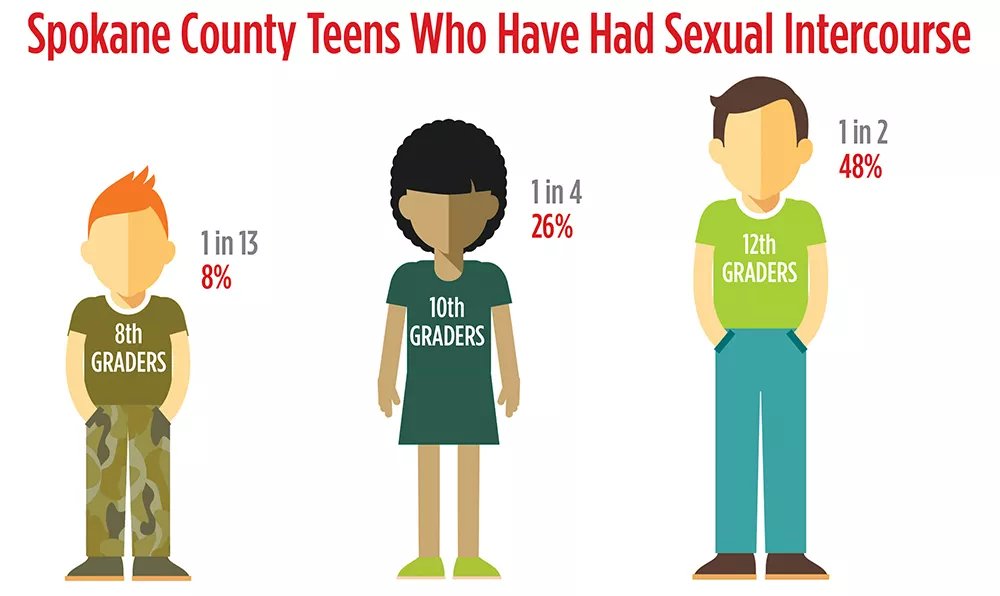 In the city of Spokane, teens get pregnant at rates easily outpacing the state average. Sexually transmitted diseases are increasing almost everywhere in the nation, but the rate in Spokane County remains higher than in Washington. Among high schoolers in Spokane County, 44 percent did not use a condom the last time they had sex.
Those numbers, released by the Spokane Regional Health District, paint an alarming picture for teenage sexual health in Spokane, health officials and researchers say.
"There are concerning behaviors across the county," says Ashley Beck, a research scientist for the Spokane Regional Health District.
A variety of factors, including poverty, family and access to birth control, contribute to the high teen-pregnancy rates, though research has yet to put a finger on the exact reasons locally. But in Spokane, the numbers have fueled a push to change one thing some say can be improved: sexual education.
"One of the most logical means," Beck says, "is through the school."
The health district supports comprehensive, evidence-based sexual education curriculum in Spokane Public Schools — "comprehensive" meaning that multiple birth control methods are taught, and "evidence-based" meaning that research has shown that it works. It's why the health district supported a curriculum from Planned Parenthood called "Get Real" in Spokane Public Schools, though the school district decided against it following controversy over Planned Parenthood's involvement.
But one thing is clear, Beck says: "When you look at how many youth were using a condom, the birth rates and the STI rates, I would think that what is currently being done is probably not effective."
'UNPREPARED'
By the time Janie Wright understood healthy relationships and safe sex, she had already graduated high school, got married and had a child.
Wright, 26, doesn't know what would have changed if she understood those things earlier in life. She went to school in Spokane Public Schools, and soon after graduating from North Central High School, she got into an unhealthy marriage, she says. Now, she's a single mom, preparing to enroll her 4-year-old son in kindergarten next school year. And she hopes that the conversations in school around sex will be different for him than it was for her.
"Not enough focus was on educating students on how to know if you're ready, how to know to be safe," Wright says.
Overall, teen-pregnancy rates have gone down in recent decades. But Spokane Public Schools, says Heather Bybee, the district's director of secondary curriculum, is aware of the higher pregnancy rates in the city of Spokane — 39 teenage girls age 15-19 got pregnant in 2016 per 1,000, compared to just 24 per 1,000 in the state.
All of the sexual education at the middle school level is being updated, hopefully in time for the 2018-19 school year, Bybee says. It currently doesn't meet state standards set by state Office of the Superintendent of Instruction in 2015. And it's been decades since Spokane Public Schools overhauled its sexual education curriculum, Bybee says. The district has changed pieces of it, but not any large-scale changes.
"Never have we looked at the scope and said, 'How are we hitting the standard, and growing, and building on our messaging?" she says.
The most extensive sexual education is taught in middle school and ninth grade, says Bybee. In seventh grade, there's about a week's worth of instruction in science class, focusing mostly on biology and anatomy, Bybee says. In eighth grade, there's three to four weeks of instruction in a college and career readiness class required of every eighth-grader. That's when students get instruction on relationships. Then in ninth-grade students are taught about prevention of STDs and personal safety.
The issue of consent is covered, framed as how students should have personal boundaries and respect themselves, Bybee says. But she says there's little to no instruction on consent "moment-to-moment." Bybee adds that updated sex ed materials should also address personal safety when using technology and social media. And the new curriculum, Bybee says, will address every standard with every grade level that sex ed is taught. So the seventh-grade science teachers, for example, will teach more than just biology and anatomy.
Bybee says no set of curriculum materials that the district has looked at, even "Get Real," meets all of the state standards. Instead of adopting one set for all middle-school sexual education and adding to it, the district decided to take pieces from different curricula.
But some, like Robin Pickering, an associate professor in health science at Whitworth University, worry that will mean whatever is chosen won't be "evidence-based."
"I don't see the value of picking and choosing, because invariably I think something gets lost in that translation," Pickering says. "My concern is when we selectively remove things, that takes away from the evidence-based qualities of the curriculum."
For Pickering, the answers to the high pregnancy, birth and abortion rates are all there, if you look. Her suggestion? Take an evidence-based curriculum, and add to it if it doesn't meet a certain standard.
She's concerned that, according to the health district, 10 percent of 12th-graders say they have had six or more sexual partners, because she thinks they may not be ready for that. She points to students she's met who don't understand that anal sex or oral sex are risky behaviors. LGBTQ students are left out of sex ed curriculum, she says.
"I think a lot of our kids are unprepared for the world we live in," Pickering says.
HEALTHY CONVERSATIONS
John Repsold, pastor of Mosaic Fellowship and a member of the Spokane Public Schools Human Growth and Development Advisory Committee, says the rates of pregnancy, births and abortion rates in Spokane are "deeply disconcerting."
"The question is, what's causing those numbers?" he says.
He says there needs to be more research on the cause, before anyone assumes that certain education principles or techniques will lower it. He agrees, however, that current curricula need to be updated.
"If the methodology is archaic or dated, then kids are not going to listen to or accept it," he says.
However, he was against Planned Parenthood's involvement in sex ed curriculum. He hopes that any sex ed taught in Spokane schools would incorporate studies that show how teen suicide rates and depression may be linked to early sexual activity.
Pickering has taught sexual education at the university level and helped develop curriculum materials for a local school district. She says she sees gaps in the sexual education taught in Spokane that, if addressed, could lower pregnancy and STD rates.
She studies developed countries that have lower STD and teen pregnancy rates than the U.S. She notes that some countries start the conversation in kindergarten — ensuring that it's age-appropriate, of course.
"It's integrated into conversations," Pickering says. "There's not so much shame around sexuality. They have high access to birth control, high levels of comfort. In those places they do quite well in terms of teenage pregnancy."
She says schools should follow the research and integrate more of those conversations in schools.
"There are places all over the world that have figured this out," she says. "I don't think we need to figure it out. I think we need to be more open to looking at what works and take a good look at the facts." ♦