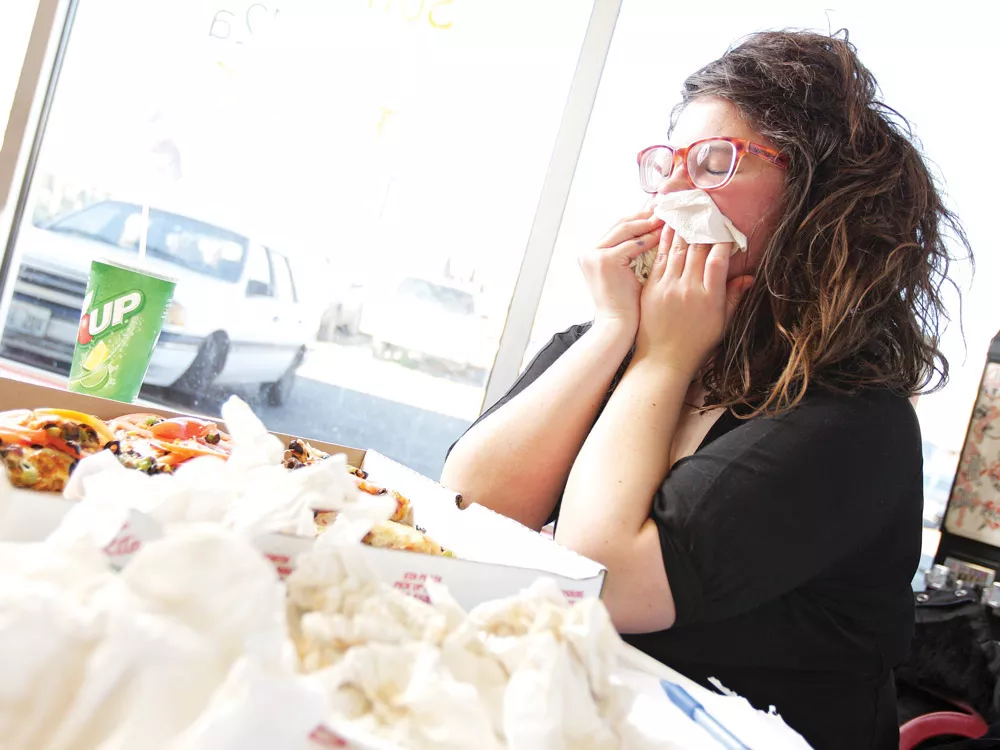 It's Tuesday afternoon and I'm hugging the base of the office toilet. Without thinking, I rest my cheek against the porcelain throne, thankful that, for the most part, my co-workers use those filmy white seat covers.
My glasses are on the floor and I'm violently puking up pizza. A co-worker tiptoes into the next stall and asks if I'm OK.
"Oh, I'm fine," I mumble, wiping the tangy stomach acid from my lips. "I just tried to eat 5 pounds of pizza."


My parents used to call me "tire baby" because had so many fat rolls I looked like the Michelin Man. I'd like to say I outgrew that, but I haven't. My 5-foot-3-inch shape can only be described as round. My dad still jokes that "I can hold my end of the teeter-totter," but comments like these, my unyielding love of food and the self-awareness that comes with age haven't left me with a complex. This is why I took on Pizza Rita's 5-pound pizza challenge.
The local pizza chain started the challenge last year.
For $18 (the price of a large, 11-topping pizza), contestants must eat 5 pounds of pizza in 30 minutes. Should they succeed, their gluttony is rewarded with a T-shirt, their photo on the Wall of Fame, $40 in Pizza Rita dollars and $20 donated to a local charity of their choosing.
Over the past year, 46 people have stepped up to the pizza box to attempt this challenge. Just nine of them have succeeded.
Brian Dickmann opened Pizza Rita in 1989 and named it after his daughter. Photos of Rita still hang on the walls of the West Indiana location. At the end of the day, he wants to provide good pizza and good service and pay his bills. He says he developed the competition to prove how big his pizzas were, compared to larger chains.
"You wouldn't ask for a large mound of gold without weighing it, would you?" he says. "The same is true for pizzas."


Rewind. It's noon, and I've got an hour until the competition. My stomach is empty except for two cups of coffee and a Diet Coke. My belly moans. I'm nervous.
I find myself preemptively sweating, as if it's not gross enough that I'm about to plow through 5 pounds of pizza.
And then my jeans zipper breaks. I'm less than 40 minutes away from pizza nirvana when my body destroys my remaining self-esteem.
I leave work, grab a pair of jeans from home and drive to Pizza Rita. On the way, my imagination convinces me I'll have a fatal heart attack while eating. I'll die alone, stuffing my face in a little red-and-yellow pizza parlor.
I park one block away from the restaurant, so I'll have a refuge should I find myself defeated, alone and crying after the challenge.
Then I lock my keys in the car.
Shit.
The interior of Pizza Rita is modest. Inside, a poster board displays the Wall of Fame winners. Some winners are burly men, but one is a little blonde woman who washed it all down with a carton of chocolate milk.
Other Gut-Busting Challenges
Bodacious Burger | $25
Body Count: 11 attempts, 2 completions
Scrud's Gourmet Grub, 206 N. Fourth St., CdA, (208-667-6000)
Eat a 5-pound hamburger stuffed with bacon, cheese, garlic onions and mushrooms and roughly a pound of french fries in less than one hour and get the meal free and your photo on the Wall of Fame.
Rex's Challenge | $45
Body Count: 1 attempt, 0 completions
Rex's Burgers & Brews, 14 N. Post St. (474-0564)
Eat six 8-ounce beef patties, a pound of bread, a pound of cheese and bacon, 8 ounces of onion rings, 8 ounces of French fries and 8 ounces of tater tots in less than one hour (without leaving the table) and get the meal for free and your picture on the Wall of Fame.
The Kamikaze | $20
Body Count: 10 attempts, 5 completions
Kalico Kitchen, 2931 N. Division St. (326-7144)
Eat a nine-egg, double-meat omelet with veggies, four cheeses, toast, one waffle and a pound of hash browns in less than 30 minutes and win a T-shirt.
Big Bad Wolf | $40
Body Count: 4 attempts, 1 completion
Wolfy's, 1229 N. Hamilton. St. (487-1587)
Eat a 5-pound burger with a half-block of cheese, tomatoes and pickles on a 5 ½-inch-thick bun in less than one hour and win a T-shirt, a photo on their website, and a discounted meal. Call to schedule a challenge.
Dickmann positions a table between two candy machines. He lays down two pizza boxes as a tablecloth. The pizza preparation is an exact science. Dickmann weighs the ingredients (as a vegetarian, I go for mushrooms, green peppers, onions, olives and cheese) in little plastic bowls.
Dickmann says he tried the challenged at Pig Out In The Park last year. He only made it through 3.2 pounds.
"We actually had one guy puke straight in the air," he says. "I mean, it had arc to it."
He tells me only 14 people have puked during the challenge, which is why he now provides a bucket to eaters.
"But [the 14] is only puking on the spot," he says. "I can't tell you what happens an hour later."
That's called foreshadowing.


The pizza is gorgeous when it arrives. Vegetables several inches thick swirl atop the pie. The cheese is slightly browned, the crust smells buttery.
At the word "go!" I take my first bite. It already feels like a mistake. I underestimate the sheer mass of my first bite and end up gagging. Still, the first piece goes down in under two minutes. So does the second.
By now, a group of men are watching me. They're talking about how entertaining this is and taking photos. I feel awkward; this type of eating should be done behind closed doors ... in the dark.
My glasses fog from the heat. Tomatoes slip off the pizza and splash onto my lap. Pizza juice oozes down my chin(s) and chest and soaks into my bra.
The third and fourth pieces make me gag. I'm vomiting in my mouth and try to push forward, but I find myself dizzied by Pizza Rita's checkered floor. Is this a pizza hallucination? What type of mushrooms are these?
I give up after eating five slices — about 3 pounds — with a little more than 10 minutes to spare. Dickmann shakes my hand and boxes up the rest. He thanks me for the challenge and says, "We really like to see people win, but you did good."
The car ride back to the office with my photographer makes me woozy. My co-workers complain that I smell like pizza, yet quickly scamper to the box for a piece of the remains.
After a few agonizing minutes on the floor and several foreboding burps, I head to the bathroom.