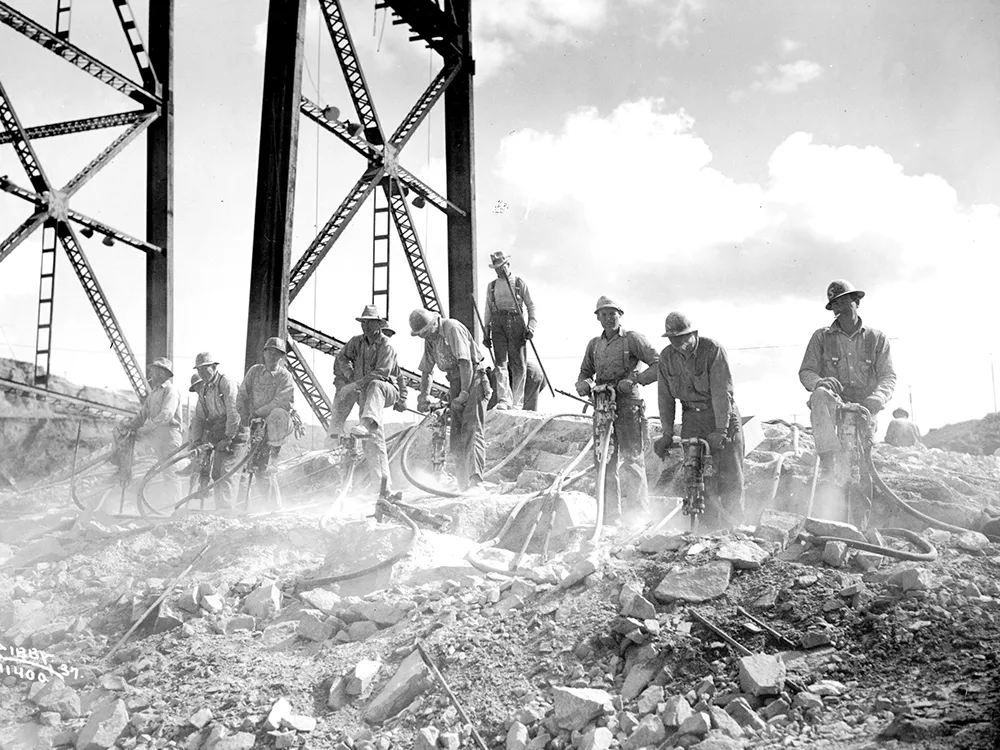 A staggering giant of concrete and steel, the Grand Coulee Dam looms large along the basalt rock hills and high desert of Eastern Washington. Shouldering 150 miles of Columbia River, the 550-foot-tall dam marks the height of mankind's ambition, its audacity to master the elements in an unforgiving new country.
The Grand Coulee Dam forever reshaped the Northwest. The bold project diverted the region's greatest river, harnessed its currents, carried power to new frontiers, irrigated more than 650,000 acres of dry farmland and provided much-needed jobs for a desperate nation.
Thousands of people — state dignitaries, tribal leaders and onlookers — gathered on an empty hillside of sand and sagebrush 80 years ago this week to launch that dream. On July 16, 1933, Gov. Clarence Martin oversaw the groundbreaking for the dam.
As described by the Spokane Daily Chronicle, the immense crowd gathered around a ceremonial first stake in the summer heat, "where the basalt rocks were too scorching to sit upon."
With a sledgehammer in hand, Martin promised the dam would deliver cheap power, electric light and countless gallons of new irrigation water to a country upended by the Great Depression.
"Ultimately a great tract of farmland will be redeemed, that will call people back to the land from the breadline," Martin told the crowd.
With local Colville Tribe chief Jim James kneeling to hold the ceremonial stake, Martin brought the sledgehammer down and sealed the river's fate. Historic photos show Martin later assisting with the first concrete pour for the dam in December of 1935.
The dam would take more than eight years to build and claim at least 77 lives. The first power started to flow from the facility in 1941.
Historic and far-reaching, the Grand Coulee Dam has always drawn controversy. Long before the first stake was struck, Spokane-based power companies railed against the project. In years since, environmental concerns over its effects on wildlife and river flow have continued to plague the project.
The 5,223-foot-long Grand Coulee Dam is now capable of producing 6,809 megawatts of electricity, more than three times that of the Hoover Dam. The dam still lights the West 80 years later, towering as a monument to oversized dreams.
In 1941, power officials commissioned legendary folk singer Woody Guthrie to visit the dam and compose ballads immortalizing the scale and labor of the effort. He wrote 26 songs about the dam, the workers and the surrounding country.
In "The Song of the Grand Coulee Dam," he sings:
"It's 92 miles northwest of Spokane,
"There you will see her Grand Coulee Dam,
"Woodwork and steel, and cement and sand,
"Biggest thing built by the hand of a man."