ON INLANDER.COM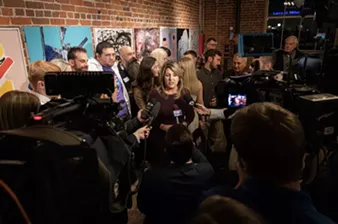 ELECTION 2019:
The results are in! Former TV news anchor Nadine Woodward celebrated a victory over City Council President Ben Stuckart last night at Barrister Winery. "Alone, we can do so little, but together we can do so much," she told a crowd of supporters.
Cindy Wendle leading Councilman Breean Beggs
as of our last tally.
But wait!
There's more!
IN OTHER NEWS...
Election 2019 takeaways...

If you were a Democrat in Kentucky and Virginia, Tuesday night was a good night for you.
Vox has more takeaways
in their winners/losers roundup.
Meanwhile in Seattle

"The Socialist ship is sinking..." the
Stranger
writes.
With a record-breaking amount of Amazon cash dumped into the Seattle elections ($1.5 million),
progressives took a blow in Seattle
. (Though, it appears they still hold a majority.)
Spoils of war
You can't just
take resources from another country — namely oil —as President Trump has suggested
. That would be illegal. (
Washington Post
)