As terminal manager for Diamond Freight Systems trucking company, Amy Thomas devoted nearly every waking moment to work.
In order to get to the warehouse in Spokane Valley on time, she'd wake up around 5 or 6 am in her home in Kellogg, Idaho, where she lived with her mom and brother. She'd work all day, barely stopping to eat. Sometimes, she'd stay until 11 at night, knowing that she'd have to drive back in the morning, or that she'd get a call at 2 am from a driver who needed a problem solved.
She says she easily worked 90 to 120 hours per week. Yet she was only paid for 40 hours a week, at $11 an hour. Other drivers for Diamond Freight, based in Yakima, had similar complaints. They were paid a flat rate of $110 per day, yet they were required to work more than 40 hours per week with no overtime pay, as mandated by state and federal law.
"They were like, we're not paying you anything over 40 hours. Nobody's worth it," Thomas says. "But the job has to get done."
Since 2014, Diamond Freight drivers have been involved in at least three serious crashes, two of them fatal. That includes a 2015 crash in which a Diamond Freight driver, Kenneth Hahn, fell asleep at the wheel and struck a car and a school bus in Central Washington. The children on the bus were OK, but the driver of the car, a 22-year-old woman, died. Her family sued, accusing the company of knowing that employees worked long, irregular hours and operated vehicles while fatigued.
When reached by phone, Tony Mountaintes, an owner of Northwest Freight, formerly Diamond Freight, referred the Inlander to his attorney. The attorney did not return a message seeking comment.
The fatal collision came as no surprise to Jason Tschosik, who worked as a driver for six weeks in 2016.
"It's no wonder that somebody got killed," Tschosik tells the Inlander.
Shortly after he left the company in March 2016, Tschosik filed a class-action lawsuit against Diamond Freight, which also does business as Northwest Freight and Parcel, in Spokane County Superior Court. Thomas and other workers joined the lawsuit, which is expected to go to trial early next year. They're asking not just for the money they're owed, but for the company to be held accountable for wage theft.
It's precisely the kind of case that the United States Supreme Court just made harder to bring forward.
CHANGING THE SYSTEM
Wage theft is a widespread, often underreported crime in the U.S. that impacts millions of workers.
Commonly, it's the result of employers failing to pay workers for overtime. Most workers who get paid hourly and work more than 40 hours in a seven-day work week must be paid overtime; otherwise it's a violation of the Fair Labor Standards Act. Washington also requires employers to provide rest breaks, unlike federal law. Wage theft can also come in the form of workers getting paid less than minimum wage, or not getting a final paycheck.
One recent study from the Economic Policy Institute, a left-leaning think tank, estimates that minimum wage violations alone could cost low-wage workers $15 billion per year.
"People really don't quite grasp what their rights are sometimes," says Andrew Biviano, a local civil rights attorney. "They don't grasp how frequently this happens."
Biviano is representing the former Diamond Freight employees in the class-action lawsuit. The problem with wage theft, he says, is that even when employees do understand their rights, they don't have the time or money to file a lawsuit to get money for unpaid wages.
Still, there are a few options. Workers can file a complaint through the Washington State Department of Labor & Industries. In 2017, L&I received nearly 6,000 wage complaints, returning $3.4 million in wages to workers. L&I returned nearly $2 million in back pay to Hertz and Thrifty workers in SeaTac last September.
"We know it takes courage for people to file a wage complaint," says Matthew Erlich, a spokesman for Washington L&I. "We try to make it easy for a worker, and do our best to seek out the facts from worker and employer."
But typically, L&I will investigate individual cases, not an entire company. In those situations, the cost to pay back an individual worker may not be an impetus for that company to stop wage theft.
That's why the ability to file class-action lawsuits is important, Biviano says. However, that's what the U.S. Supreme Court just made more difficult. In May, the court ruled in a 5-4 vote that workers who sign employment agreements to arbitrate claims may not band together to fight violations of federal labor laws. Justice Neil Gorsuch, writing for the majority opinion, argued the 1925 Federal Arbitration Act makes the law clear. Meanwhile, Justice Ruth Bader Ginsburg, writing for the dissenters, argued the National Labor Relations Act should allow workers to band together and fight wage violations. Workers fear retaliation and are less likely to do so alone.
Biviano says Diamond Freight did not have an arbitration clause in its contracts, which is why the lawsuit could be brought forward. Yet more sophisticated companies will likely include those agreements, especially now.
Biviano's own son recently had a class-action lawsuit of wage theft rejected by the Washington State Supreme Court because of an arbitration clause. Without a class-action lawsuit, Biviano says, it's usually not worthwhile to sue employers.
He urges Congress to pass legislation saying the federal arbitration act should not be interpreted to prevent a class-action lawsuit.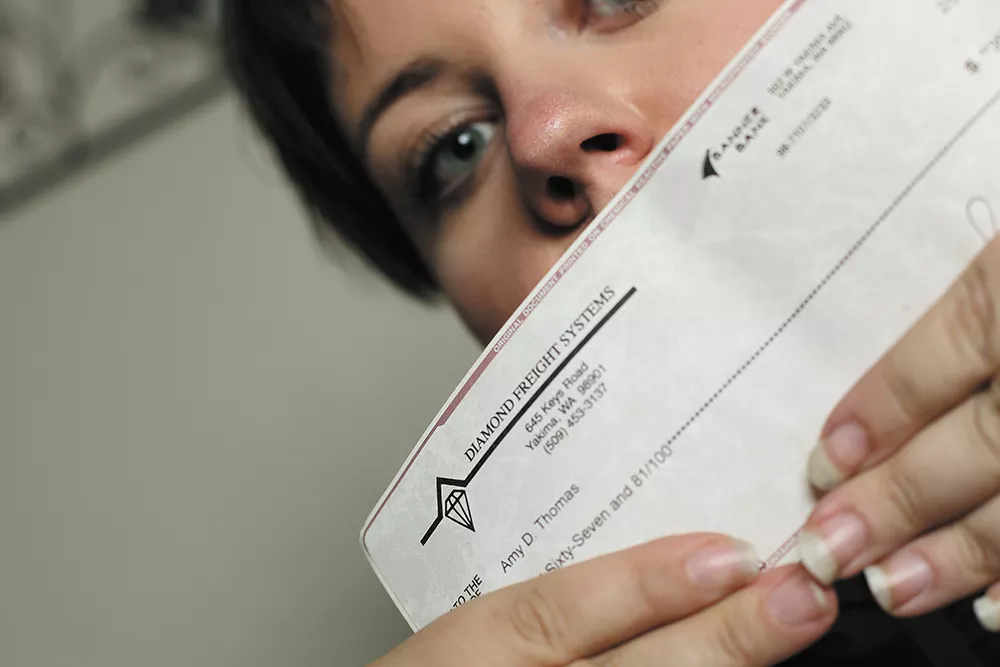 "You're not going to change the system through a bunch of individual lawsuits," he says.
ATTORNEY GENERAL POWER
While it may be harder now to bring forward class-action lawsuits, states can still enforce consumer protection laws.
That's where Washington Attorney General Bob Ferguson comes in. Ferguson has made it a point to prosecute companies stealing wages with criminal charges, not just civil suits. That's something that's never been done before in Washington, he says.
In July, for instance, his office announced that he helped workers for a Maple Valley contractor called Sandoval Construction get back a total of $25,000 in unpaid wages. Owner Alejandro Sandoval pleaded guilty to false reporting and first-degree theft as part of a plea deal.
And in 2017, Ferguson brought forward state legislation that prohibited government contracts from being awarded to businesses that violated state wage theft laws.
"In Washington state, we have tried to elevate this issue," Ferguson says.
It's usually low-wage workers who are victims of wage theft. Those workers, Ferguson says, tend to not have their voices heard by those who can change laws.
"If there was wage theft of CEOs, I think we'd hear about it a lot more," he says.
The impact of the Supreme Court case in May "could be pretty consequential" for those trying to file class-action lawsuits, he says. What it does, however, is increase the role of the attorney general's office in Washington and states across the country. Attorneys general have broad authority to enforce consumer protection laws, and nothing in the Supreme Court ruling will impact the state's ability to do that, Ferguson says.
"I can bring a lawsuit to enforce our consumer protection laws," he says. "All I need is an unfair or deceptive practice."
NOTHING TO LOSE
Jason Tschosik, now living near Seattle, didn't start the lawsuit against Diamond Freight for the money. His claim is for eight, maybe 10 hours of unpaid overtime.
"I'm not gonna get anything out of this," he says. "I take pleasure in the fact that somebody is at least attempting to hold them accountable right now."
He saw how the company operated and thought something needed to be done. He says he saw how they hired anyone who could pass a drug test and was desperate for a job and a stable income, then didn't pay them for their work.
In declarations filed in court, other drivers reported not being compensated for their work, nor for lunch breaks. Yet supervisors would regularly report that the drivers took lunch breaks anyway. One man said he told his supervisor, Tony Mountaintes, that he should get rest or meal breaks, to which Mountaintes told him that if he didn't like the situation, he should quit. He also allegedly encouraged drivers to drive in dangerous weather conditions.
Tschosik says his claim for overtime wages is smaller than other drivers because if he thought he was going to go over eight hours in a day, he would just "turn the truck around." He started to see "nice folks getting taken advantage of," and that's when he started doing his research. Amy Thomas joined the lawsuit, and soon several workers joined.
"I don't think anybody needs to be treated like they're less than," Thomas says. "I don't think anybody wakes up in the morning saying I want to be miserable for the rest of my life, and I want to go to work and be treated like shit."
That's why Thomas, speaking from her home in north Spokane, left the company.
"They told me they could get a monkey to replace me and do my job," Thomas says. "So I told them: Find a monkey. I quit." ♦