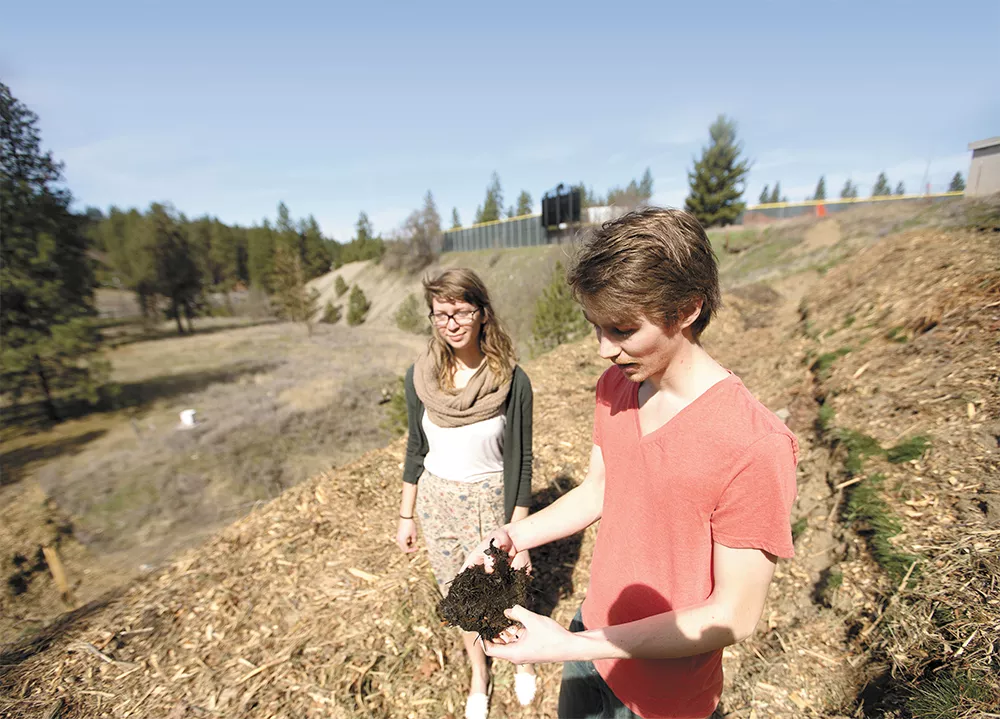 It's Aaron Sommerville's lunch break, but he has a shovel in hand, a wheelbarrow beside him as he readies to haul heaps of woodchips across a steep slope on the west side of the Whitworth University campus.
The woodchips — and other organic materials like leaves, grass clippings and buried logs — are being used to turn a once-sandy hillside into rich soil poised to capture plenty of rainwater. The goal: create an on-campus food forest.
Sommerville and three other Whitworth Facilities Services workers interested in permaculture came up with the idea. Since last fall, they've been using their lunch breaks and early mornings to restore the soil on the land that the school let them use.
"This is our experiment in agriculture," Sommerville says. "This [land] wouldn't have been used for anything."
Food forests, unlike gardens, are meant to be self-sustaining, mirroring what happens in a woodland ecosystem. Movements have sprung up in the past several years to create food forests on a citywide level. In Seattle, work began in 2009 on the 7-acre Beacon Food Forest, and the Spokane permaculture community is currently working toward starting public food forests in our city.
The fruit trees, berries, vegetables and seasonings Sommerville says they plan to plant on the terrace at Whitworth won't be irrigated, but the idea is to prepare the land, bring in saplings and seeds and let it grow.
"We're trying to rebuild the soil, and in turn it will grow whatever we want," he says.
The food forest is for the students, says Sommerville. Once produce starts growing (which won't be for several years) students can come, pick and eat what they want.
"The facilities team here is very motivated to do sustainable things," says Chris Grochowski, a senior and president of Kipos, Whitworth's community garden club, which is collaborating with Sommerville on developing the food forest.
Last week, Facilities also began implementing their compost tea project. They intend to replace the chemical fertilizer used on campus with organic fertilizer made from compost.
Compost tea works just as it sounds. A giant tea bag filled with compost soaks in a vat of water. The nutrients and microorganisms seep into the water and Facilities will then spray it on the campus lawns as well as Kipos' garden plots.
This will be the garden club's third season growing organic produce. For two years, Kipos has grown raspberries, potatoes, tomatoes, peppers, carrots and other vegetables at their backyard plot behind the school's Marriage and Family Therapy Wellness Center. That garden has been turned into a community plot this year, with 12 beds being rented to students and faculty to cultivate themselves.
The club has another garden behind a nearby theme house, which serves as their group-learning plot, says Grochowski. At this spot, students work together to tend the garden. Some of the produce gets donated to organizations like Second Harvest, some is sold at a low cost to off-campus students, some gets used for the club's events like their harvest festival and Earth Day celebration, and some will be used in the cafeteria by Sodexo, the school's food provider.
"Directly, the garden is teaching people that they can be a part of their food process, that they can get involved in thinking about what they're eating, where their food is coming from," Grochowski says. "They can learn some sustainable gardening techniques, very practical things like that."
The club began in 2011 after a talk Michelle Youngblom gave on community gardens in her international relations class. She spoke to some friends about it and they decided, "Why don't we have one here?" says Youngblom, a senior and Kipos vice president.
"Our kind-of motto ended up being 'Start small, dream big,' she says. "And so we had a ton of big pipe dreams that we never really thought would happen so fast."
Some of those dreams included community garden plots, a food forest, and their newest project, a hydroponics system.
Tucked in a sunny corner of Whitworth's cafeteria, a student-designed and student-built apparatus of PVC pipes, 90 mesh plant cups and a water pump will soon grow herbs, and possibly vegetables like tomatoes and spinach, for Sodexo to use in campus meals.
Youngblom says she sees the club's projects as not only a way to promote sustainability, but also social justice, and to spark discussions about inner city food and urban gardening. For Sommerville, it's about leaving a meaningful mark.
"If we don't experiment or step out, how can we expect other people to?" he says. "It's easy to have ideas, but if there's no action to your ideas, you don't even believe it yourself." ♦