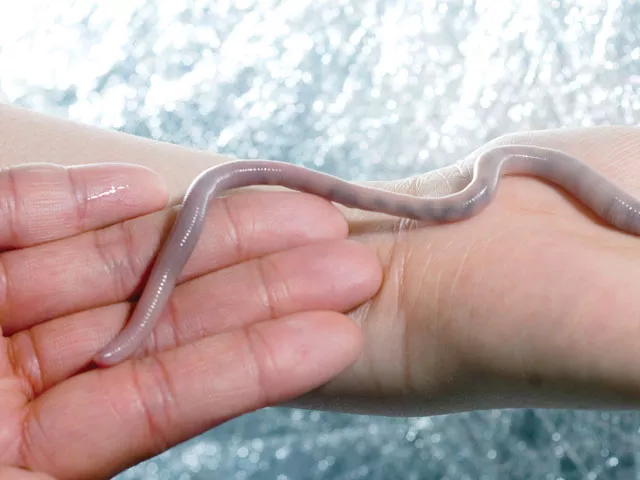 SORRY, WORM
And here they thought they had a case. Just a couple of months after University of Idaho scientists pulled two rare giant Palouse earthworms out of the ground — worms that had been long fabled as smelling of lilies and spitting at attackers — an appeal to protect the worms was denied this week.
Ninth Circuit judges noted that the worm-lovers' petition "failed to identify a single well-designed study determining the current or historical population and range of the earthworm." The denial also noted that those calling to protect the worm did not present sufficient evidence that the worm was actually threatened by agriculture, residential development or by stronger, tougher exotic earthworms.
But Noah Greenwald, Endangered Species Director for the Center for Biological Diversity (who co-wrote the petition), says the appeal to the Ninth Circuit wasn't the only ball that he and environmental groups had in the air. They also filed a petition last July with the U.S. Fish & Wildlife Service to protect the worm — and Greenwald says he's heard from someone on the inside that the new petition is likely to get a good look.
"They are still alive," he says. "There's something there to save." (Leah Sottile)
DON'T QUIT YOUR DAY JOB
Hortense works your average 9-to-6 office job. She goes home at night, watches the late news, conks out at 11:30 and sleeps for a good eight hours.
A couple hours after Hortense clocks out at her desk in the evening, Reginald clocks in and processes Hortense's accounts until 5 am. He stumbles through the front door of his apartment around 5:30 and shoots for a solid eight hours of sleep, but it often eludes him. And not just because the people around him are up and about. Because of something fundamental to our biology.
These are the new findings of Washington State University's sleep research center, which were presented at a conference in San Antonio last week. According to the research, people who start their eight-hour work shifts between the hours of 9 am and 2 pm sleep the longest. The most sleepless, on the other hand, are those who start between 8 pm and midnight.
The study, conducted in Spokane by research assistant Angela Bowen, created 24 hypothetical work shifts, each starting an hour later than the previous. The human guinea pigs in the labs would work a shift each day for six days, while researchers measured their sleep. Those who started work between 8 pm and midnight slept as little as 4.5 hours.
But there's a catch: Those who started at midnight or later actually slept better than those who started before midnight. Bowen's presentation explained that workers who start after midnight were able to get good quality nighttime sleep right up to their shifts, unlike those who started slightly earlier.
Last year, the WSU Sleep and Performance Research Center also published research that turned on its head the scientific assumptions about how sleeplessness affects our brain's ability to think and make decisions. We profiled in that research our May 27 cover story, "Scholastic Fantastic." (Joel Smith)
GET A HANDLE
Last Friday was the filing deadline for all public offices in Washington. And while the list of those who made the deadline yielded few big surprises, it did provide a valuable lesson in professionalism.
We're not even talking about "Mike the Mover" or "Goodspaceguy," two of the 14 people aiming for U.S. Sen. Patty Murray's seat.* (Dino Rossi remains the biggest contender.) We're talking about the people who'd like access to our trust and tax dollars but can't bother to procure for themselves a decent-sounding e-mail address.
Take David Fox, one of five looking to unseat Rep. Cathy McMorris Rodgers. He'd like our vote, but he can't part with lawtalkinguy4u@yahoo? The incumbent congresswoman's more serious opponents, on the other hand, are clydecordero@ gmail and [Daryl] romeynforcongress@yahoo. (Yes, this is the former weatherman — one of the few surprising filings here.)
In the third Legislative District, we have vote@ andybillig.com and votelouise[Chadez]@comcast. net. They face Republican Dave White (no e-mail address) and cometapple@msn — that's Spokane City Councilman Bob Apple, former owner of the Comet Tavern.
Other brackets looked more professional.
Michael Baumgartner will challenge Sen. Chris Marr (D-Spokane). Four Republicans (including surprise candidate David Elton) will challenge Spokane County Commissioner Bonnie Mager. Four candidates look to unseat embattled Spokane County Prosecuting Attorney Steve Tucker. And Sheriff Ozzie Knezovich runs unopposed.
But not so for Assessor Ralph Baker, who faces five challengers, including loriwick4assessor@ hotmail, vickithorton@comcast … and honeybeartoo@hotmail.com. Come on, Sadie Charlene Cooney. At least pretend you're trying. (Joel Smith)

MUSSELING UP FOR SUMMER
The campaign to keep invasive species of mussels — the zebra and quagga varieties — out of Inland Northwest waters is being waged with spot inspections in Washington and a tighter network of roadside inspection stations in Idaho.
Already in this young boating season, a mussel-infested craft has been caught and decontaminated near Twin Falls, Idaho. And according to a state biologist, Washington recently had a scare that turned out to be a boat encrusted with barnacles.
Budget cuts in Olympia have taken a toll on staffing, forcing the Washington Department of Fish and Wildlife to partner with area tribes and other agencies, says WDFW aquatic invasive species biologist Mike Wilkinson.
Still, he says, the state conducts robust spot inspections on weekends near popular boat launch sites. "The last two weekends we inspected 55 boats and all were clear," Wilkinson says.
The threat posed by the invasive mussel species is frightening, he notes. The mussels are thought to have arrived in the United States in the Great Lakes in the 1980s, riding in the ballast tanks of freighters coming from the Black Sea.
In the span of 20-plus years, zebra and quagga mussels reproduced at staggering rates — so many that they've filtered Lake Erie from being one of the most-polluted of the Great Lakes to a gin-clear water body that hasn't enough food to support many fish. The mussels have also spread rapidly throughout America.
With this region being a magnet for boaters, inspections are taken seriously.
"We are well protected here. Every major artery is covered," says Kate Wilson, program coordinator for the Pend Oreille Basin Commission, which runs inspections in northern Idaho for the state Department of Agriculture.
Last year, the inspection stations were new and the approach somewhat frantic as three musselinfested boats were caught in the region. This year, Wilson says, there is more focus on building awareness and compliance. (Kevin Taylor)
* In a previous version of this story, we identified the wrong U.S. Senator running for re-election.