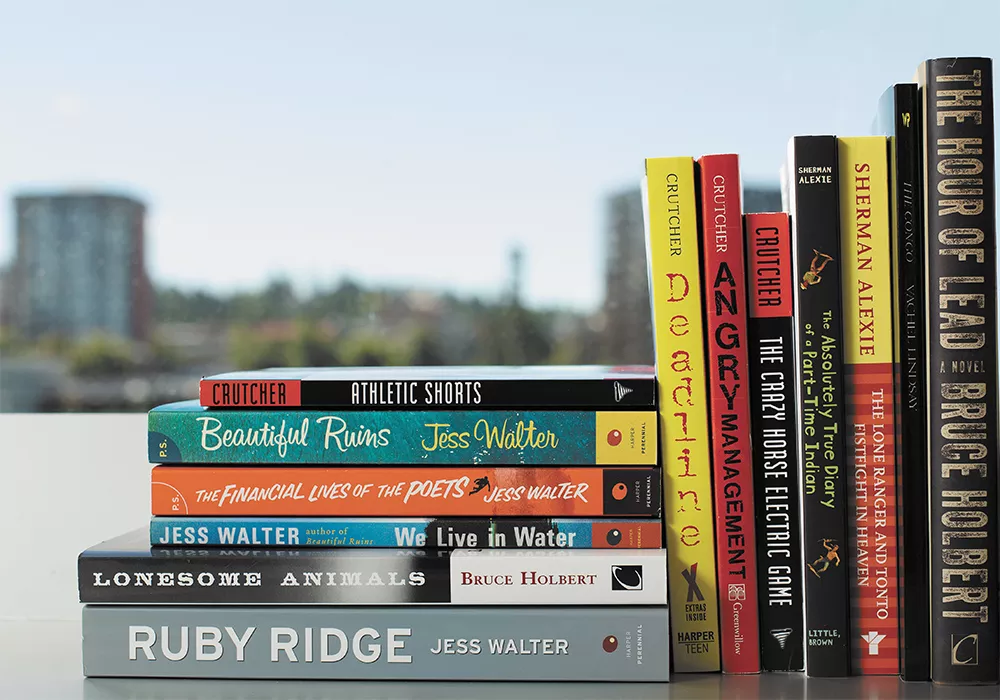 In 1880, the year that Gustave Flaubert died and a full decade after Charles Dickens' passing, Spokane had a population of only 350. It would be another year before it incorporated as a city proper. So it's not wholly surprising that it took the better part of the 20th century for a group of writers to emerge that Spokane could claim as its own.
The poet Vachel Lindsay, though not a native son, could be said to be Spokane's first literary celebrity. W.B. Yeats admired his work as a contemporary. Several decades later, in his "Kaddish 44," Allen Ginsberg paid homage to his influence and eventual suicide. Lindsay occupied room 1129 at the Davenport Hotel between 1924 and 1929. His stint there is proudly commemorated by a plaque.
Technically, Chris Crutcher is not a native son, either. His family moved from Ohio to remote Cascade, Idaho, while he was still an infant; he now lives in Spokane. Of his 14 books so far, eight have landed on the American Library Association's annual list of "Best Books for Young Adults" on account of their compelling and controversial portrayal of serious issues such as prejudice and poverty. His award-winning Whale Talk (2001), for example, is set in the fictional town of Cutter, Washington, a rural satellite of Spokane, and is told through the eyes of the adopted multiethnic teenager T.J. Jones.
Sherman Alexie's The Absolutely True Diary of a Part-Time Indian is often billed as a young adult novel but has since transcended that genre to join other works of his — like Reservation Blues and the short-story collection The Lone Ranger and Tonto Fistfight in Heaven (later filmed as Smoke Signals) — on literary best-of lists. He was raised on the Spokane Indian Reservation in Wellpinit and his acclaimed fiction and poetry consistently draw on those autobiographical experiences, giving voice to life as a contemporary Native American.
Even after decamping for Seattle in the mid-1990s, Alexie firmly remains a Spokanite in spirit. Jess Walter, however, has always called the Lilac City home. His literary credentials could easily have drawn him to publishing hubs like L.A. or New York, but he and his work have always had a strong connection to this area, starting with Every Knee Shall Bow, a 1995 nonfiction account of the Ruby Ridge incident. "To the Corner," Walter's most recent short story, published in the July issue of Harper's, name-drops West Central, North Monroe and the Spokane River.
Albeit a few years older than both Alexie and Walter, Bruce Holbert's voice is a new and unique one among the growing constellation of writers who have helped to define — and been defined by — the Inland Northwest. His debut novel, Lonesome Animals (2012), was a highly praised noir Western set in Depression-era Okanogan County. His much-anticipated second novel, The Hour of Lead, came out this summer. ♦