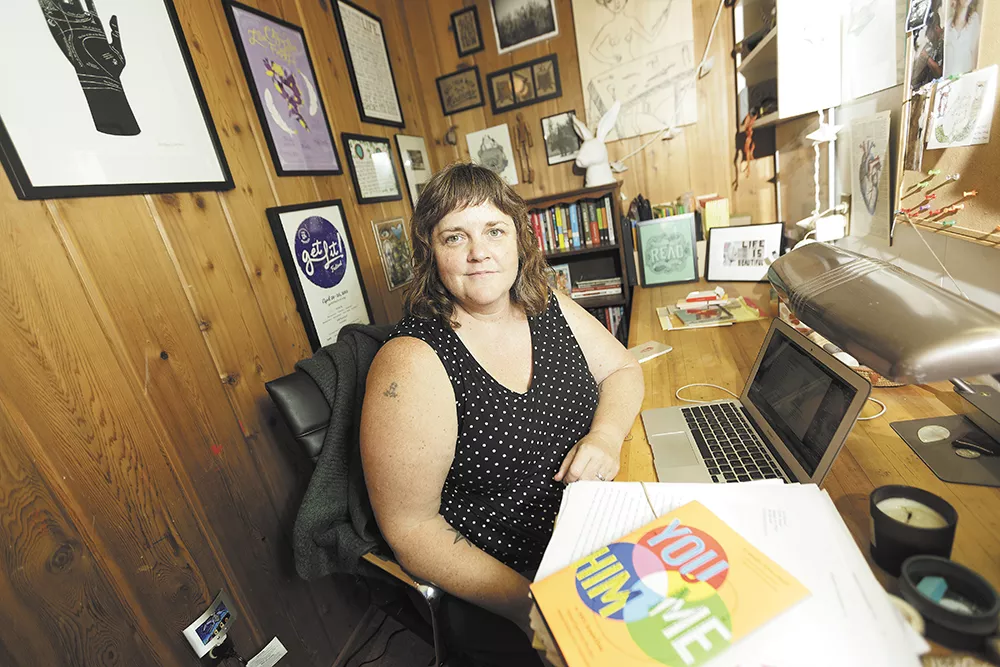 You can't say anymore that the Inland Northwest is only known for a few big-name writers. These days, the list is long and growing. Yet it's thanks in part to prior publishing pioneers like Jess Walter, Sherman Alexie (though a Seattle resident), and prolific young adult author Chris Crutcher that we're in the midst of a writing renaissance, with more and more local names making their publishing debuts to widespread, positive acclaim. In the past year and a half alone, at least nine authors released their first novels from well-known publishing houses, including the following.
Shann Ray
A true, modern renaissance man, Shann Ray (his actual name is Shann Ferch) is not only a published author — his debut novel American Copper came out in fall of 2015 — but a former professional basketball player, a family psychologist and a professor of leadership and forgiveness studies at Gonzaga University. An ode to the history and landscape of Montana, Ray's home state, the novel is also a contemporary testament to the Western genre, with a timeline that spans from the 1860s to the 1930s. Recently, American Copper was honored with the Western Writers of America's Spur Award for best first novel, along with an INDIEFAB Reader's Choice Award, the latter presented by Foreword Reviews. The novel was also nominated for the INDIEFAB Book of the Year Award in the literary category.
Kris Dinnison
The former English teacher and small business owner — she and husband Andy own local favorites Boo Radley's and Atticus Coffee and Gifts — published her debut young adult novel, a coming-of-age friendship story called You and Me and Him, in July 2015 to praise from both literary journals and the regional writing community. Since the book came out, Dinnison has been hard at work drafting several other stories (some of which may or may not be next on her résumé), and has celebrated the release of You and Me and Him in paperback, and as a German translation. She's also been nominated for the "Teen Top Ten" award, overseen by the Young Adult Library Services Association, for which nominees and winners are generated and voted on by young readers.
Joseph Edwin Haeger
This Spokane-based author's debut memoir and novella Learn to Swim began as fragments scribbled down on napkins and other scraps. A collection of brief, universal moments of youth that we can all relate to, Haeger's prose snapshots mostly focus on a relationship with his childhood best friend, whose death seven years ago initially inspired Haeger to put pen to paper. "I was terrified of forgetting him," Haeger says. Published by the esteemed University of Hell Press in Portland, Learn to Swim was nominated for a 2016 Pushcart Prize, one of the most honored accolades presented each year to recognize outstanding work by writers published in small presses.
Shawn Vestal
After nearly two decades of writing short fiction on the side of numerous newspaper jobs, Spokesman-Review columnist Shawn Vestal finally landed his debut novel Daredevils, released in the first half of 2016. Published on the heels of his award-winning short story collection, Godforsaken Idaho, which won the prestigious PEN/Robert W. Bingham Prize, the Mormon-raised Vestal (he left the church as a teenager) mined his memories of the strict, conservative norms from an upbringing in southern Idaho. While not autobiographical, Daredevils' tale set in that region centers on two young people trying to escape the restrictions of small-town life and the church in the mid-1970s. Vestal craftily juxtaposes these characters' trials against narrative interludes from the perspective of famed stuntman Evel Knievel.
Also check out these local writers' newest works:
Award-winning young adult writer Stephanie Oakes' novel about a girl who escapes a religious cult in remote Montana, The Sacred Lies of Minnow Bly, was released in June 2015.
Eastern Washington University creative writing professor Samuel Ligon published a gripping new novel in April 2016 titled Among the Dead and Dreaming.
Spokane author Sharma Shields' fantastical story The Sasquatch Hunter's Almanac, published in January 2015.
Spokane native Sarah Hulse, who publishes under the name S.M. Hulse, also released her award-winning, debut novel in January 2015; the haunting Western, Black River.