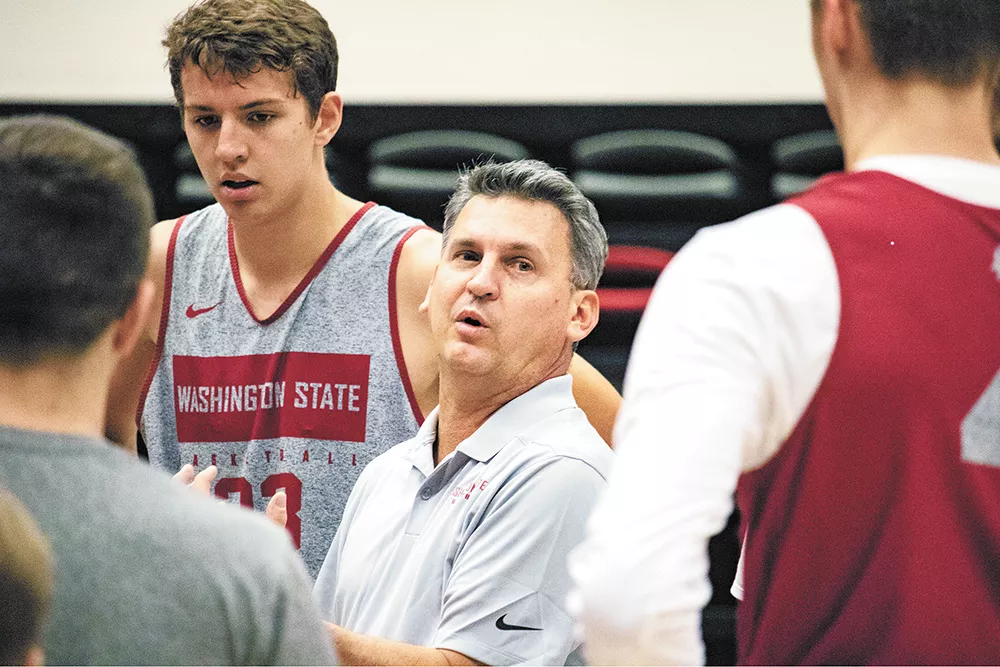 Optimism abounds during preseason. It's a time when every team in college basketball, no matter how realistic, harbors hope for the future. For the Washington State Cougars, largely an afterthought (if not worse) for more than a decade, there's good reason for this influx of optimism.
The Cougars have a young, malleable roster and are led by a new head coach who takes a modern-day approach to the game of basketball. And he seems to be feeling right at home on the Palouse.
"I'm really excited for my family and the community," new WSU head coach Kyle Smith says. "It's been wonderful. I've dubbed it the friendliest place on Earth. It's a great place and I pinch myself when I'm walking around campus thinking I'm getting this opportunity to coach in the Pac 12."
For Smith, who has nearly a decade of head coaching experience to his name, the jump to Washington State is both an opportunity and a challenge. Smith cut his teeth at Columbia before moving up to San Francisco, where he led the Dons to a 63-40 record over the past three seasons. But now he's coaching in the Pac-12, a league whose motto is "the Conference of Champions."
"It's all a little new to me, to be honest, even though I've followed it since I've been out West," Smith says. "There's a jump in athleticism, for starters."
Fortunately, Smith's approach isn't reliant on athleticism. He's an analytics man. In this post-Moneyball era of sports, where advanced metrics are becoming more and more mainstream by the day, Smith is still on the cutting edge.
"I don't know how many staffs will literally watch every possession of every practice and stat everything," Smith says. "It's not like anything anyone does at this level, but it's still basketball."
Smith referred to his and his staff's embrace of analytics as their marketing piece. The key word being their. Smith might be entering his first season at WSU, but there is a good bit of continuity around him. Assistant coach Derrick Phelps, who won a national championship as a point guard for North Carolina in 1993, has been alongside Smith since his days at Columbia. Analytics director John Andrzejek worked under Smith at San Francisco and Columbia, where Andrzejek was a graduate student.
Unfortunately, the roster isn't nearly as experienced. Seven of the Cougars 17 players are freshmen. And the guy expected to lead the team, CJ Elleby, is just a sophomore.
But that's not all bad, because young guys aren't set in their ways. They're eager to learn.
"I think we're ahead of where we were compared to San Francisco in the embracing of [analytics]," Smith said. "We have more guys who are blank slates. Everyone's opted into doing it."
Moreover, Elleby is really good. The 6-foot-6 Seattle native was one of 20 players named to the Julius Erving Award preseason watch list, which is given to the nation's best small forward. Elleby set the WSU freshman scoring record last season and averaged 14.7 points and 7.1 rebounds per game.
"We're young and inexperienced, more inexperienced than young," Smith said of his roster. "I feel like our talent, one through 10, is better than we had at San Francisco [last season]."
WSU hasn't made an NCAA Tournament since 2008, so there is plenty of reason to doubt. But also, the Cougars have a young roster and a new coaching staff that is happily building for a brighter future.
"I'm usually really pessimistic," Smith says. "I don't know if it's the honeymoon, or the fact my family has settled in here well, or that I like the community, but I do really like these guys. I feel good about it."♦
Coach: Kyle Smith
Last season: 11-21/ 4-14 in Pac-12
Preseason prediction: 11th in Pac-12 media poll
First game: Cougs vs. Seattle University, Thu, Nov. 7, 6 pm at Beasley Coliseum, Pullman


---
ALSO WATCH OUT FOR...

Idaho Vandals

Coach: Zac Claus
Last season: 5-27 overall/2-18 in Big Sky Conference
The big story: Turmoil. Idaho fired head coach Don Verlin in June after the team went 5-27 and the school self-reported potential NCAA rules violations, and the Vandals lost the majority of their contributors from last season due to either graduation or transfer. To add insult to injury, the Vandals already lost to D-II Central Washington in an exhibition. Zac Claus was promoted to the interim head coach position until next spring, when the school will go on a coaching search, but starting point guard Trevon Allen (14 ppg last season) returns to bring leadership to a team that looks to begin a program-shifting rebuild.
Best home game on the schedule: Dec. 2 vs. Washington State. The Vandals' next-door neighbor has a brand new coach in Kyle Smith and a host of new players. It'll be interesting to see how legit the revamped Cougars are. (CONNOR GILBERT)
Eastern Washington Eagles

Coach: Shantay Legans
Last season: 16-18 overall/12-8 in Big Sky Conference
The big story: Being the most experienced team in the Big Sky. The Eagles return almost all of their main rotation players, including all-conference players in forward Mason Peatling and guard Jacob Davison. Davison particularly looks to bounce back after a season-ending injury halted a dominant conference scoring run. Though Eastern was chosen by coaches to finish first in the conference, their rivals aren't too far behind. It won't be easy to get by their recent archenemy in Montana, who have kept them out of the tournament the last two seasons and were chosen to win the Big Sky in the media poll.
Best home game on the schedule: Jan. 9 vs. Montana. It seems in recent years the Big Sky championship goes through either Missoula or Cheney, and it's crucial for the Eagles to keep momentum by winning their first matchup with their rivals to the east. (CONNOR GILBERT)
Whitworth Pirates

Coach: Damion Jablonski
Last season: 21-6 overall/12-4 in Northwest Conference
The big story: When Matt Logie jettisoned for a gig at Point Loma Nazarene in the offseason after winning six conference titles in eight years, Whitworth offered the head coaching job to his top assistant, Damion Jablonski. He already has quite a task on his hands: replacing four seniors who accounted for almost half of the team's scoring and rebounding, and finding a way to boost the Pirates' tournament resume after missing out on the postseason last year. Ben College, the NWC's fourth leading scorer last year, looks to lead Whitworth in his senior year, but the Pirates will need the supporting cast to step up as well if they want to compete against a considerably more difficult nonconference schedule than last year.
Best home game on the schedule: Jan. 21 vs. Whitman. Beyond sharing the first four letters in each other's names, the two have combined to win the last 13 NWC tournament titles. This rivalry always has huge conference implications. (CONNOR GILBERT)