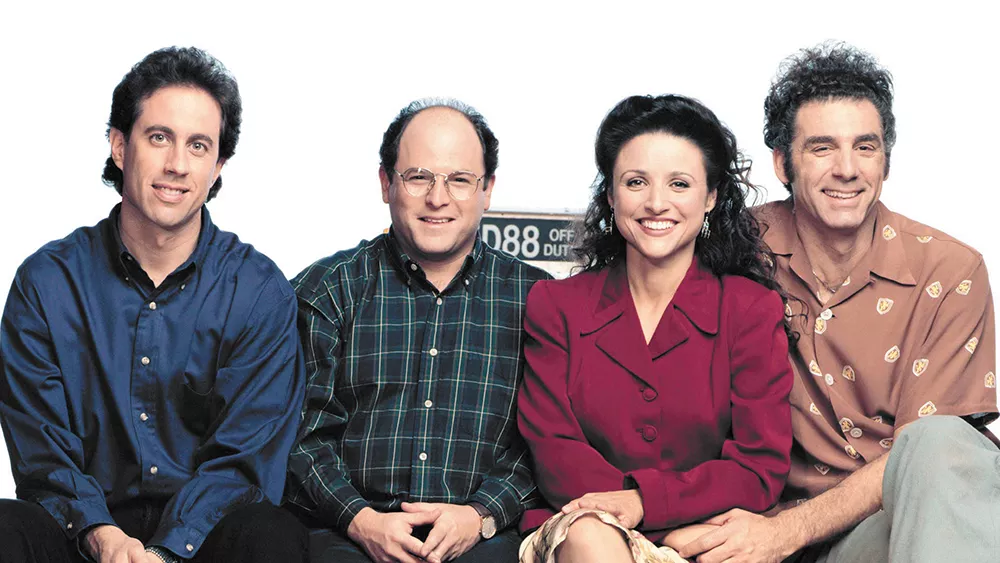 "The show about nothing."
It's become the unofficial tagline of Seinfeld, which turned 30 last week. It's a series timeless in its obsession with everyday minutiae and unwritten social constructs, but also a preserved-in-amber document of its era, with famous jokes about answering machine messages, Moviefone and The English Patient.
Of course, Seinfeld is really a show about everything, and it eventually became known for clockwork plots wherein seemingly unrelated subplots dovetailed in unexpected ways. I've seen the entire series countless times, and it's impossible to pick a single favorite episode. Here are five that best exemplify its singular qualities.
"The Chinese Restaurant" (Season 2)
One of the most audacious half-hours in TV history, in which a long wait for a table in a restaurant develops into a Kafkaesque nightmare. It's essentially a one-act playlet set in a single location, and offers one of the first glimmers of the show's genius at riffing on a theme for 23 minutes.
"The Bubble Boy" (Season 4)
A road trip goes awry in this early swipe at the broad weirdness that defined later seasons. On the way to an isolated cabin, the group plans to stop and meet one of Jerry's fans, a kid with an autoimmune deficiency. But the three parties diverge to hilarious results, in the best example of a formula the series would often rely upon.
"The Contest" (Season 4)
This is often crowned the greatest episode, though that's up for debate. What's not disputable is that "The Contest" gleefully pushed the boundaries of network TV, with our four antiheroes betting which of them can go longest without any sexual contact. It's not nearly as shocking now, but its combination of double entendre and bottled-up repression produced some of the best gags in the show's run.
"The Marine Biologist" (Season 5)
More of a slow-burner, this episode has perhaps the best third-act reveal in the show's history, when the episode's two B-plots — George pretending to be a marine biologist to impress a woman, Kramer whacking hundreds of Titleist golf balls into the ocean — are tied up in a glorious visual joke. And the final monologue is arguably George Costanza's finest moment.
"The Soup Nazi" (Season 7)
Seinfeld has a litany of great one-off characters, but it's possible none has had the same cultural cache as the so-called Soup Nazi. This features one of the series' many memorable food service nightmares, anchored by the "No soup for you" catchphrase. It's one of the show's last perfect episodes. ♦