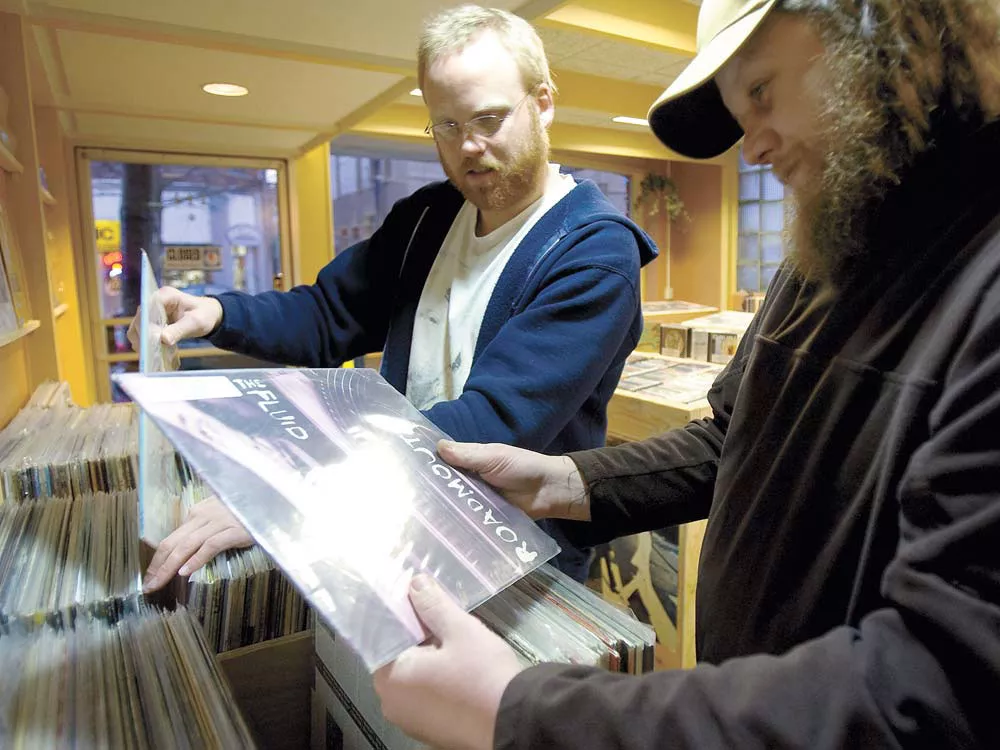 The economy's awful. So naturally two guys in a small North Idaho town decide to open a store specializing in vinyl records. Great plan, right?
It's a question you can't help but ask Zachary Johnson and Brandon Rowley, the owners of Moscow's new bite-sized music shop, Deadbeat Records.
Why open now? Why open in North Idaho? And why vinyl? These are questions the pair — who just opened the store in early November — are already getting used to hearing.
"When we told people we were opening a record store, we had a lot of naysayers," Johnson says. "But we've been more than pleased so far."
"Conventional wisdom is that you can't open a record store in this economy," Johnson says. "But people are going back to analog — especially vinyl."
Both are students at the University of Idaho: Rowley is a doctoral candidate in geography, and Johnson is getting his master's in philosophy. They both had massive record collections that, Johnson says, were getting a little out of control.
"We just thought, 'How can we keep this [habit] up without overwhelming our houses?'" he says.
So naturally, they put them up for sale. In a sense, Deadbeat — a tiny store sandwiched on the same strip as the Yarn Underground and 92.5 KRFP — is just a place for the two music nerds' collections.
"I totally gave up my record collections. I can still listen to them, though, when I'm here," Johnson says. He says he cringes when someone wants to buy one of the records he really loves. But he happily sells them anyway, knowing that someone else will enjoy it.
"I like making other people happy," he says. "And really, it's the Zen of detaching myself from my stuff."
But more than just getting rid of their records, the pair felt like right now is the perfect time to open a store — especially in Moscow.
"It's ready to blow up here. Moscow-Pullman isn't going to be a small town much longer," Johnson says. "The music community is tight here. There are people committed to the music scene around the Palouse. We want to be a part of that."
"It's definitely a fertile scene. Every night of the week, there's live music," Rowley says. "The people from Moscow are willing to support the arts."
Deadbeat is a store for the college crowd and discerning Northwest rock fans. The store — which smells more like the lumber that makes up the store's shelves than musty old record boxes — is packed to the hilt with Johnson's and Rowley's collections, and rare stuff they've picked up around the Northwest in the past few weeks. That makes for an inventory of nearly 6,000 records, they say. And within that is an encyclopedic catalog of Northwest music. It's not a store for Britney Spears (says Johnson) or Christina Aguilera (says Rowley), but it is one where you'll find the music you never knew you needed.
Rowley and Johnson want to be sure the Northwest — especially Idaho bands — is represented in their store. You'll find SubPop, Kill Rock Stars, Suicide Squeeze and K Recs. But you'll also find old Northwest-made stuff: Treepeople, Sunny Day Real Estate. And if you browse in their bins, it's likely that you'll be getting your shopping basket filled by the owners — they like to paw through the bins alongside their customers. Owning this store and getting people interested in the music they love is a dream for them.
"You can just sit around and be, like, 'I wish there was a record store in my town,' and complain," Rowley says. "Or you can open one."

Deadbeat Records • 114 E. Third St., Moscow, Idaho • http://deadbeatrecords.wordpress.com • (865) DEAD BEAT (yes, that's right)